Some brave souls stay in their homes as walls come down and dust builds up. Fortunately, we had no choice but to move out. Friends who have seen where we're staying wonder if we're going to like it so much, we won't want to move back home.
The water was going to have to be shut off  because (1) a new, larger water line was being installed to bring our service up to code and (2) some old pipes and all the plumbing fixtures in the kitchen and three bathrooms were being removed.
So more than nine months before the reno was set to begin, we started looking for a place to live. We decided it would be easier to rent a furnished place because we could pack up many of our things and store them in the crawlspace and two rooms that we're not being touched during the reno. Some furniture -- especially mattresses and fabric covered chairs and sofas -- would have to go in storage to avoid exposure to dust during the reno.
While we knew the reno timeline was supposed to be about  4 1/2 months, we decided to rent a place for six months. It wasn't that we don't have faith in our contractor -- we do. But the main part of the house was built in 1946 and a good chunk of the renovation done by a previous owner in 1990 was completed without a permit, so who knows what problems we might find.
At first, we thought we should try to rent a house in our neighbourhood, so it would be easy to just walk over to our house to keep an eye on the renovation. We only managed to find one house that was within walking distance. It was big, beautiful and offered a lot more than we needed -- at a price that was a lot more than we wanted to pay ($3,000/month).
We saw a lot of other houses. In some cases, they weren't available for the time period we required. Because we all like to be able to take the bus to work/school as often as we can, we wanted to find a place with easy access to different bus routes, which turned out to be more of a challenge than we expected.
If you are in need of a short-term rental, there are lots of places to look, including:
1. University of Victoria's off-campus housing site:http://housing.uvic.ca/ads/index.php?a=5&b=193. The faculty section often has listings placed by professors who are going away on sabbatical and looking to rent their furnished homes while they are away.
2. The Times Colonist. As well as the classified listing in the printed paper, check the online listings (http://www.househunting.ca/victoria/sale-and-rent/index.html), where you can immediately see the location of a rental.
3. Online listings such as usedvictoria.com, craigslist.ca and kijiji.ca.
Looking at ads for furnished places for rent one day, Angela jokingly (she thought) asked Brad if he wanted to move back to his old 'hood, James Bay. Brad argued that it wasn't as odd an idea as Angela might think. The place -- an apartment in the Laurel Point condominiums on the Inner Harbour -- had the space we needed --two bedrooms, two bathrooms, kitchen, dining room, living and in-house laundry.  The building has a party room with pool tables, a gym and underground parking. It was a quick walk to get a bus to almost anywhere in the region. It was right downtown, so walking distance to lots of great restaurants, theatres and movie houses. And the price was right -- at $2,000, inclusive, it was the least expensive option we had seen.
The owners are siblings who inherited the apartment when their parents died. Both siblings and their families live in Edmonton -- and don't use the Victoria condo in winter! Hard to believe, but true.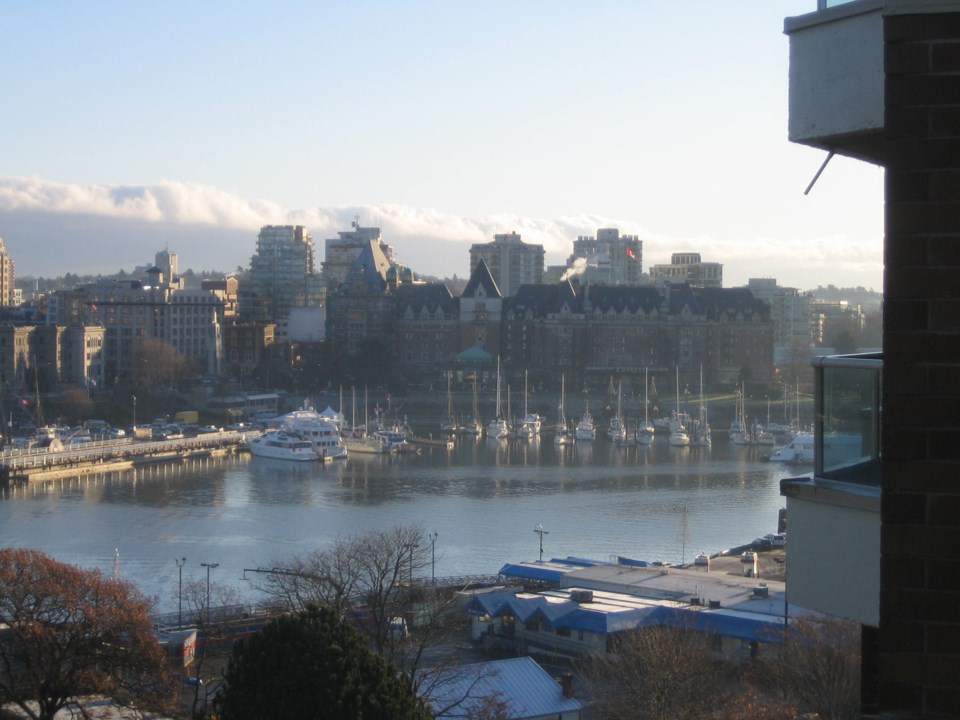 As soon as we stepped into the apartment, we were hooked by the spectacular 10th-floor view of the Inner Harbour and downtown. Caitlin loved it as much as Brad and Angela did, though she has since found it a bit "small" since there's no basement here to get away from the parents as there is at home!
So, here we are -- living downtown and enjoying it immensely. It's a great walk to the bus, along Belleville Street, with the water on one side and the legislature on the other. Angela was especially happy to be unloading groceries in an underground lot one day during a rainstorm. She's looking forward to going back to the house where there will be a new door from the garage into the basement, so she will stay dry bringing in groceries at home, too.
While it is beautiful, there is no doubt that we'll be moving back to our home in Oak Bay.