There's a popular feature in homes magazines that reproduces a room full of expensive furniture and accessories for a fraction of the cost. You can also see it on television since HGTV Canada recently started running a U.S. show called the High-Low Project.
Here's an example of the  concept from Style at Home magazine. This "high/low" feature shows two photos of two dining rooms that very similar. Some details differ, such as the pattern in the area rugs and the shape of the chairs. When you read the caption, you discover the "high" room area rug is a designer brand made of Nepalese wool and silk that sells for $5,595 while the "low" version is made of viscose chenille and sells for $400 at HomeSense. My favourite comparison in this example are the glass hurricane candle holders – in the "low" room, they're $10 each while in the high room, one costs $125 and the other, which is crystal, is $850.
Early in the project, our contractors, Dave and Becky Rannala,  did a "high-low" comparison session with us on plumbing fixtures.  Becky had done some research on our choices for fixtures. Over about 90 minutes, they laid out some suggested substitutions that not only were less expensive, but just as functional as the ones we had chosen. They looked just as good, too.  We followed some of their recommendations, but not all. For example, we decided to keep the three low-flush toilets we had originally chosen -- although they were twice as expensive than readily available standard models.  That said, in those 90 minutes, we trimmed thousands of dollars from our fixtures budget -- time well spent.
This "get the look for less" idea came to mind recently when John, our electrical contractor, handed me estimates from local lighting suppliers for our lighting fixtures. He noted that I might want to shop around.
For example, the bathroom fixtures we had chosen from a selection recommended by our interior designer cost $255.50 each – and that's AFTER the electrical contractor's discount. We need three of them – two for the ensuite and one for the main bathroom – which, with tax, adds up to almost $900. Not only that, these lights are a special order, so we would also have to pay for shipping.
Hmmm. That just seemed like a little much to me. It's not so much the price, but the value. Do we really need to spend that much on bathroom lights? Some people might be very happy to pay $850 for a crystal hurricane candle holder. Me, not so much.
"You can get fixtures that look a lot like these for a lot less," John, the electrician, said. He assured me that often much less expensive lights can look just as good as more expensive fixtures – and they work just as well, too.
So, I set out to do a little comparison shopping. I included in my search comparisons for the lights we picked for the kitchen and entryway. The schoolhouse-style pendants we want for over the island in the kitchen cost slightly less than $200 apiece (we need three) and a similar style flush-mount version for the front entry is priced at $127 – again, that's with the electrician's discount.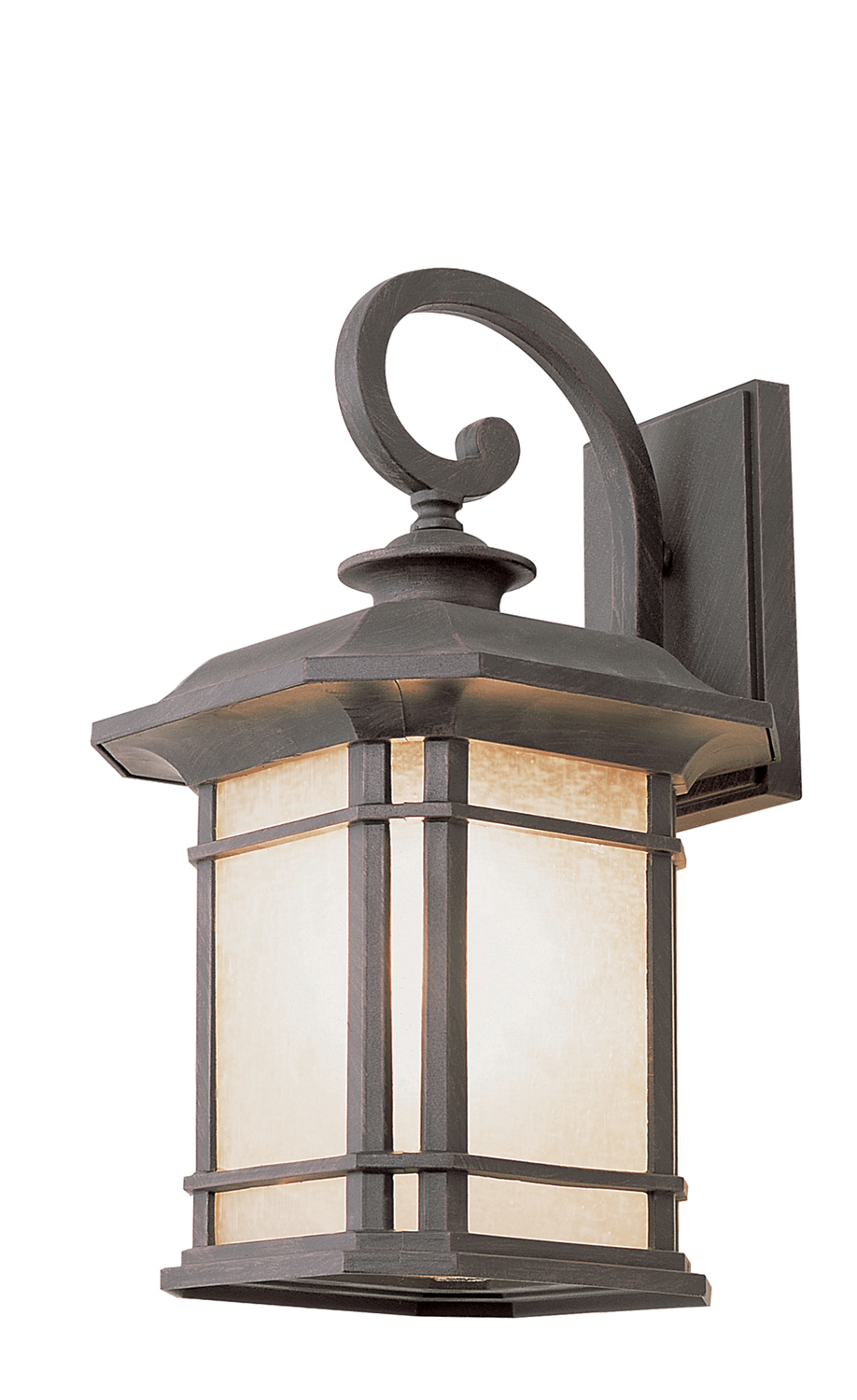 I went to Illuminations, Mclaren and Pine lighting stores. In the past, we have bought fixtures from Illuminations and Mclaren. In fact, I had recently purchased our outdoor lights at Mclaren. I liked the lantern-style look of the lights, from  Trans Globe lighting, as soon as I saw them. I was pleasantly surprised at the price -- $89 for the 13-inch lanterns and $119 for the 16-inch – which is a good thing since we need seven of the smaller lanterns and one large for our exterior lighting. It seemed appropriate that the style is called "Corner Window," since corner windows are part of the distinctive style of our house.
I went to look at the quality and finish of the expensive lights that we had chosen for the bathrooms and kitchen. The manufacturer, Hudson Valley, is known for its beautiful products, so it was no surprise that the lights looked good. Helpful salespeople at all the lighting specialty stores flipped through catalogues to look for options for me.

There are all sorts of versions of the schoolhouse-style light, but the less expensive ones weren't the right shape (and kind of looked like blobs of glass). The ones that looked like the Hudson Valley version – one at Restoration Hardware looks identical – were about the same price, too. The same seemed to be true of the three-light vanity fixture for the bathroom.
Our contractor, Dave Rannala, suggested that I check out Home Depot. That's where he bought the bathroom fixtures for the award-winning home he built in Gordon Head.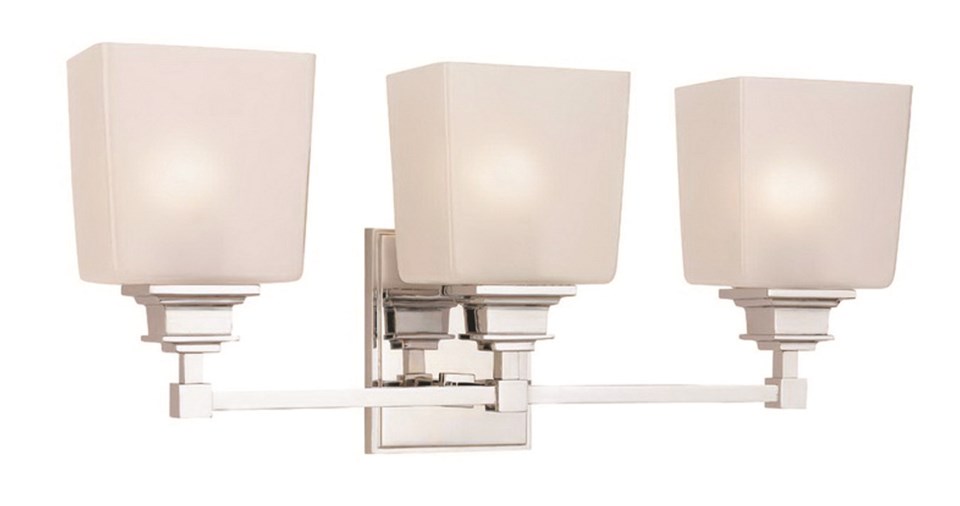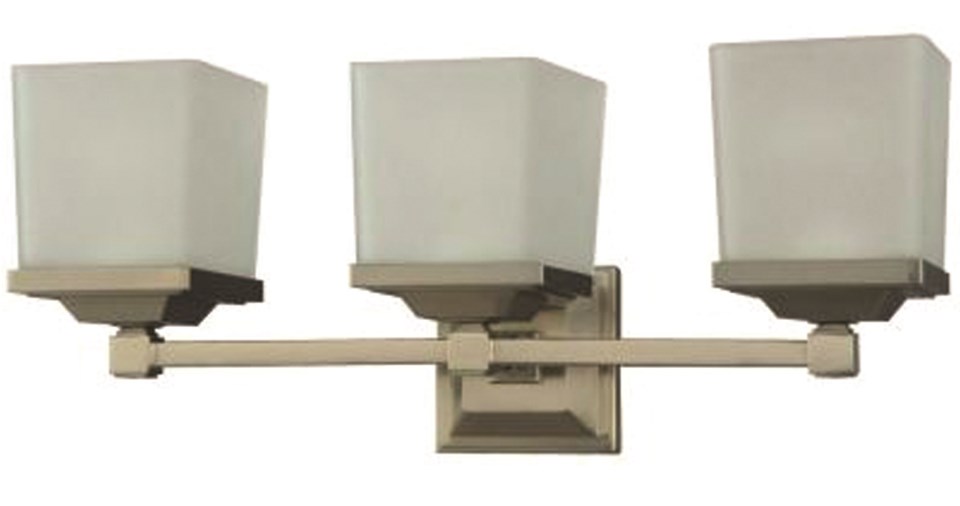 First, I looked at the selection online. I tried both Home Depot and Rona. Neither had anything that was comparable in style to the schoolhouse lights I liked. But as I clicked through the options on the Home Depot site, I came across the Martha Stewart Living Skylands Collection. It included a three-light, brushed-nickel wall vanity light with frosted glass shades that seemed to look a lot like the more expensive ones we had chosen – and it was priced at $89.99.
I compared photos of the Martha Stewart and Hudson Valley fixtures. The more expensive fixture did look more elegant, with better detailing, but the less expensive model still looked pretty good – at least on the computer screen. After I called Home Depot on Shelbourne Street to check that the Martha Stewart lights were in stock, I drove over to see for myself. While they are obviously not $300 fixtures, they still looked pretty good. Besides I could get three fixtures, comparable in style, that would cost me a little bit more than $300 for all three – or less than a one-third the more expensive brand. Sold.
In a few years, if I get tired of them, these light fixtures will be easy enough to change – and that's the real value to me. I don't mind spending top dollar for something that needs to stand up to a lot of use (the Schluter surface used under the shower tiles for a watertight seal, for example) or that is expensive and a chore to replace (such as flooring and countertops). That's why I decided to stick with the schoolhouse-style lights for the kitchen and entry – they were style we chose, they looked considerably nicer than any cheaper version I could find and I'll be seeing a lot of them, since I plan spend quality time in our new kitchen. Besides, I saved enough on the bathroom lights to more than cover the cost – a high/low success with a twist.