A dizzying traffic jam of workers and materials hurtles around a renovation site. Just when I think I've figured out who belongs to which vehicle parked out front, I arrive to find another tradesman's van that I don't recognize.
There have been times when the house was so full of tradespeople coming and going, I wondered if we needed to install some kind of traffic control system to keep track of it all.
(The only people happier than us that our renovation is coming to an end are the neighbours who have been navigating an obstacle course of delivery trucks, vans, debris and people just to get into their driveways.)
So, I shouldn't have been surprised when the email arrived: "Hi Angela, we still need to discuss colouring on the secretaire/display cabinet. Could you please call me? Thanks, Ed."
Who is Ed and why does he have my desk?
I own an old secretary desk, the kind with three drawers on the bottom, a glass-front bookcase on top and, in the middle, a hinged piece of wood that flips down to provide a writing surface. These things are usually lovely pieces of furniture. Mine wasn't. I didn't intend to buy it.
I needed to furnish my first apartment when I was living in Kingston, Ont., in the mid-1980s. I found a plain, wood table that cranked open to fit two leaves for larger gatherings. At $50, it fit the budget. While I was waiting to pay, I spotted the secretary desk, which looked lovely from across the room. Close up, I could see the splotchy evidence that someone who didn't know what he was doing had tried to refinish the piece. The wood scrollwork inset in the glass doors had chunks missing. The poor thing looked sad. The $325 price tag seemed reasonable, if the buyer knew how to refinish it. I didn't and I didn't have the money.
Looking a little eager, the shop owner sauntered over: "Nice piece, eh?"
"I think it's seen better days," I said.
"I know," he said. "It's been here awhile."
Somehow, within 15 minutes, I was heading over to the ATM. For $250 cash, I bought the table and the secretary desk, thinking that someday I might learn how to refinish the piece properly myself. That was more than 25 years ago.
Our contractor, Dave Rannala, mentioned that Schenk's, the company that was painting the cabinetry for our kitchen and family room, also refinished furniture. I took a photo of the piece; Dave sent it in. The estimate to do the work came back at $1,100. That was a lot more than I wanted to spend. "I really don't think that piece is worth it," I told Dave.
When the email arrived asking about the stain colour for the desk, I called Ed. Apparently, my desk was at Schenk's, in pieces, stripped, sanded and sitting on the floor of his shop on Beta Street, near Burnside and Douglas. I went to see for myself.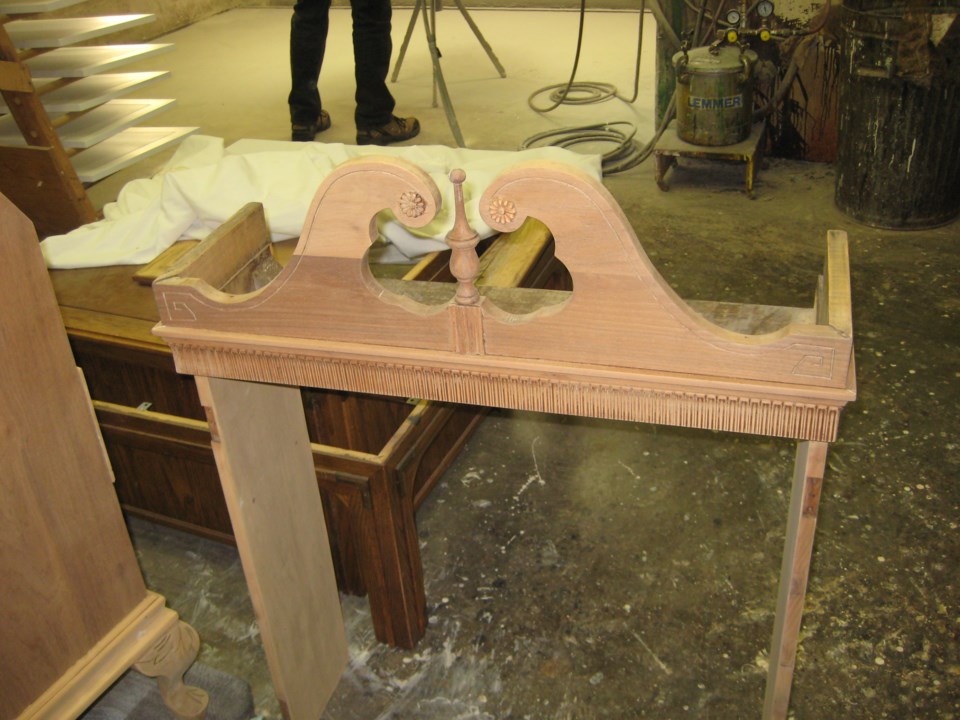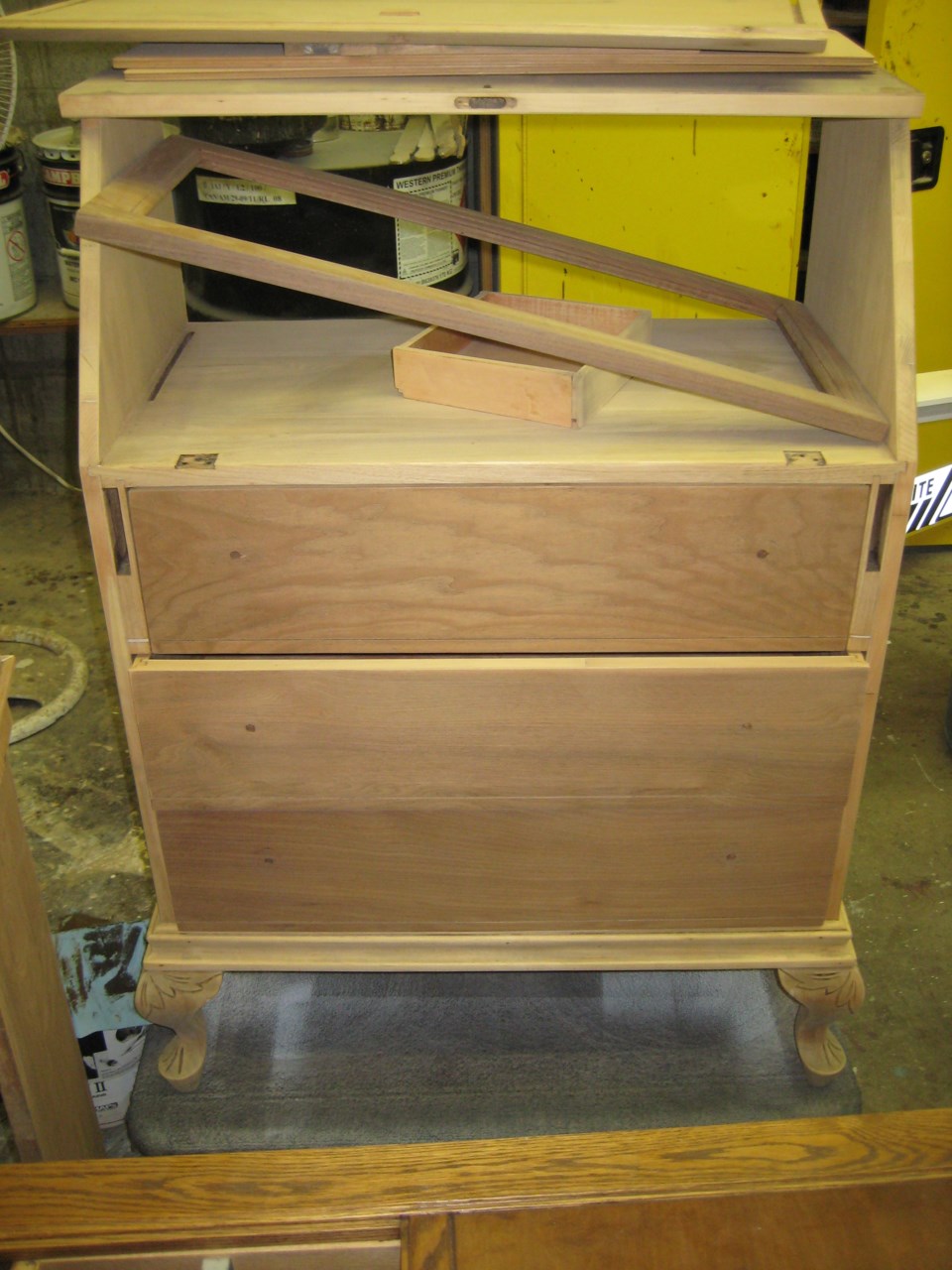 "It's not a crappy, old piece of furniture," said Ed Taekema, who has run Schenk's Furniture Repair and Refinishing for 12 years, though the business has been on that site for 27 years. "It's a nice, walnut cabinet."
Most of the secretary desk is fashioned from thick plywood, faced with walnut veneer. "Some parts," Ed told me, "are solid wood – the doors, the support brackets for the desk, the legs, the glass door frames."
It's the same construction used on some desks from the 1940s and '50s that he is refinishing for the provincial government. "Even in the 1950s, the core of the thick sides, backs and tops is particleboard that's got beautiful black walnut veneer on it. Some of that particleboard is an-inch-and-a-quarter, inch-and-a-half thick. Back in the day – in the mid-1900s – they used what they called 'lumbercore' rather than the plywood we have now which is multi, multi layers and it doesn't look that nice."
The action on the metal arms that pushed out the wood brackets to support my flip-down desktop never really worked well. "Hardware gets old and dry. Where it's rubbing metal on metal, it just needs some oil. If somebody would have done it every five to eight years that would have been adequate, it probably never got any oil. So, the metal starts to wear and the bars slip out of the track they're in."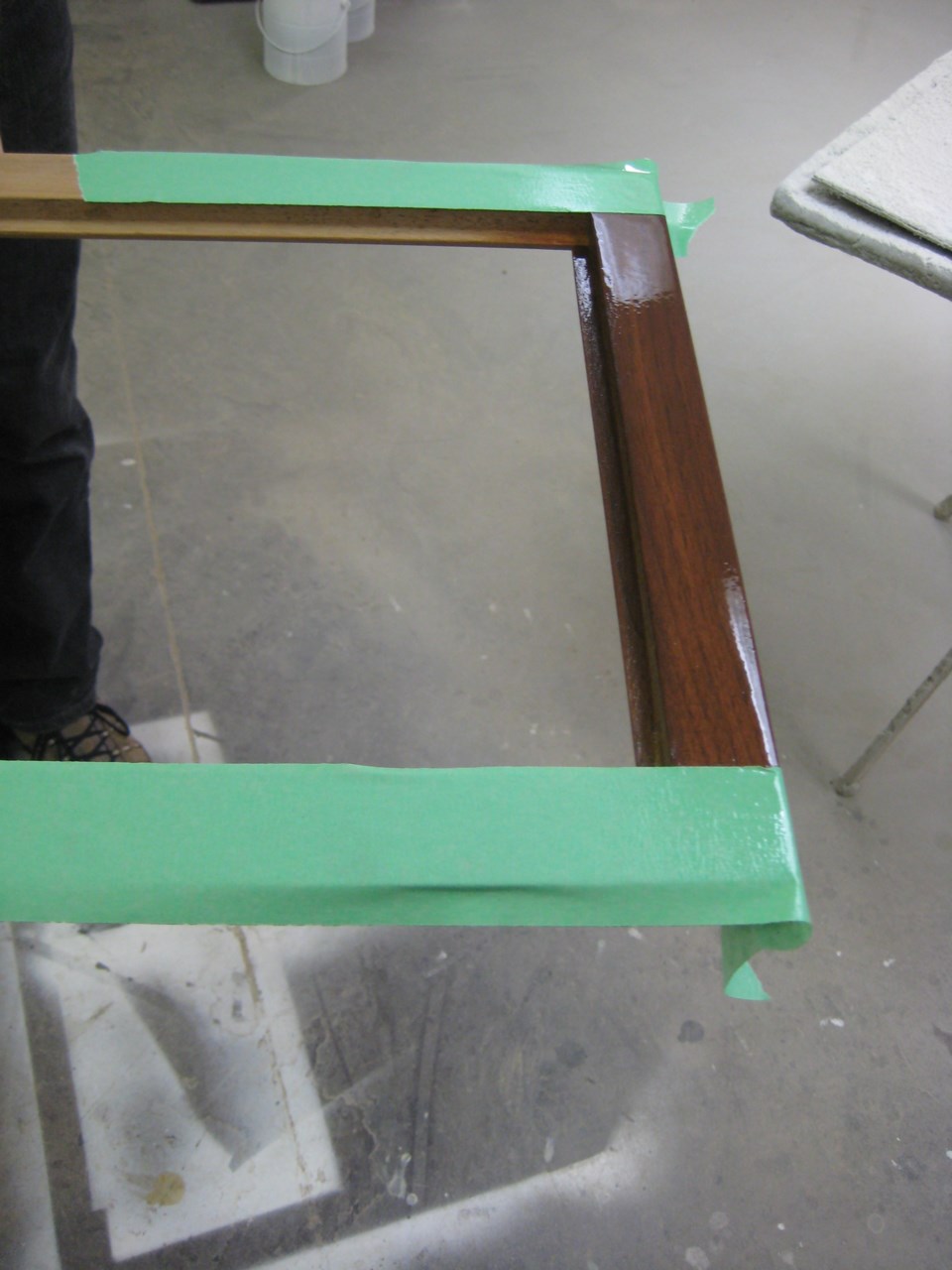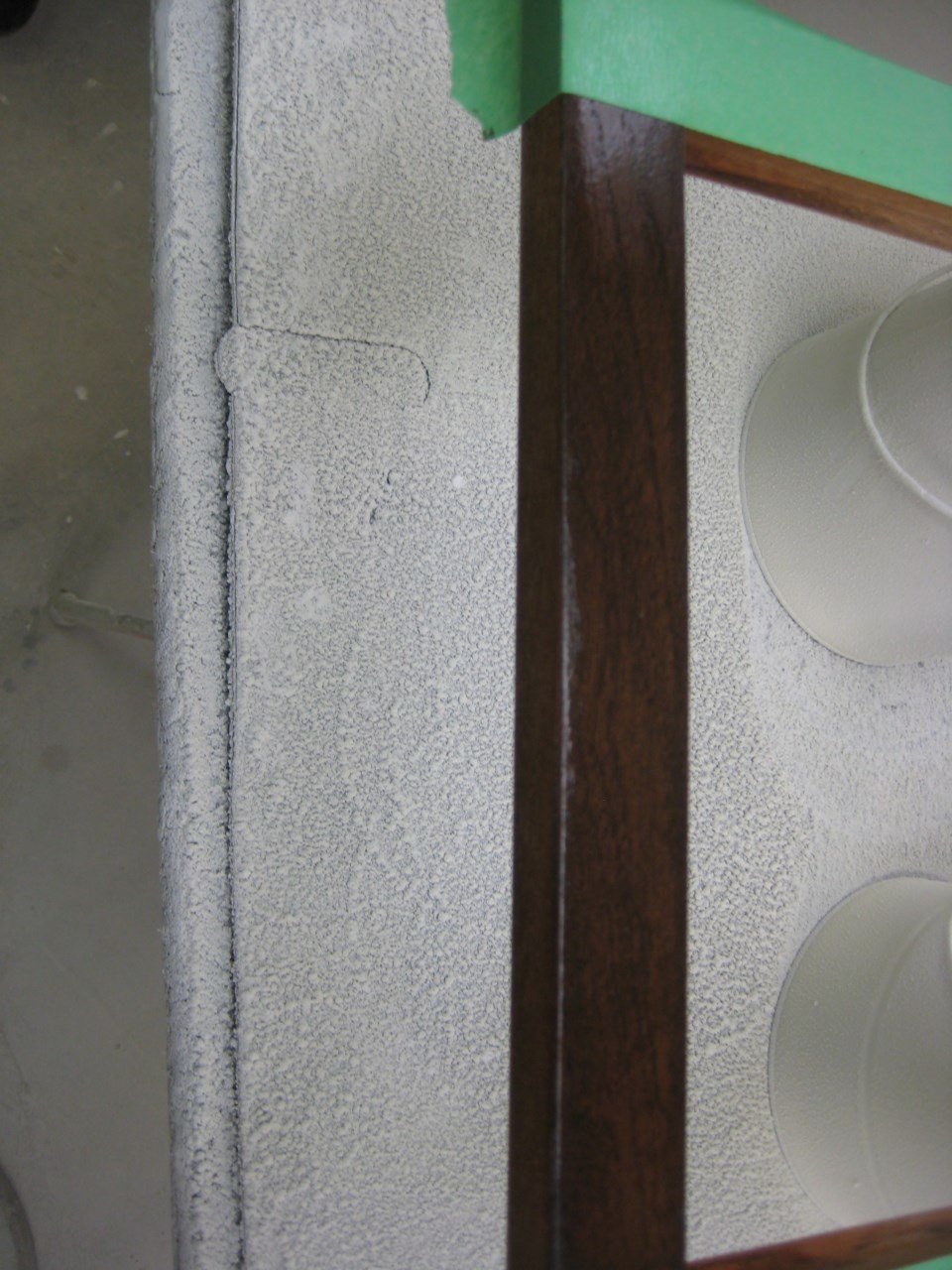 Ed pulled out one of my secretary cabinet's door frames. One length of the open square had been stained a dark brown that looked very flat, the other side was a warmer, lighter shade of brown. The darker colour matches the stain that was used on the cabinetry for the island in our kitchen. Dave, our contractor, had suggested we'd probably want to match the colours. But this piece, which I had been thinking of getting rid of, would never be used anywhere near the kitchen. Ed had chosen the lighter shade to test because he thought it better suited the wood. He was right.
The darker colour looked wrong, Ed said, because it's not what the original would have looked like.
"But you'd probably be amazed at how much people like that look because it's darker. If you go into a furniture store now and look at what's there, a lot of it is dark furniture. People don't understand that, when they have a satin, solid black dining tabletop, every time the kid drops a fork or something on it, every one of those marks stands out like a sore thumb. Then they go, 'That looks terrible.' On a lighter table, you wouldn't see it unless it was really nasty."
Ed told me he didn't think much of the colour combination for our kitchen cabinets when he first saw the order. The cabinets and drawers around the perimeter of the kitchen are painted a creamy white called Balsa while the cabinets under the island are stained a dark wood colour called Atlantic.
"I thought, 'These two colour choices look a bit pukey,' " he said. "When I saw them [on the cabinets] together, I thought, 'Great choice.' You and the interior designer had a good idea, but I needed to see a big panel next to a bunch of the doors, and then I thought those colours actually look good together."
Ed obviously has an eye for colour and finish. There's something about the cabinets he finished for our kitchen that looks different to me. The appearance is fresh and elegant, unlike most kitchen cabinetry or furniture I've seen. What's the secret?
"It's the sheen," Ed said. "Most of the furniture that you find in stores is a little too high sheen. It's not satiny enough. What we're using is maximum 35-degree sheen. In the gauges of sheens, 15 degrees is dead flat – too flat, like a chalkboard — and 90 degrees is high gloss, like glass. In between, we find a happy medium; we use about 35 degrees."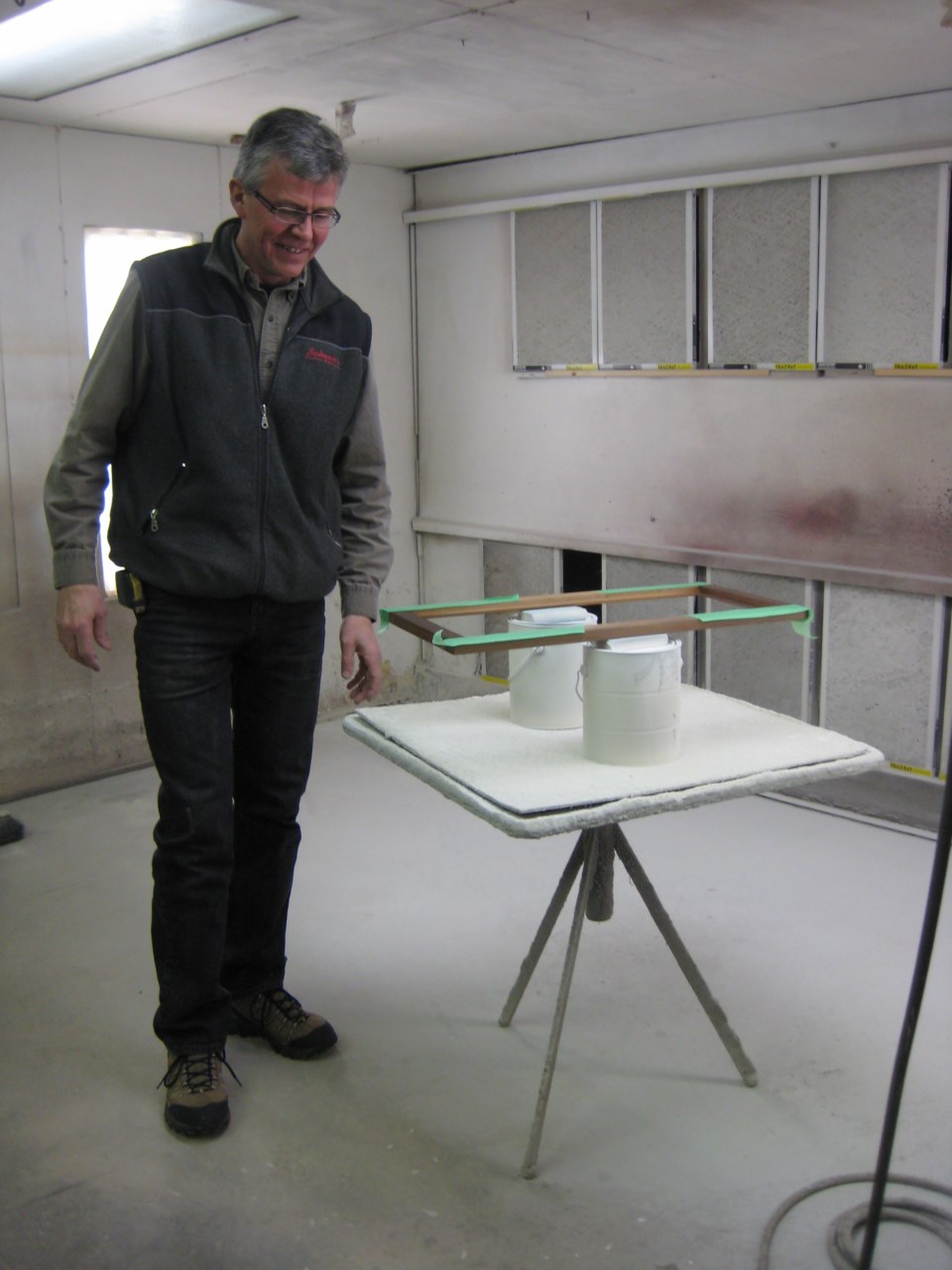 As we talked in the paint booth at the back of Ed's 2,300-square-foot shop, a customer's Cloud White kitchen cabinet doors were drying between coats. Every door is primed -- painted doors gets a lacquer-based primer that's quick drying with a high solids content while wood doors are stained and coated with a fairly thin sealer. In both cases, the point is to raise the grain of the wood, which then gets its "most serious" sanding. Then it gets three more coats of colour. Each coat requires less sanding than the one before because it starts to smooth out, Ed explained.
"The finest sandpaper we use is 150-grit which, if you feel it, is pretty rough," Ed said. "That's done for two reasons: One, you want what you spray on it to adhere to it because it's roughly sanded and, secondly, it accepts more stain. If you sanded it until it was really smooth and polished, it would accept little or no stain."
The shop is full of old furniture waiting for new life: homemade picture frames, crown mouldings; Victorian chairs; a teak coffee table, a dining room buffet and hutch and some 1980s, pink-hued, white-washed kitchen cabinets that will be refinished to the other extreme, with a dark brown, almost black finish.
The shop is seeing a lot of kitchens that are only about 10 years old, but the finish is already starting to fail because "they didn't put enough finish on them," Ed said.
If the cabinetry finishers had taken the time to give it one more sand and put on one more heavy coat, Ed said, the finish would have lasted a lot longer. "But some people are really harsh on their kitchens. When you see how much food is dripping underneath the cabinet, you always realize that there's big slopping going on here. And it's no wonder that these cabinets have failed."
With a lot of time, patience and meticulous work, Schenks makes them look like new. The results often surprise people, Ed said.
"I call it 'thankful work,' " he said. "You can make a silk purse out of a sow's ear because the old piano that's in the garage is not necessarily junk. People think it is, because they've been throwing the paint cans on it for 20 years."
Just like an old secretary desk, picked up for $200 cash, that sat quietly in a corner for 25 years waiting for the new life Ed's giving it in his shop.
How did it end up there? At the start of the renovation in our house, the contractor tacked up a whiteboard to keep a running list of things that need to be done and questions that need to be asked. As items are dealt with, they are erased from the board. It has been a great way of keeping track things for our onsite carpenter, Travis. One item on the board was "Cabinet to Schenk's." When Schenk's delivered all our cabinetry to the house, they ended up taking the desk back to their shop because it hadn't been erased from the list after we decided against having it refinished.
Dave, our contractor, admitted the error was his, and we have come up with a fair way to share the costs. As a smiling Dave said to my husband, Brad: "Our contribution will be a 'welcome home' gift to you guys."
I'm glad to know that old secretary desk isn't a piece of junk. I'm curious to see what it will look like when Ed's done with it. Stay tuned. I'll post a photo when it's done.