A lot of the work that has gone into our renovation didn't take place on site. It happened 20 kilometres away in a 3,000-square-foot shop in Langord. It's where our contractor, Dave Rannala – or to be more precise, journeyman joiner Will Blackburn – built the cabinetry that is going into our kitchen, bathrooms and family room.
The fact that Dave -- who is a carpenter by trade -- has his own mill shop was one of the reasons we hired him. Building cabinets, drawers, doors and custom furniture for his projects, he said, gives him control over important elements such as scheduling.
"It also guarantees the quality of the finished product and I am not stuck in a middle-man position between an unhappy client and the millwork manufacturer," Dave said. "Any issues can be handled efficiently and cost-effectively in-house."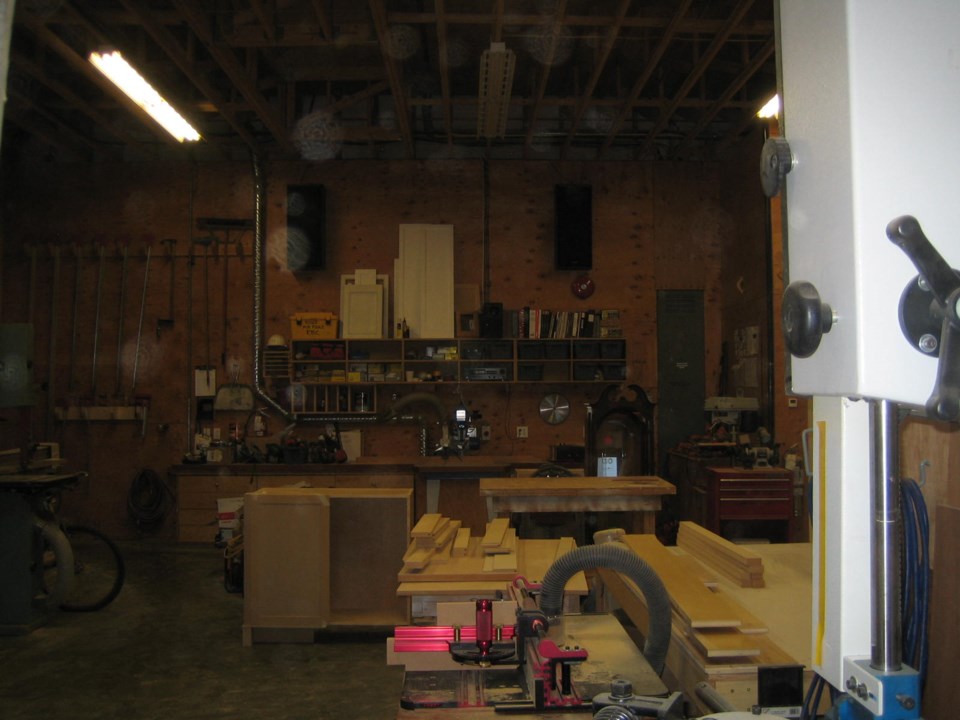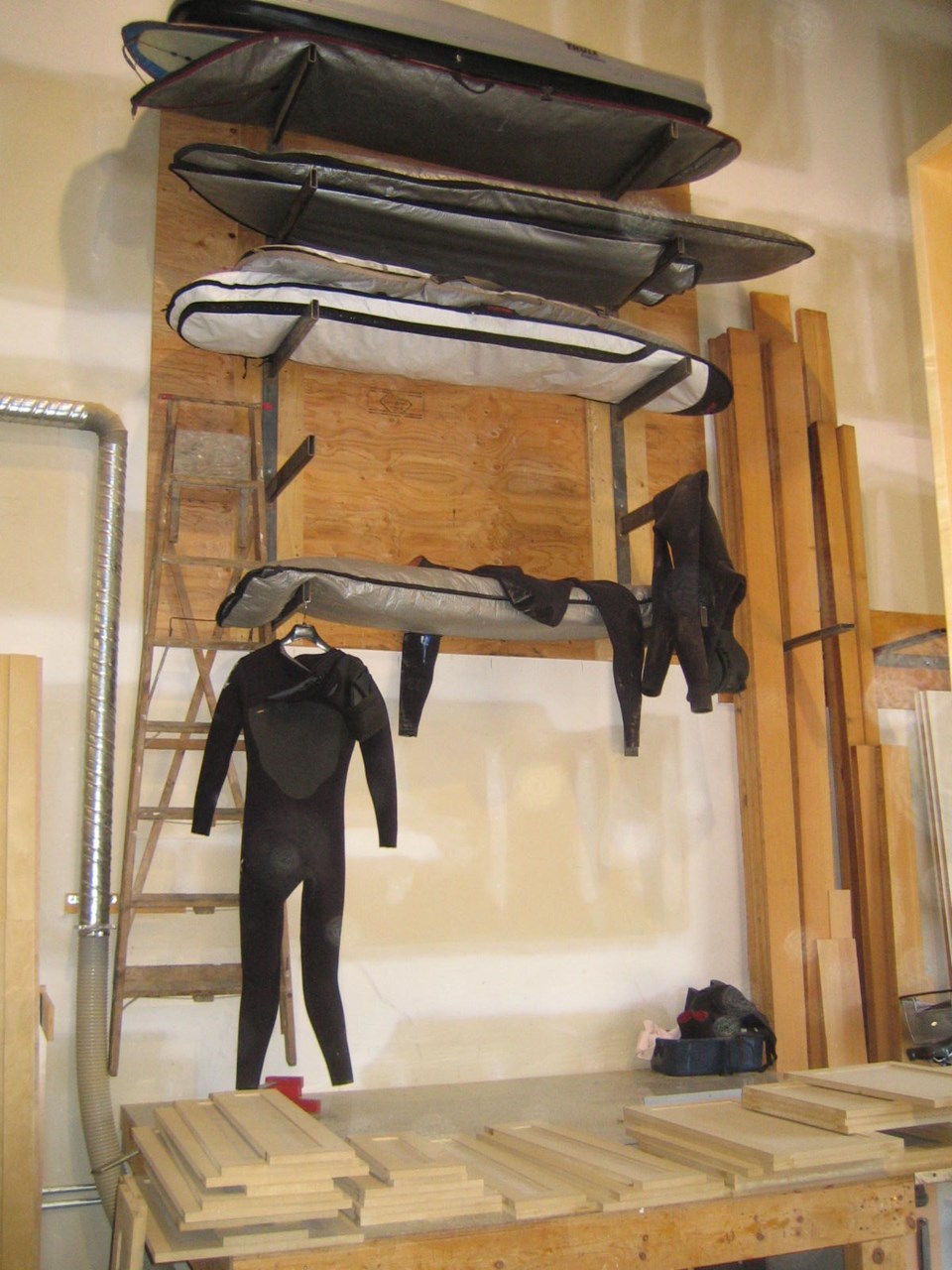 Early in the project, when we visited Dave's shop, you could sense his particular pride in the way his company builds cabinetry. (You also got a sense that the guys on this team work hard and play hard. Wet suits hang on one wall of the shop. Apparently, in winter, the best time to hit the waves is 6:30 a.m., which means they can be back in the shop by 11 a.m. One Monday morning, as he was installing cabinets in our kitchen, Will was still smarting a bit from having his board flip up and smack him hard in the face. But, there he was, on the job little more than 24 hours later, making jokes about it.)
Since we started recording our experiences in this blog, several people in the local home construction industry have said that Dave's pride in his mill shop is well placed. As one acquaintance told my husband, Brad: "One thing with Dave Rannala, you are getting some of the best cabinetry in town."
It all starts with thick plywood construction, which provides strength and durability.
"I just don't like melamine," Dave says. "The cost to upgrade to prefinished plywood from melamine in the big scheme of things is a small percentage of the total kitchen cost for cabinetry – probably about 10 per cent. In my mind, it'll take you from a 10-year kitchen to a 30-year kitchen; if there was ever a problem and something came loose, we'd come back, go to a size bigger screw and you would have good holding strength again, whereas with melamine, you get tear out. Once you get that, there's no fixing it. You might as well rip out the box and throw it out.
"Plus with a plywood box, you could drop it three feet and it's not going to go anywhere. You drop a melamine box and it just blows apart – it's just garbage."
In the shop, Will builds cabinets and drawers as individual boxes. Half-inch thick solid plywood anchors all the upper cabinets. They will never pull off the wall, Dave says. A friend recently told me about someone who came home to find all her dishes in pieces because the cabinets holding them had crashed to floor. "All that strength of the plywood mounted to the wall means you can load your cabinets up with as many plates as you want, and they're not going anywhere," Dave says.
Drawers are made with ¾-in plywood, thicker than a lot of custom shops, Dave says.
"Industry standard is half-inch. Most custom kitchens are 5/8ths, but we run ¾. It takes a little more setup. It takes one extra pass on the table saw when we're building everything, but all the pieces in the box stay straighter and stronger. We just feel it's a way better product at the end of the day."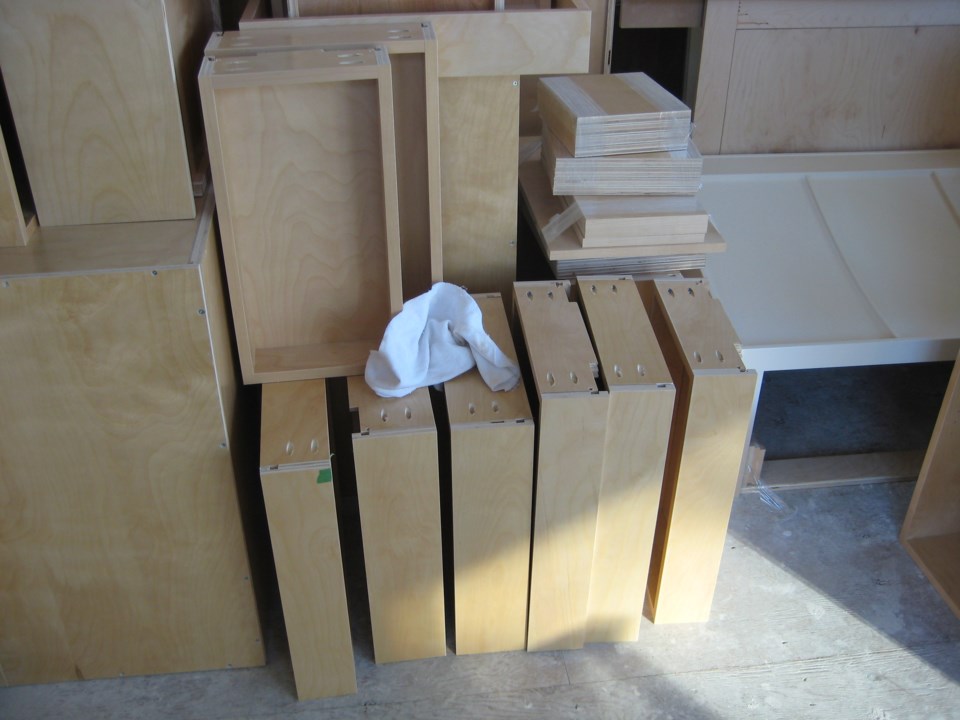 When all the boxes for our kitchen got to the site, they practically filled our 14 ½-foot by 17 ½-foot family room, stacked more than halfway up the 10-foot walls. Each piece was labelled and Will put them all together Lego-like as he laid out the kitchen.
One morning, as he was screing the faceplates onto the drawers, Will told me that putting together the cabinetry on site is a lot fun. I wasn't sure if he was being facetious.
"It's easy in the shop to build everything nice and square, to build a perfect box, but then you get to a house, where the walls aren't perfect. So you're fitting and fiddling, making your square box not square so it'll fit," he says.
One feature that makes Will's work unique is the way he puts together the drawer boxes. When he's finished, you don't see any screws. It's not a tongue-and-groove fit, which is hard to do with boxes that are thick plywood, not solid wood, and would take more time, driving up the cost. Instead pocket screws go into the ends, and then the drawer face covers all the fastening points, hiding them. It makes for strong drawers and they look good. There aren't a bunch of screws covered with little plastic caps that eventually fall off.
Will says he's done woodwork for as long as he can remember. He started at age 13, working in the summers, building log houses with his dad in Golden. At 17, he joined his dad's company full-time. After a few years, he went to Calgary to apprentice with a spiral staircase maker. From there, he went to Seattle to join his dad and brother renovating and rebuilding 100-year-old houses. His mother had lived in Victoria, so when he decided to move back to Canada, he ended up here. At 32, he has almost 20 years of woodworking under his belt.
As he worked in our kitchen, it was clear that he loves what he's doing and he's meticulous. The one thing that drives him crazy is having to redo his work.
"I've had to do that a few times -- I built it, bring it to the site and [the customer says] 'Oh, but my oil bottles won't fit or I have lots of spice bottles so I need two shelves.' … To the customer's credit, it is hard to envision when it's just 2D on paper."
Still, if changes have to be made, the thicker plywood material and the hidden screw construction means it's easy to pull the cabinets apart, make adjustments and put them back together.
Will and his boss, Dave, are just as fussy as their customers about the look of the cabinets.
Cabinet companies often take measurements and then design the cabinetry on a computer, leaving a little bit of room for error, Will says. "If you look at most kitchen cabinets, they have a full 1/8-inch reveal, which Dave and I have always agreed doesn't look right," he says. A "reveal" is the space between the edges of two cabinet or drawers.
"That's why we build all our drawer faces and cabinet doors," Dave says. "A lot of shops, even some custom shops, will order them all from plants that manufacture doors, whereas we'll build everything to fit and pre-fit it at the shop.
"So when Will takes everything to site and puts it all in, the reveals between all the doors are very nice and tight, like they should be. We shoot for a shy 1/8 of an inch reveal."
Will uses a small gauge in the shop to measure all the gaps when he's building the cabinets. He takes that tool to the site to make sure the smallest gap is maintained when he installs them.
"If you look at the difference between one of our kitchens and a competitor's kitchen in the same price point," Dave says, "you're going to see gaps anywhere [between their cabinets] from ¼ inch to probably a heavy 1/8 inch. You don't notice it right away until you look at one of our kitchens and you see that it's nicely fitted.
"I'd say fit and finish is the biggest difference between what we're doing, dollar for dollar, and what the competition is."