BIV's 2023 list of fastest-growing companies highlights 100 B.C. companies that have seen extraordinary success increasing revenue over the past five years.
Many of the companies on the list tend to operate under the radar, yet have grown into profitable and successful ventures.
Take Quadrogen Power Systems Inc., for example. The privately held company ranked No. 6 on BIV's list thanks to 753.4-per-cent revenue growth between its 2018 and 2022 fiscal years, leaving it with more than $23.4 million in revenue last year.
CEO Alakh Prasad told BIV he aims to achieve $30 million in 2023 sales.
Quadrogen sells systems that enable customers to convert biogas generated from food waste into renewable natural gas that companies can use to reduce their carbon footprints, or to sell to resellers, Prasad said.
While Quadrogen launched in 2007, it did not start selling its systems until 2017, which meant that its 2018 revenue was just about to start ramping up.
Quadrogen's clients have since included Apple Inc. (Nasdaq: AAPL) and Microsoft Corp. (Nasdaq: MSFT).
It has so far installed more than 100 systems that range in price between $200,000 and $8 million, he said.
Prasad's venture employs 250 people at manufacturing plants in India, the U.S. and Canada, and he is looking to add to his company's 37-worker contingent in Burnaby.
"We're one of the unique companies in Canada, in the clean-energy space, which is profitable," Prasad said.
Profitability is important. Revenue growth is nice to have, but generating earnings often is key to attracting investors.
Share prices for some of the public companies on BIV's list make that clear.
Investors care about cash flow, profit per share and business metrics other than revenue, Leith Wheeler CEO Jim Gilliland told BIV.
"Generally, what you care about more than how much the company has grown its top line is how much of that top line is available for either distribution or reinvestment for shareholders," he said.
Companies' share prices can fluctuate because of investors' unwarranted exuberance or sudden fickleness, he added.
"The market goes through trends," Gilliland said before noting the mid-2017 through mid-2019 investor rush into cannabis companies.
Internet stocks had a huge run-up during the late 1990s' dot-com bubble, and artificial intelligence companies have seen a huge run-up so far this year.
"I've abandoned trying to interpret or add some rational perspective on what the stock market's doing," said AbCellera Biologics Inc. (Nasdaq: ABCL) CEO Carl Hansen, whose company went public on Dec. 11, 2020, at US$20 per share, only to see that price triple in value within minutes of the start of trading.
Hours later, AbCellera's shares were trading for more than US$70 per share. They have since slumped more than 90 per cent to trade for between US$5 and US$6 per share.
Investors in late 2020 were likely giddy about AbCellera because the COVID-19 pandemic was in full swing, and AbCellera had partnered with American pharmaceutical giant Eli Lilly and Co. (NYSE: LLY) to develop what was then a COVID-19 treatment approved in the U.S. and Canada called Bamlanivimab.
AbCellera would then co-develop a second COVID-19 treatment, dubbed Bebtelovimab, which would be approved to better treat newer COVID-19 variants.
Approximately 2.5 million people received the treatments, Hansen told BIV, and the drugs saved countless lives.
Recent investor skittishness about AbCellera could be because people have moved on from investing in companies that make COVID-19 treatments.
The COVID-19 drugs helped AbCellera's revenue soar by 5,420 per cent to $631,848,984 when converted into Canadian dollars, up from $11,442,327 in 2018. That was good for the No. 4 spot on BIV's 2023 list of fastest-growing companies.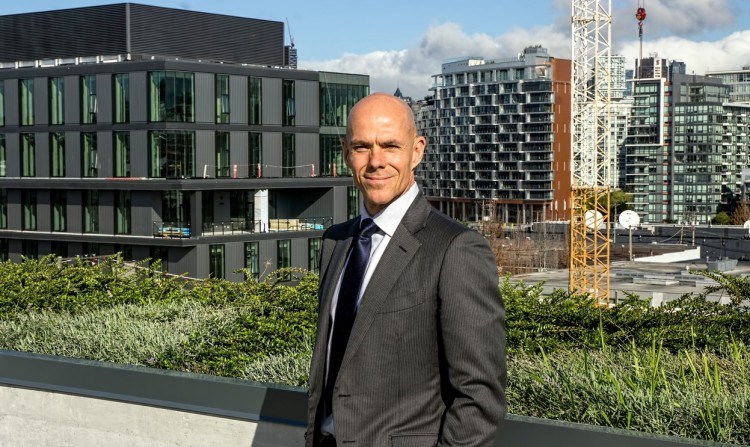 AbCellera's revenue tends to come through either upfront research payments or royalty payments.
The COVID-19 drugs were developed in what Hansen called "world-record speed" because regulatory authorities wanted to massively accelerate the timeline between discovering and approving the drugs due to sudden vital need.
The result was that AbCellera suddenly not only received upfront research revenue but also the more lucrative royalty revenue.
"The payments that we got for doing the work – the research payments, the cash payments up front – they are tiny compared to the value of the royalties," he said.
AbCellera is capable of producing new treatments to treat new COVID-19 variants but regulatory approvals are no longer happening with lightening speed.
The result is that AbCellera is not focused on developing new COVID-19-treatment drugs because by the time regulators approve new drugs, the SARS-CoV-2 virus, which causes COVID-19, is likely to have morphed into new strains, making newly approved AbCellera drugs less effective.
Hansen said that it would be "charitable" to call AbCellea's 2023 revenue decline a "slowdown" because, on an annualized basis, sales are down by a staggering 90 per cent.
AbCellera has worked on more than 70 different drug-development partnerships, most of which relate to cancer, autoimmunity and metabolic disorders. The path to having approved drugs for those ailments, however, can easily take up to 10 years.
The result is that despite AbCellera's staff count now being at an all-time high of 640, its potential revenue from work done now is many years away.
Acquisitions and commodity prices can make revenue jump
Some companies on BIV's 2023 fastest-growing companies list made it there because they merged with other ventures, or enjoyed a run-up in the prices for commodities or metals.
One under-the-radar company that saw its revenue increase at least partly due to acquisitions is Victoria-based Certn Holdings Inc., which took the top spot on this year's list.
The privately held venture, which provides background checks for employers and potential landlords, saw its revenue rise 18,289.2 per cent to $33,500,000 between 2018 and 2022.
Certn acquired U.K.-based Credence and Australia-based InterCheck in separate 2022 transactions.
Certn's vice-president of corporate affairs and general counsel, Shannon Davidson, told BIV that Certn also received several funding rounds, including an US$80 million Series B financing.
In total, Certn has raised about US$114 million.
"[That capital] gave us the support we needed to hire more people, to get into those areas that we weren't doing checks before, and to expand our offerings," Davidson said.
The company employed around 20 people in 2018, and that number grew to 430 last year, she said. The company has since retrenched to have about 380 employees.
Certn's revenue growth has also come from it using software and technology tools to be able to complete more background checks more efficiently.
A shift to increasingly use artificial intelligence is underway.
"We're currently using AI internally but we have some advancements rolling out in 2024," Davidson added.
Premium Brands Holdings Corp. (TSX: PBH) is likely the B.C. company best known for growing through acquisitions, and it was able to increase its revenue 99.3 per cent, to $6,029,800,000 in 2022, up from $3,025,800,000 in 2018.
It has made several dozen acquisitions in the past couple decades, including many in the past five years. Its largest acquisition in the 2018-2022 time period was in 2020, when it joined with a Mi'kmaq First Nations coalition to spend approximately $1 billion, including debt, to buy Clearwater Seafoods Inc.
The Jim Pattison Group is another company known for ongoing growth through acquisitions. It was able to find its way onto BIV's 2023 list of fastest-growing companies at No. 82 despite starting the 2018 fiscal year as the largest privately held company in B.C.
The company increased in size by 48.5 per cent, to $15 billion in 2022, up from $10.1 billion in 2018.
Some of its many acquisitions in that time frame include Lift Interactive, the Kelowna Auto Mall, Nonna Pia, Culinary Collective, Roth's Fresh Markets and Merritt Broadcasting Ltd.
Other companies that made BIV's 2023 list of fastest-growing companies despite being large ventures in 2018 include:
• Telus Corp. (TSX: T), at No. 97, which increased revenue 28.1 per cent in 2022 to more than $18.41 billion, from nearly $14.37 billion in 2018;
• Teck Resources Ltd. (TSX: TECK.B), at No. 92, which increased revenue 37.8 per cent to nearly $17.32 billion in 2022, from nearly $12.56 billion in 2018; and
• Finning International Inc. (TSX: FTT), at No. 94, which increased revenue 32.6 per cent to nearly $9.28 billion in 2022, from nearly $7 billion in 2018.
Many ventures got onto BIV's 2023 list of fastest-growing companies largely because they were involved in mining or selling commodities or metals that rose in price.
Platinum is one example of this.
That metal's average closing price in 2018 was US$882.18. It then rose in value to US$958.06 by 2022, helping Eastern Platinum Ltd. (TSX: ELR) rank at No. 3 on the list.
Gold was another example.
The average daily closing price for gold in 2018 was about US$1,269. In 2022, that average price had risen to about US$1,750.
Companies on BIV's list helped by the surge in gold prices include SSR Mining Inc. (TSX: SSRM), which ranked No. 31, with 174.1-per-cent revenue growth between 2018 and 2022, Sandstorm Gold Ltd. (TSX: SSL), which ranked No. 52, with 104.2-per-cent revenue growth in those years, and Eldorado Gold Corp. (TSX: ELD), which ranked No. 63, with 90.7-per-cent revenue growth in those years.•