Robert Fung has taken his first step in helping to revitalize the 800-block of Fort Street. Next month he intends to take a leap.
The president of the Vancouver-based Salient Group has been watching over construction of his 60-unit rental project at 840 Fort St., that will bring micro-suites to the block this winter. In September, he seeks approval from the City of Victoria for a 101-unit rental building that could change the dynamics of the street, if not the look of it.
Fung is hoping the project at 819-827 Fort St., which will maintain the historic facades of a pair of Fort Street buildings while bringing a range of rental housing and 5,000 square feet of commercial space to the neighbourhood, will continue the rebuild of the block.
If this latest project gets the green light Sept. 5, he will be responsible for a large chunk of re-energized real estate on the block, but Fung is the first to credit his new neighbours for breathing life into the street.
"I have an affinity for heritage," said Fung. "And I had a sense of a space that had an energy that seemed to have dissipated. Fort Street feels like that, but it also feels like the energy is being recaptured through other initiatives. I also really felt that in this case we didn't have to do the heavy lifting in the neighbourhood. People had really started to capture the essence of what the place is."
Fung was referring to the large investment made by Fort Properties to renovate its buildings near the corner of Fort and Blanshard streets, establish a new common area for businesses and residents and invest the time and effort needed to get the retail mix right.
He also nodded to The Summit at 838 Fort St., 20,000 square feet of shared tech space spearheaded by venture capitalist Owen Matthews.
Fung admits that kind of revitalizing work and respect for the heritage feel of the area drew him to the block and a chance to lean into his firm's specialty — urban revitalization and heritage-base redevelopment.
"It struck a chord emotionally right out of the gate," he said.
Fung believes the new project will hit all the right notes with the city and the neighbourhood.
The 10-storey concrete building will offer a selection of unit sizes from bachelor to three-bedroom suites, bike parking for 139, and 57 parking stalls in two underground parking levels. That amount of parking is below the required 75, but Fung said they have offered to balance that by providing car-share memberships for more than half the units.
"This builds on what the Bradburys [owners of Fort Properties] have done with Fort Common, and we will work hard to make sure we have the same character of local businesses and things that really feed a neighbourhood," he said.
Jayne Bradbury seems to appreciate what's coming.
"We're excited to see that certain developers from Vancouver continue to believe in Victoria's potential. The additional residents and workforce housing on Fort Street will help strengthen the market for our local businesses and ease labour-force issues related to lack of housing," she said.
Bradbury also noted the Salient Group has committed to doing everything possible to minimize disruption to neighbouring businesses during construction.
That includes aligning its construction timeline with the other redevelopment planned for the end of the block.
PC Urban has partnered with Parc Retirement Living to build a mixed-use project with 255 independent senior living units, market rental and retail space at the corner of Fort and Quadra streets.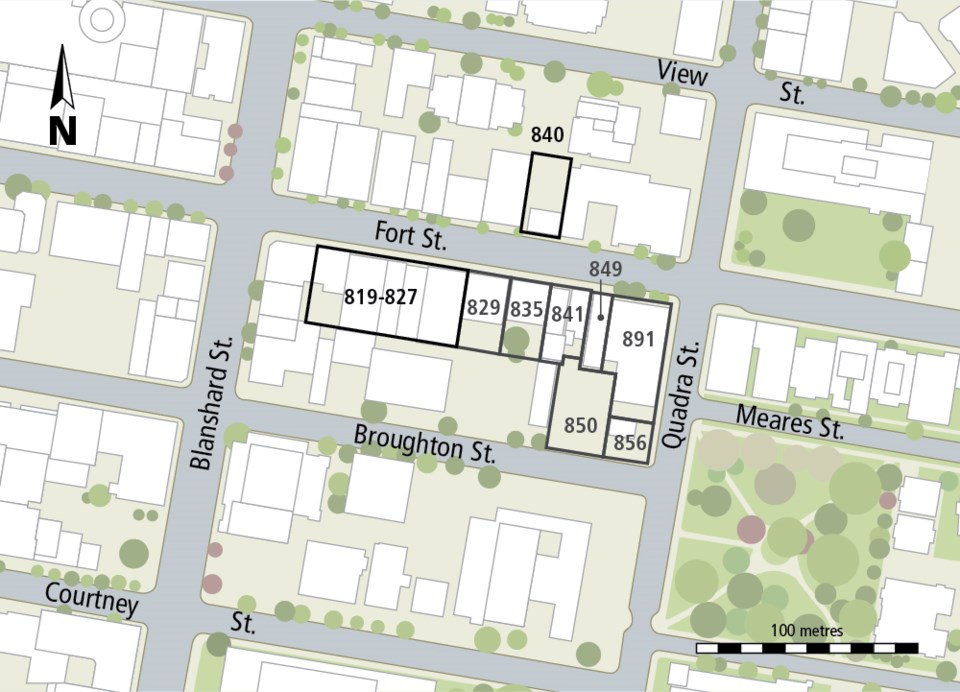 PC Urban spent about $13 million for seven buildings covering more than 42,000 square feet — 829, 835, 841, 849 and 891 Fort St. and 850 and 856 Broughton St. — in 2016. "It really made sense to align with their timing rather than have a decade of construction in this neighbourhood," said Fung, adding he felt it made more sense for the city to consider the developments at the same time to get the mix it wants.
If the city approves the 101-unit project in September, Fung said they will spend some time honing the design and start construction in 2021. He estimates it will take 18 months to complete.