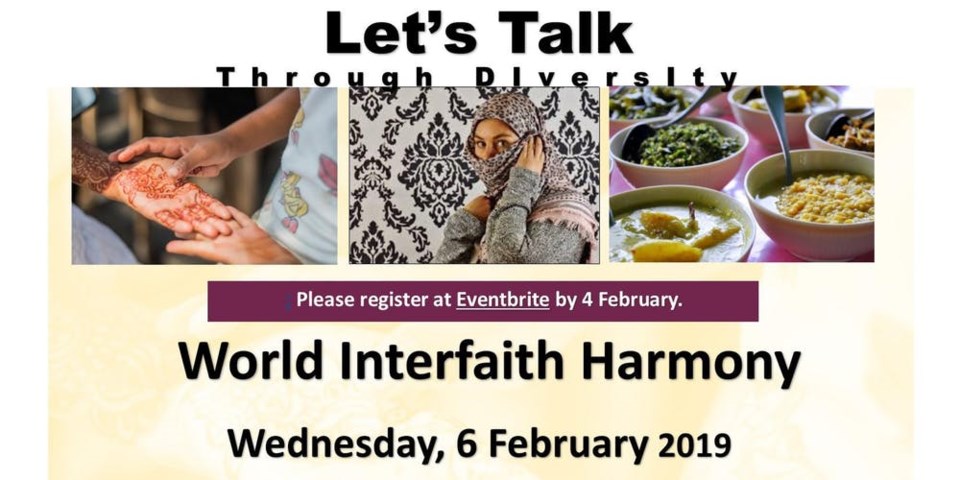 World Interfaith Harmony Week is only a few days away, so I'd like to highlight its importance and talk a bit about wisdom because "…interfaith harmony is not an option but a necessity in a world of diversity" (Doyeon Park, a Won Buddhist from New York, quoted in the Huffington Post).
The Victoria Multifaith Society with UVic Multifaith Services and UVic's Equity and Human Rights are hosting a free evening of bridge-building and cultural sharing at the UVic Chapel on Feb 6, called Let's Talk Through Diversity: World Interfaith Harmony Week Event.
All are welcome. Register at Eventbrite HERE by Feb 4 for this free event.
When people of different faith traditions get together we often like to share food, and fun, and sometimes we share the wisdom handed down through generations of holders of our faith.
If you asked me what wisdom I see in Zen that could be useful in bridging differences, I wouldn't know where to start because I could tug at any practice thread and it would lead to the value Harmony.
Spiritual maturing in Zen leads to a state that is everyone's birthright and available to all. So no person need be excluded from spiritual practice, everyone is absolutely OK. That's the starting point.
Then there's the interesting fact that when we listen to the words of true spiritual leaders, they seem to be pointing to the same things with only a little translation needed: we are all equal, we can open our hearts and minds, we are invited to look beyond the surface of life, there is an end to suffering, it is deeply meaningful to set aside our likes and dislikes to help others. This religious convergence perhaps means that no one path is better than another, no one path is the perfect one, we must all choose our own way.
Truly believing that we are all capable and that it is up to the individual to choose their path, is a very respectful way to begin the bridging of religious differences.
Everyday zen is about coexisting harmoniously with the rest of the community or sangha. Whether we are doing walking or seated meditation, we are engaging in this activity together, and are aware that our manner impacts on the others' space and the quality of their meditation. For example if I breathe heavily or squirm, this can be very distracting to my immediate neighbours in the meditation hall. The quiet meditative space arises because of the sangha's commitment to following the form in a harmonious manner. 
Without this concerted effort, the heart of the practice would not exist. We let go of our ego involvement just a little bit, wear plain dark clothing, remove jewelry and wristwatches, turn off our phones, move quietly, walk in step, all in an effort to create a safe, non-distracting place of deep meditation, for all.
And the outcome of meditation is to let go of who we think we are, let go of our concepts, our habitual thought patterns to truly see what is real. When we understand our true nature and our deep interconnectedness we will naturally act from a place of respect, love, and compassion.
There is a danger point in early spiritual maturation where we are awake and aware of many issues but have not developed wise strategies for dealing with them. At this point we may fall into the trap of solidifying our beliefs, forming strong opinions, because it feels better to be sure of something – anything! – rather than to be open minded and aware.
The author Elizabeth Mattis Namgyel, in her book The Logic of Faith, suggests this is the reason many people develop strong beliefs such as homophobia, transphobia, racism and fundamentalism. It is much easier to latch onto a belief like a life raft than to stay open, curious, and awake.
Could the actions of individuals working towards spiritual maturity affect world harmony? I'd give that a resounding yes. Is that realistic? Well, I'd like to keep an open mind.  There's no easy way to develop wisdom, but daily practice, learning to be mindful, leaning in to difficult issues and feelings, over time will allow more clarity of heart and mind.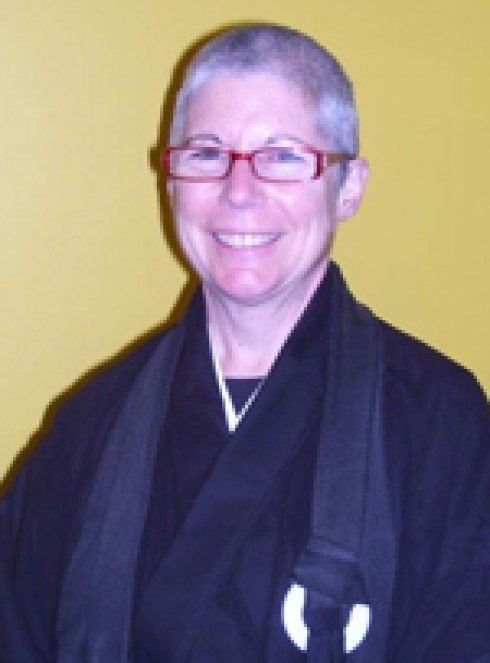 Rev. Soshin McMurchy is a priest with Zenwest Buddhist Society, zenwest.ca, and serves as a Buddhist Chaplain with the University of Victoria Multifaith Services where she teaches meditation. She works part-time at the Greater Victoria Public Library and lives in Victoria with her partner of 40 years.
You can read more articles from our interfsith blog, Spiritually Speaking, HERE