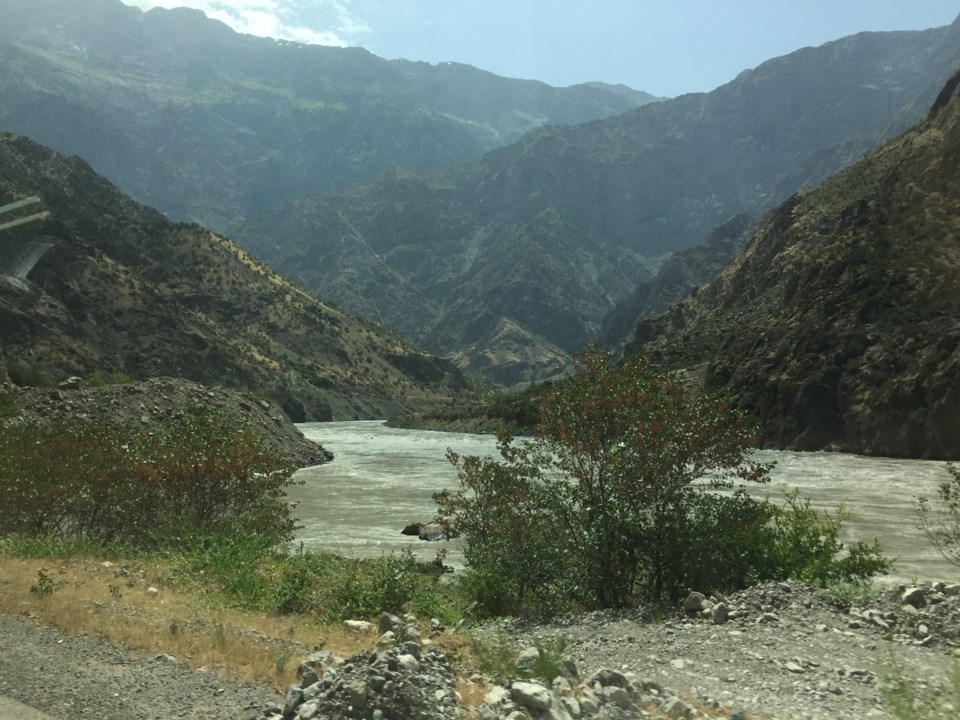 I have spent the last month in Central Asia, a part of the world that has always seemed unreachable. Unreachable until the opportunity arose to volunteer with the University of Central Asia. This institution has two campuses located among the highest mountains in Central Asia: in Naryn, Kyrgyzstan and Khorog, Tajikistan. A third campus is under construction in Tekeli, Kazakhstan.=
We drove for over 12 hours from Dushanbe, Tajikistan's capital city, to Khorog, along the River Panj, which separates Tajikistan and Afghanistan. The scenery was breathtaking – majestic mountains all around us, and the River Panj, with its fabulous emerald colour, adding to the beauty. A verse from the Quran spoke to me:
And it is He Who spread out the earth, and set thereon mountains standing firm, and (flowing) rivers…verily in these things there are Signs for those who consider! (Chapter 13, Verse 3)
And consider (reflect) I did! I could not help but think about the magnanimity of the Creator as I saw the signs of His creation. My thoughts then took me home to the beautiful mountains we have in British Columbia, and then to the last time I drove with my family through the Rocky Mountains, which are every bit as beautiful as these. "But wait a minute", I reflected further; "that trip did not entail driving through unpaved roads with sharp turns and cliffs that almost made me bite my nails for fear of falling off the cliff into the River Panj, which was calm in some areas but turbulent in others". I remembered to say a prayer of gratitude for our skilled driver.  
I could feel us climbing (well, driving) up the mountain hour after hour as we drove toward our destination almost atop the Pamir Mountains, some 7000 feet above sea level – a region that is often called "the roof of the world". I tried to take in the fresh air and enjoyed the beautiful views. But I saw more than beauty. As we drove from village to village, I saw families living in isolated communities along the edge of the mountains, some in houses built against the edge of the mountain. Our driver skillfully navigated around gigantic rocks that had fallen on the roads (once again I remembered to say a prayer of gratitude). It made me wonder what would happen to these families if the rocks fell just a few metres closer to their homes. 
I was hit by a deep sense of guilt at the privilege I enjoyed in my life. What responsibly does this privilege impose upon me?  Am I doing my part to help improve the quality of life of these communities? From what I had seen, life for these communities is difficult in the summer months. What do they have to endure in the winter months? Yet despite this, all I saw were smiles on their faces, and people happily going about their daily lives...kids playing in the water, women working on farms, and men traveling with their donkeys from one village to the other, both on the Tajik side of the border and across the river in Afghanistan. 
My thoughts turned to the work we do with the World Partnership Walk (www.worldpartnershipwalk.com). What impact do the dollars we raise have on these communities? I had visited the Aga Khan Foundation (AKF) Tajikistan office in Dushanbe to get a sense of this. I learned that, after the collapse of the Soviet Union in 1991 and the five-year civil war that followed, Canada and Canadians partnered with the Aga Khan Development Network to help these remote communities enhance their quality of life. Funds raised through World Partnership Walk helped improve education, food security, and access to health care. Our support helped Tajik women and men start new businesses and local organizations to sustain progress over the long term.  
I saw the legacy of both those early investments and the Aga Khan Development Network's (AKDN's) ongoing efforts in this region (www.akdn.org). For instance, from 2012-2017, AKF Tajikistan's Early Childhood Development programs reached 60% of the 220,000 people who live in isolated settlements along the Pamir Highway. Teacher training programs at over 300 schools in these regions are improving the quality of education. Water management programs are bridging divides across the River Panj, ensuring communities on both sides of the Tajik-Afghan border have reliable water supplies. This bridging does not involve just water: while Aga Khan Health Services operates one of three Comprehensive Health Clinics in Shegnan District of Badakhshan, Afghanistan (which I saw a glimpse of from across the river as we were driving to Khorog), the clinic is not equipped to provide more complex care. A cross-border health programme –supported in part by Canada – enables Tajik health professionals to serve Afghan patients while also teaching their Afghan colleagues. I am encouraged by all the work that is being done thanks to the support of Canadians like you and me.
The University of Central Asia (UCA – www.ucentralasia.org) is, in addition, a most inspiring project. It uses higher education as a development mechanism to improve the quality of life in the mountain societies in the region and around the world. I feel privileged that I (and the University of Victoria, through a partnership with UCA) can contribute in a small way to this big agenda. As I say goodbye to this beautiful land, to the wonderful people who joined me and supported me on this journey to the roof of the world, and to those who I have met and worked with here, I reflect on how I can continue to play my part in helping improve the quality of life of people in this and other parts of Asia and Africa.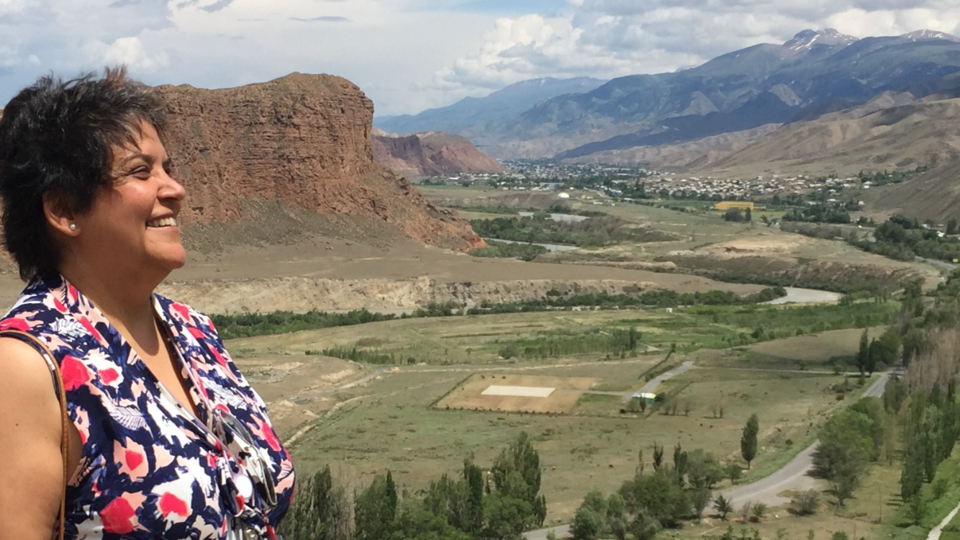 Karima Ramji is Manager of International Programs at University of Victoria's Co-operative Education Program and Career Services and a certified Advanced Cultural Intelligence Facilitator. She also serves as Chair of the 2018/2019 Victoria World Partnership Walk. She is a member of the Ismaili Muslim community in Victoria. B.C. 
You can read more inspiring articles on our interfaith blog, Spiritually Speaking, HERE