Recently, I was invited to a talk at UVic given by Robin DiAngelo, author of the book White Fragility. We were in the middle of a family crisis. A dear family member had been medevac'd to Victoria General for emergency care. However, knowing the critical importance of the topic, some of my family and I chose to slip away from the hospital room to attend the talk.
Zen training helps us pay attention to the ever changing emotional soup we live in. Perhaps our crisis also primed my heart and focussed my attention. So, by the time we arrived at the venue for the talk, I knew I was up against some very strong, very old feelings and patterns of behaviour that I hadn't previously been aware of.
I was feeling angry that an American was giving this talk, and certain it would be all about the American cultural context rather than BC or Canada's. Curious about my own crankiness, I watched myself build a fantasy, a story of American cultural insensitivity. I realized it must have been a kind of inoculation against whatever bad news I imagined I was going to receive about my own role in supporting racism. Thankfully, I was able to laugh at myself for this very defensive reaction to something that might not happen – I wasn't even at the venue yet!
This hyper-sensitivity to the topic of racism is an example of "white fragility".
As her talk unfolded, it became apparent that laughter is a strategy used by DiAngelo to help white people cut through our defensiveness. She uses humour to prepare the audience to be more open to the crucial information that even fair-minded white people, as a group, unconsciously and without bad intentions, support white supremacy; which seriously harms Blacks, Indigenous People and People of Colour.
She gave an incisive talk about the hidden (to white people, glaring to all others) nature of systemic racism. She did this from her area of expertise, namely the US situation, but added into her talk information specific to Canada and our struggle to come to terms with centuries of racist practices against First Nations, Inuit, and Metis.  (Yes, there are other peoples who have suffered from systemic discrimination here, and this too needs to be addressed.)
Having my part in systemic racism so graphically presented to me left me fighting for air. It took all of my zen practice strength to stay with this difficult topic, to stay open and unarmoured.
Throughout her talk I remembered to check in with my body, to breathe deeply, to be aware of my surroundings, to acknowledge and to calm my rising stress and discomfort. This work is not easy, but is facilitated by a mindfulness practice.
Meditation practice is ultimately about dissolution of the grasping self, about nurturing a state of mind characterized by curiosity, creativity, openness, and attentiveness. This practice served me very well during the talk. If I allowed my defensiveness to rule, I would have missed the opportunity to experience our connectedness, and to see the grave harm caused others when, through inattention, we support a racist system.
During my relative's medical emergency, deep love and caring rushed to the fore, cutting through ordinary consciousness; with the same spirit, zen practitioners vow to see beyond surface appearances, to love deeply, to be of benefit to all beings great and small, animate and inanimate. With this vow in mind, I must accept DiAngelo's parting invitation to make ending white supremacy my life's work.
I recommend  Robin DiAngelo's book, White Fragility and  her talks on youtube.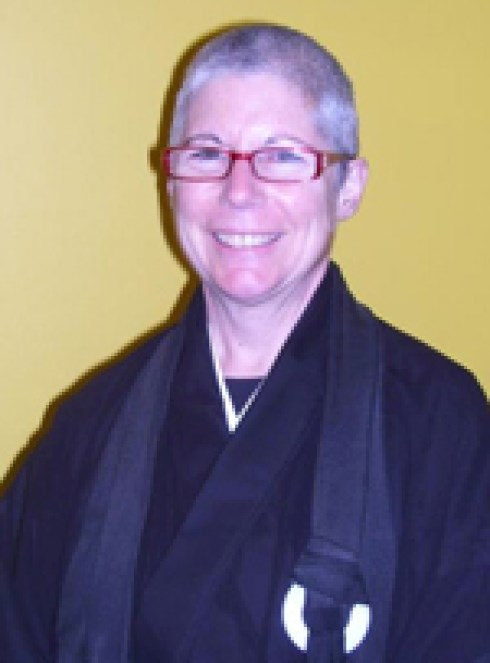 Rev. Soshin McMurchy is a priest with Zenwest Buddhist Society, zenwest.ca, and serves as a Buddhist Chaplain with the University of Victoria Multifaith Services where she teaches meditation. She works part-time at the Greater Victoria Public Library and lives in Victoria with her partner of 40 years.
You can read more articles from our interfaith blog, Spiritually Speaking, HERE
* THis article was published in the print edition of the Times Colonist on Saturday, January 26th 2019