A B.C. wildlife advocacy group is calling on the province's conservation officer service to ban the use of culvert-style bear traps during extreme heat events.
In an email to two senior managers at the BC Conservation Officer Service (BCCOS) and a veterinarian with the Ministry of Forests wildlife branch, the BC Bear Alliance called for the province to approve "a standing order to close all bear traps during extreme weather conditions."
"It's just no different from leaving dogs and kids in cars, and everybody understands that. There is no question about it," said Sylvia Dolson, co-chair of the BC Bear Alliance.
"And yet for some reason, we think that a large black mammal that is very sensitive to heat can somehow endure being in a hot space with no water or sufficient air or mobility."
In an example of the animal's vulnerability to heat, Dolson pointed to a tragic case of a bear that was trapped last month in an unlocked car outside a rental cabin Tennessee's Smokey Mountains. Temperatures inside the car were thought to have reached up to 60 degrees Celsius.
When the state wildlife agency responded, officers found the bear slumped over the centre console of the vehicle, its paw stretched out toward garbage and an empty pop can on the floor.
The call to put a hold on trapping bears comes as temperatures soar across much of B.C. Several municipalities have already put out heat alerts and in some parts of the province temperatures are expected to climb past 40 C.
Dolson told Glacier Media this is the second time her organization has called on the province to end the use of culvert-style bear traps during heat waves.
Last year, during the late June heat dome, the BCCOS's Lower Mainland region said it would stop using the traps — which resemble large open-sided barrels laid on a trailer with metal gates on either end.
"Although it is standard practice to ensure the culvert-style live traps are placed in shaded areas, checked frequently and nearby residents encouraged to call day or night if a bear enters, it could still take some time for officers to reach the area," said the agency at the time.
​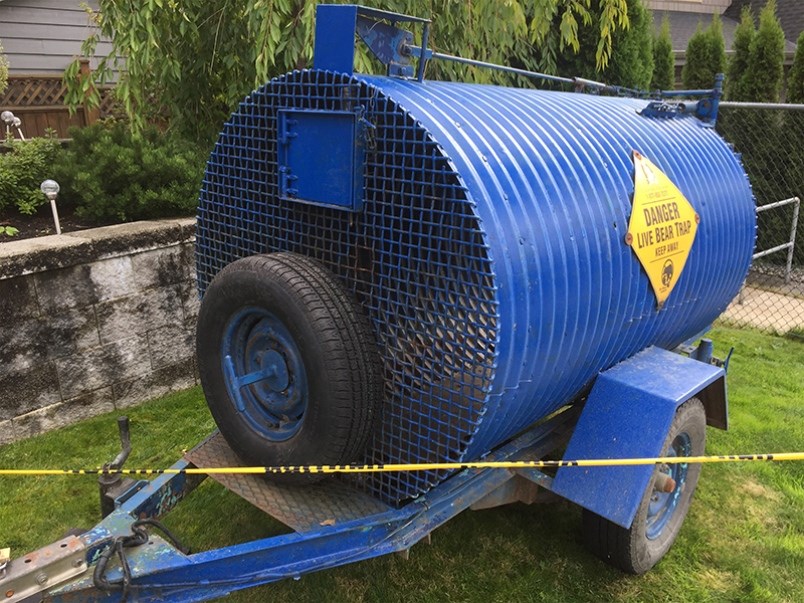 ​
Dolson says confronting increasingly hot summers necessitates a permanent change in the way B.C. conservation officers operate in extreme heat.
"What we're looking for is rather than us having to request this every time it gets hot, just for there to be a policy or a standing order, for this to be a normal course of events, that there are no traps put out," she said.
In her letter to provincial authorities, Dolson said the impending heat means officials should act quickly.
In an email to Glacier Media, a spokesperson for the Ministry of Environment and Climate Change Strategy, which oversees the BCCOS, said culvert traps will only be set when necessary to protect human safety.
"The Conservation Officer Service understands people are passionate about the well-being of wildlife. Our agency takes the safety and welfare of bears in the field very seriously," said a BCCOS statement.
The spokesperson added that conservation officers set traps in shaded or breezy areas when possible, that they check them frequently, and cool the animals with water.
When temperatures are extreme and traps cannot be checked frequently, they are closed during the day.
The spokesperson did not directly address the call to issue a standing order to close all bear traps during extreme weather conditions.
With files from Diane Strandberg