Oregon's largest county is suing a long list of fossil fuel companies for more than $51.5 billion, in a case that cites the 2021 North American heat dome as a "direct and foreseeable consequence" of selling as much oil and gas as possible while lying to the world about its effects.
The latest lawsuit, filed by lawyers for Multnomah County in a Portland circuit courthouse Thursday, is the first to seek damages from the 2021 heat wave — a deadly event that is thought to have killed over a thousand people in British Columbia, Washington and Oregon.
"The heat dome event — it is such a specific event. There is such a clear connection to it being caused by climate change," said Multnomah County chair Jessica Vega Pederson after the board approved the lawsuit. "These companies are directly responsible because of the their products, their misinformation, their pseudo-science, their lies around the impacts that they've known about for decades."
"This is not something that we have a moment to lose on."
The companies listed as defendants in the complaint include: ExxonMobil, Shell, Chevron, ConocoPhillips, Motiva Enterprises (a U.S. affiliate of Saudi Armco) Occidental Petroleum, Koch Industries, the American Petroleum Institute (API) and the management consulting firm McKinsey and Company, among others.
API senior vice president and general counsel Ryan Meyers said climate policy should be left up to Congress, not the courts.
"This ongoing, coordinated campaign to wage meritless lawsuits against our industry is nothing more than a distraction from important issues and an enormous waste of taxpayer resources," Meyers said.
A spokesperson for ExxonMobil said the court action would have "no impact on our intention to invest billions of dollars" to transition the world to net-zero carbon emissions.
"Suits like these continue to waste time, resources and do nothing to address climate change," said the spokesperson in an email.
Fossil fuel companies misled public on climate change
Starting in the 1970s, ExxonMobil's own scientists found compelling evidence that the burning of fossil fuels was transforming the planet's climate. That didn't stop them from waging a decades-long disinformation campaign — revealed in detail by Inside Climate News in 2015 — to discredit scientific consensus on climate change.
"That was remarkably successful," Kathryn Harrison, a climate policy researcher at the University of British Columbia, told Glacier Media last year following the release of a trove of documents allegedly detailing the gas industry's global disinformation playbook.
"Even today, we see much lower levels of public confidence that climate change is caused by humans compared to the near unanimity among scientists — even in Canada."
In 1990, there came the first of six comprehensive reports on the state of climate change from the United Nation's Intergovernmental Panel on Climate Change (IPCC); with each release, the gold standard of climate science declared with growing certainty and alarm that fossil fuels cause climate change.
As the science detailing humanity's impact on the climate has improved, there have been a growing number of court challenges calling on big carbon polluters to pay their share of the damage. Multnomah County, which includes Portland, Ore., is now among more than 40 local governments in the U.S. alone that have turned to the courts to seek damages related to climate change.
Heat dome 'virtually impossible' without human-caused climate change
The county is accusing the fossil fuel companies of negligence, fraud, and creating a public nuisance. Roger Worthington, a lawyer at Worthington & Caron, PC, representing the county, said what's new about the case is that the county is relying on "irrefutable climate science to hold corporate polluters accountable."
"We are confident that, once we show what the fossil fuel companies knew about global warming and when, and what they did to deny, delay and deceive the public, the jury will not let the fossil fuel companies get away with their reckless misconduct," said Worthington.
None of the allegations have been tested in court.
In the weeks following the heat wave, climate scientists convened a rapid attribution study ultimately finding human-caused climate change made the extreme temperatures 150 times more likely and would have been "virtually impossible" without it.
Extreme heat ripples throughout a population. Deaths in the county more than doubled their normal levels, and many fell ill from heat strokes, heat exhaustion, and dehydration. The court filing claims 69 people died of heat illness in the county — more than those who died from heat in the entire state of Oregon in the past 20 years.
That's a fraction 619 thought to have died in B.C., where the record temperatures drove death rates up by a factor of 10, and led to the deadliest weather event in Canadian history.
Heat led to spike in crime and violence, claims county
Death by heat was only part of the human toll inflicted by the extreme temperatures, the court document claims.
Beyond those directly killed by scorching temperatures, heat has been correlated with increased rates of everything from car accidents to murder. The Multnomah County lawsuit claims the record heat provoked "agitation and desperation," driving up crime and violence and taxing already thinly stretched police forces and health-care workers.
The county cites the economic burden the heat wave put on the jurisdiction, including taxpayer money spent on shelter, cooling centres, fans, food, portable air conditioners, clothes and water.
The local government is asking the judge to award it $50 million for actual damages and $1.5 billion in future damages. It's also seeking a $50-billion abatement fund to study, plan and upgrade local infrastructure to "weatherproof" the county and its public health system from future extreme events.
"This is something that had an impact much bigger than in my county," said Vega Pederson, listing off the number of people killed in Oregon, Washington and B.C. "This is an opportunity and I think we will be completely open to having other jurisdictions join."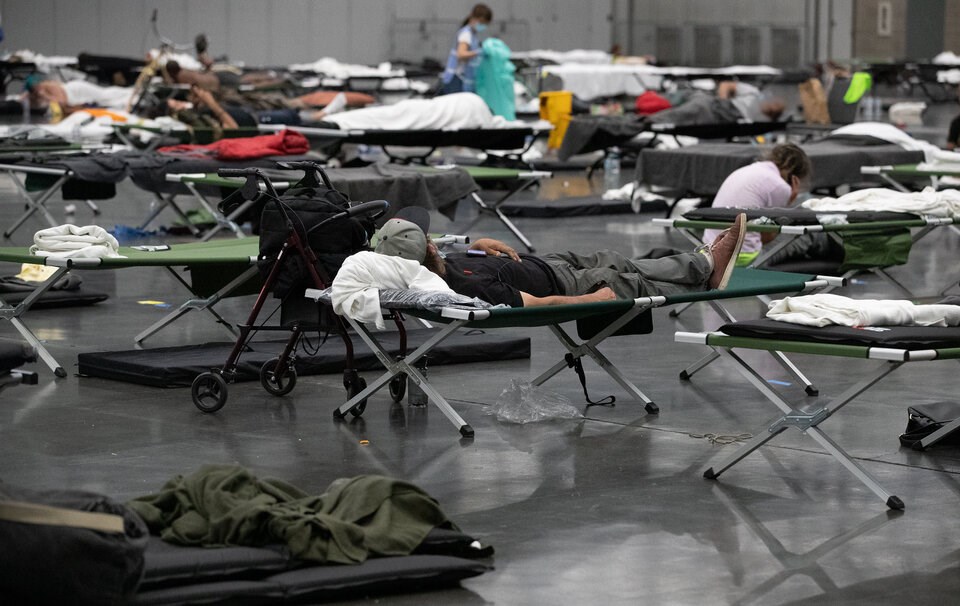 Case could guide future class-action suit in B.C.
Andrew Gage, a staff lawyer with the Vancouver-based West Coast Environmental Law, said Oregon state law likely preclude the case from expanding to include Canadian plaintiffs.
However, he said a victory in court could set a precedent for legal action against big fossil fuel companies in British Columbia. U.S. court decisions do not bind Canadian judges, but they can offer guidance on how to deal with the novel cases.
"More and more communities are realizing that they cannot afford to pay all the costs of climate change while the fossil fuel industry pockets all the profits," Gage said. "Surely, the fact that this industry knew that their products are causing these impacts and actively worked to delay action means that they should be paying some of these costs. I mean, that should be a no-brainer."
"Every government around the world should be going, how can we recover these costs?"
Gage is part of a team of lawyers and environmental groups coordinating municipalities in British Columbia to sign on to a class-action lawsuit against fossil fuel companies. The proposal appears to have the strong support from most of the province's residents — a August 2022 poll found 69 per cent of the B.C. respondents backed suing big oil.
Critical mass to sue 'Big Oil' growing in B.C.
Last year, the City of Vancouver said it would commit to a fund to launch litigation against big oil and gas producers. But the city's new government, elected in the fall of 2022, chose to abandon that commitment.
For a while, the municipality of Gibsons was the only B.C. community to sign on to the Sue Big Oil campaign. But on June 7, the Greater Victoria municipality of View Royal agreed to join any future litigation seeking to recoup a share of damages from climate change, so long as the cities involved combined to represent at least 500,000 British Columbians.
"We're looking for a critical mass of local governments and one municipality or one or more municipalities to act as a lead plaintiff," Gage said.
Municipalities in B.C. tend to have less control over public health than their U.S. counterparts. Spending on health care, for example, is managed through several regional health authorities ultimately controlled by the provincial government.
"It raises questions," Gage said.
"Why the B.C. government as a whole, which has suffered so much under extreme heat and wildfires, hasn't done this?"