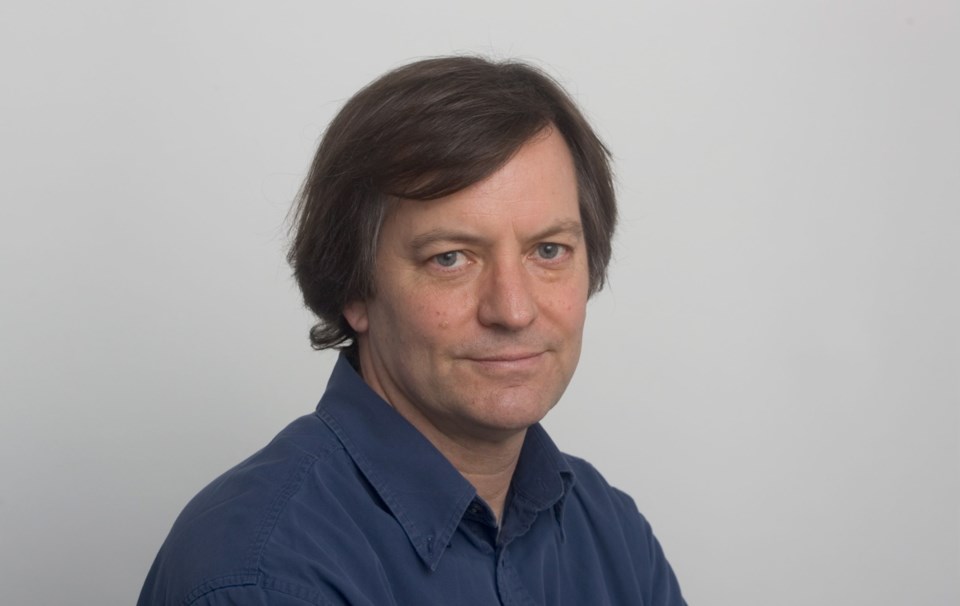 Hardly anyone these days is brave enough to be exactly who they are. A sincere admixture of Bohemian, hippie, old salt, romantic and obsessive, Godfrey Stephens spends every moment expressing the elemental mythology born of this place.
He has never had a driver's licence or any gallery representation, but I consider him the supreme artist of the local vernacular. By that I mean he has created a unique artistic language at the nexus of First Nations, psychedelic and seafaring. And he comes by it all honestly.
Godfrey's father was a strawberry-farming poet and his mother brought him up in James Bay, where they were neighbours of Abaya and Mungo Martin. Tony Hunt has always been part of the scene. His family moved to California when Godfrey was a teenager, and he took off on a motorcycle, to spend the '60s in Spain, Greece and the lofts and basements of Paris.
He then made sailing ships and rode the wind to Mexico, where numerous shipwrecks and broken hearts made his pulse race. It was a natural step from carving ships (with no plans or rulers) to carving yellow and red cedar on Long Beach into free-form totems. He was already out there when the hippies arrived.
This has been going on for a long time — he's 75! But he continues, his usual volcanic self, to hold court in his Esquimalt studio, where any visitor will be subjected to a discursive rant of reminiscences and poems, interrupted for quick sessions of work with an adze or a paint brush. Since the early days, he has been dashing off a sketch for a boat, painting a mural to pay for his bar tab or labouring away on the many-layered surface of some swirling phantasmagoria.
He has always been a painter who just won't quit. He loves to work a piece long after everyone has told him to stop. That's what will endear his work to posterity.
We can be grateful that his niece, Gurdeep Stephens, had the audacity to try to put it all down — at least a representative sample of what her fascinating uncle has been up to. If she had listened to the nay-sayers (Godfrey first among them) this first-time author would have long ago quit. But with the aid of modern technology she has created a richly detailed survey of his most important work, beginning with the two huge totem forms that were commissioned in 1973 for the front entrance of the Times Colonist building.
No gallery, commercial or institutional, has what it takes to harness this artistic force of nature, so it is unlikely there will ever be a fitting retrospective show of Godfrey Stephens' work in his lifetime. This book is full of archival photos of log-salvage, sailing days, timber carving and long-lost sketches. It is also our best chance to see a rich selection of art works in carving, painting and boat-building.
A book signing will take place at Munro's Books (250-382-2464) at 1 p.m., Nov. 1.
Wood Storms, Wild Canvas: The Art of Godfrey Stephens by Gurdeep Stephens, D&I Enterprises, Victoria, 2014. 132 pages full colour, woodstormswildcanvas.com and godfreysart.com, $39.95, available at most bookstores.
'The joyful present moment. That is where I get super stoked. That is where I try and stay the most." — Caleb Speller
Caleb Speller's life is based on a philosophy of unfettered creativity. His stream-of-consciousness drawings pour out imagery as it comes, without intention or destination. His watercolours and the ad hoc assemblage of items he finds on the sidewalk — leaves, bits of plastic, burnt matches — are a sort of abstract art. He meticulously reclaims bicycles from retirement. His lunky pottery is yet another canvas for his free play of imagery.
Speller lives near his hand-built studio in the woods, with a fire pit and his soul-mate wife. Over the years, his effusive creativity has found a forum at local galleries more known for their opening parties than their commercial acumen. But he does just what he wants, with a certain flair, and he certainly isn't going to do the same thing twice. This new book celebrates his wide open spirit.
In years past, I have been amused, annoyed, confused and dismissive of Speller's efforts, but by placing dozens of fine reproductions between two covers and offering an interview with the artist and a few short essays, this book is beginning to make sense of his random creativity. But he's not giving any easy answers. He's one of the modern types who think that to resolve something is to hex its originality.
Not long ago, an artist would need to be very famous and, likely, dead for such a wonderful tribute book. The Caleb Speller art book is a self-published item, 184 pages of colour with a generous helping of imagery from all his projects, and quotes from articulate curators. It's really a gift from the new technology that such a thing is possible. It's helpful to have this cloak of rationality wrapped around his skinny shoulders, and to give us a better insight into a very popular young artist.
Artwork by Caleb Speller, Decoupage Publishing, Victoria 2014, 184 pages, limited edition of 50 copies, $75, available at Polychrome Gallery, 977 Fort St., 250-382-2782