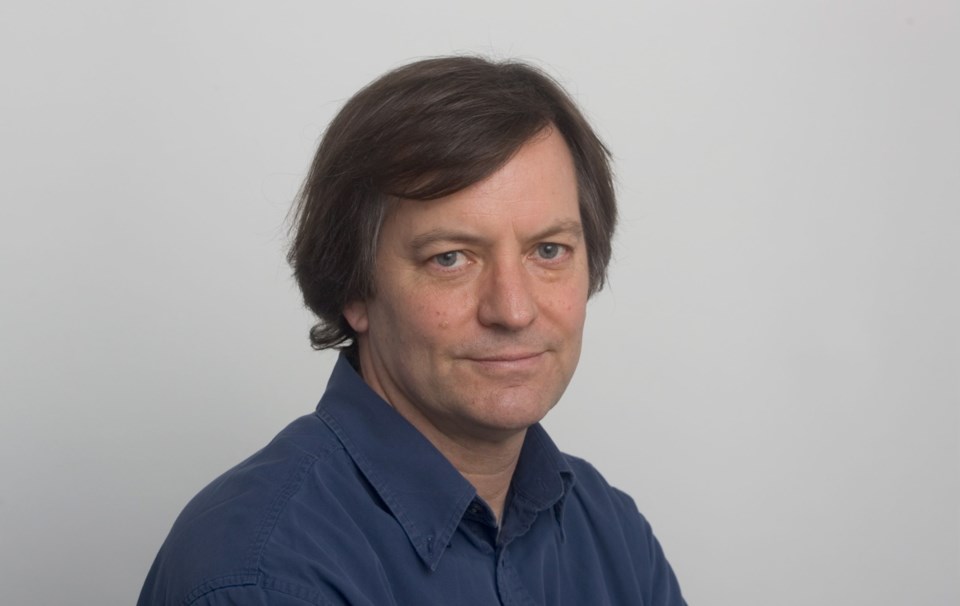 I've often wished I could read the biographies of the people I meet — I'd love to know their stories. In the case of Last Dance in Shediac, I know Anny Scoones, who wrote the book. And I knew her mom, Molly Lamb Bobak, whose last days provide the narrative arc. Like her others, Scoones's fifth publication is a meandering memoir, told in her unique and quirky voice. It is a bouquet of a book.
Molly Lamb Bobak was the reason I met Anny in the first place. Anny lived at Glamorgan Farm next to the now-abandoned Sandown racetrack and was in the habit of putting on poetry readings and art shows in her huge log barn in North Saanich. Her mom, artist Molly Bobak, came every year, to nourish her West Coast roots and to flee the relentless winter of Fredericton where she lived with her husband, Bruno Bobak. Both Molly and Bruno were painters held in high regard nationally. They had met when they were thrown together in a studio as war artists in the Second World War.
I went to interview Molly so I could write about her art show at the farm, but I had a secret agenda. I was on the trail of Molly's father, Harold Mortimer Lamb, whose biography I was in the midst of writing. When I asked about him, Molly and Anny brought out the family albums and showed me all the paintings hanging upstairs in the bedrooms. The house at Glamorgan Farm was the locus of Anny's first three story books: Home: Tales of a Heritage Farm, Home and Away and True Home.
In the new book, Anny and Molly go for gumboot walks with the dogs in the long grass. They notice the littlest flowers, and remember every detail of their lives together, lives I find interesting on many levels. Anny's grandfather and both her parents were artists, and led long and richly creative lives. A.Y. Jackson and Joe Plaskett and Elizabeth May and Lorna Crozier make appearances, as do the wife of a Governor General, and Anny's trolls, and a few whiskey-soaked jockeys.
Molly and Anny always liked to take little road trips, for which they chose "road sisters names," using the name of their first pet and the street where they grew up.
"Mum's road-sister name was Old Pup Raeside and mine was Gracie Grey," Anny revealed. So Old Pup and Gracie hit the road to Long Beach on the west coast, and to Digby in the east.
"Cox Beach was the subject of many of Mum's paintings. As her sight began to fail in her later years, the beaches at Pacific Rim Park became her favourite subject. I'd take her arm at dusk after a glass of wine by the fire and say: 'Come on, Old Pup, let's stroll the beach.' Her canvases captured beautifully the immense, shifting gold and mauve skies over the endless silver sands, dotted with the tiny black wetsuited figures of surfers running into the grey seafoam. The scene had the energy, joy and vibrancy Mum so loved to paint. She didn't need to see by then — she painted by sound and smell, impelled by her love of the place."
I've read Anny's books aloud to my friends and they really stand the test. She has a remarkable learning worn lightly — so lightly you hardly notice it.
"The best examples of Mum's and Dad's different sensibilities can be seen in their tulip pieces. In Mum's watercolour, a bundle of mauve and yellow tulips sits in a clear glass vase, their strong stiff stems reaching upward to exhibit everything that a voluptuous tulip is… The tulips in Dad's painting are done in thick grey and magenta oil, fading, wilting and drooping… As they began to wilt, and as the colour drained from their petals, I saw that they were even more beautiful and interesting."
As winter's steely grip kept Molly indoors in her last days at the Veterans' Health Unit in Fredericton, arm-in-arm Anny and Molly made the circuit of the hospital corridor. There are always things to notice — a blue velveteen sofa — and thoughts to share. Though the subject matter is sometimes sad, I read this new book with joy.
It might appear to be just a light little memoir about a girl and her mother. And yet it delivers much more. After reading it, I put it down and had "a little think," as Anny often does.
After her father's death, for instance, she returned to the family home.
"The silent house felt warm, though very empty. Feeling a little sentimental, I decided to have a martini, which I made with the last drop of vodka in Dad's cabinet and a stale olive I found in the fridge. Mum and Dad hated sentimentality, especially in their paintings, but there I was, on a freezing winter's night, sitting with the old cat Ernie on Dad's bed, as he waited for Dad to come home … I felt I was entitled to pretend I was in a movie, to raise my glass to the empty house and ask, 'What is life about?'"
What, indeed? You'll get a sense of it in this slim volume, and a few helpful answers.
• Book launch at the Winchester Galleries, 2270 Oak Bay Ave., 2 p.m. Saturday, Nov. 14.
• An exhibition and sale of original paintings by Molly Lamb Bobak and Bruno Bobak will be presented at Winchester Galleries from Nov. 10 to Nov. 28.