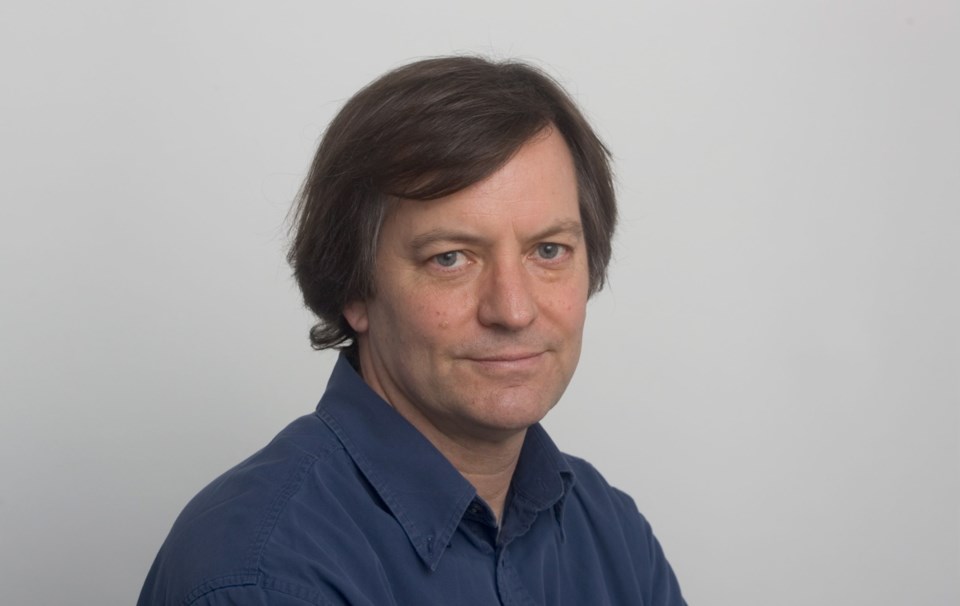 Alcheringa Gallery encourages cultural evolution. In addition to fine traditional Northwest Coast art and indigenous carvings from the South Pacific, owner Elaine Monds has helped West Coast artists to collaborate with their peers in Papua New Guinea, Japan and Australia. Currently Rande Cooke, a Kwakwaka'wakw artist, has been working with Carollyne Yardley. And what is Yardley's tradition? "Pop culture," she replies, with no hesitation and a peel of laughter.
Cook was born in Alert Bay and raised there by his grandparents. Coming to Victoria for high school, he decided to avoid art school and studied with the masters: Robert Davidson, Calvin Hunt, Susan Point, Richard Hunt and Art Thompson. "If you want to be in the mix of success, you hang out with success," he told me. During a six-year apprenticeship, he "loaned himself out" to these master artists, helping with the finishing of their fine pieces. After the recession of 2008, a great shakeout in the art world opened doors in the major galleries, and Cook was ready. The shows he proposed were very contemporary, even groundbreaking.
Cook painted sexy Indian vamps, and broke into sand-blasted glass and cedar to quickly put across his new imagery. A huge breakthrough came last year when his tattoo design for Brody Fox was at the centre of a film festival hit, the documentary The Skin I'm In. Recently he was co-curator of the memorable show Urban Thunderbirds at the Art Gallery of Greater Victoria. There he met Carollyne Yardley, who was curating her show called Strangelings at the gallery at that time.
Yardley is widely known as "the squirrel lady" for painting all sorts of characters with squirrel heads transposed onto their shoulders. Squirrealism, she has named it. She and Cook share a sense of fun that is central to their art and life. First Nations artists are known as storytellers, and jokesters. "I want the humour to show, the excitement to show, to get across the feeling that we are playing," Cook says.
And Yardley was ready to play. After graduation from UVic, she had entered the new world of software development and built a successful business over the next 14 years. A turning point came a few years back, and she rededicated herself to art. Already a talented painter in the old-world way, she was mentored by Noah Becker and soon burst onto the local scene.
Cook sees many native artists stuck in traditional ways, confined by their reverence for the past. He notes the 19th-century extravagance in Kwakwaka'wakw art brought about by cultural borrowings such as steel tools, colourful paints, blankets, silver, floral patterns, buttons and the rest. "It's so apparent that it was thriving," he says. This exuberance of influence "before the government got involved" shrivelled in the dark days of the potlatch ban. "If there wasn't that dark period of the banning, what would have happened to the art form?" Cook wondered. "Let's allow ourselves to keep going."
Cook asked Yardley to paint a full-length portrait of him dressed in his chief's regalia: the mask and blanket he had designed and created. And inevitably, he became part of squirrealism. Amid laughter and an upsurge of new ideas, their collaboration was off and running. Next Yardley became fascinated by the simple circular patterns on the back of his robe and transposed them into a chic sheath dress, modelled (in her manipulated photo print) by a skinny-legged girl with a raven's head, as carved by Cook. This piece is called Raven Matrix Remix.
Cook believes that his role as an artist is to reinvigorate the metaphors that are at the basis of native storytelling, to reposition them and deliver them in a way that people will understand the old meanings anew. "I am committed to my culture," he says, "to bring it to the surface and make it accessible and strong."
And he ponders: "Should we be doing this? Two different artists from two different cultures? A lot of native artists frown on non-native artists carving and painting traditional designs … but she's not doing that," he concluded. "She's interpreting it in her own style and that, to me, is coming together in a very unique way — with integrity."
Cook's paintings invite Mickey Mouse and Starbucks — and squirrels — into the Northwest Coast cosmology. As a citizen of pop culture, I wonder: What is my tradition? Am I a member of the squirrel nation? if these two artists push people's knowledge and their interpretation of it into new areas, then according to Cook, "we are doing our job as artists."