Imagine the worst pain you can conjure up, ongoing, all-consuming, every day. Unfortunately, it's a reality for some people. If you're not affected by chronic pain—recognized as a disease by the World Health Organization—in your back, neck, knee, shoulder, or other, or don't suffer from conditions such as sciatica or migraines, just to name a few, consider yourself among the lucky.
For those suffering from pain, a new Victoria clinic offers proven non-pharmaceutical means of not only bringing relief, but technologies that address inflammation and promote healing.
An estimated one in five British Columbians lives with chronic pain, according to Doctors of BC, an obviously fluid statistic, especially considering the province's aging population.
Among people aged 65-plus, the statistics are even more significant. Some 73% of seniors suffer from at least one of 10 common chronic diseases, with varying degrees of pain, inflammation, discomfort, fatigue, and other impacts that dramatically influence the quality of life.
Using state-of-the-art technology Victoria's RegenClinic provides non-evasive healing solutions for chronic pain, employing novel technologies that treat the source of arthritis and joint pain, skin conditions, acute injuries and degenerative diseases.
"We use photobiomodulation (PBM) therapy to effectively treat people," says Sasha Zhang, managing director, RegenClinic. "Our NovoTHOR bed is a highly sophisticated, scientifically tested body light pod that uses red, near-infrared and LED light to treat your entire body. I did extensive research to find the best equipment on the market.
"NovoTHOR, with over 60 years of scientific research to back it, is by far the gold standard for light therapy. Nearly 1,000 clinical trials have been conducted worldwide on this therapy. Not every red light is created equal."
In most cases, results are noticed within three PBM treatments
"PBM therapy stimulates the creation of ATP (adenosine triphosphate) in your body," explains Zhang. "Stimulating ATP production brings more energy to your body, which enables natural healing". You can watch a YouTube video to gain a greater understanding of PBM therapy.
Using NovoTHOR technology, PBM therapy can be administered in three ways: full body, focused, and head and scalp. Typical treatments are 15-20 minutes and vary on the number of sessions required.
RegenClinic's NovoTHOR bed provides head-to-toe therapy – a comprehensive treatment that helps address chronic pain and other ailments.
The handheld THOR LX2 device delivers a focused, concentrated dose of PBM, ideal for treating injuries, wounds, trigger points, and glands, and the promotion of stem cell production.
The THOR Helmet PBM for the head and scalp targets brain-related injuries by stimulating neurogenesis, helping alleviate dementia, and even stimulating hair regrowth.
"The helmet design is specific to treat all brain-related issues, including Parkinson's, Alzheimer's, and depression," says Zhang. "This technology is used by athletic clubs such as the NBA and NHL to treat brain injuries and enhance performance. For example, the Canucks own a THOR Helmet and the handheld THOR LX2, too."​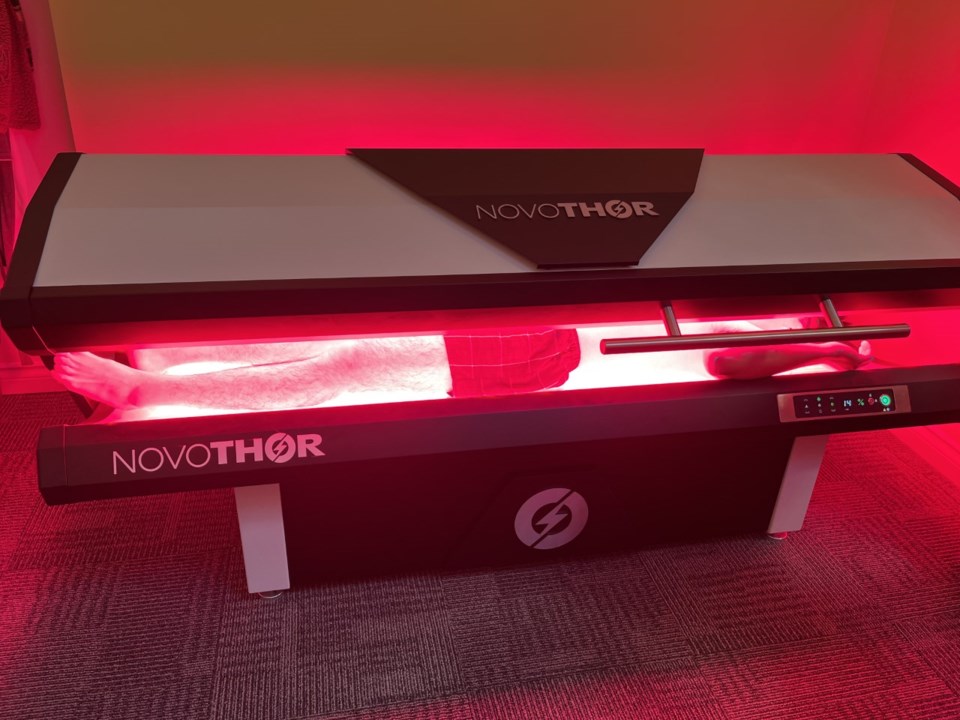 ​Healing success story
"A recent patient came to us in a lot of pain due to severe shingles," recalls Zhang. "She was under a great deal of stress: she just moved from Kelowna to start a teaching job at UVIC and was settling into a new city, new home, and new job.
"She underwent a 20-minute session and ​​immediately felt the benefits after one treatment. For acute problems, daily treatments are typically recommended, but in her case, it wasn't necessary. She felt instant relief and was overjoyed with the results."
For more information about the clinic and its services, visit regenclinic.ca.