The weekend warrior who's just getting back into the garden, the construction company in need of additional scaffolding or the poor soul whose home has been hit by fire.
Each of these groups seemingly have little in common at first blush. But they are all bound by distinct and timely needs: for tools, for rental equipment or for tool repairs. And they need them fast.
Enter Aral Rentals, Victoria's premier provider of equipment and tool rentals to contractors and homeowners. With a knowledgeable team and an extensive rental inventory, Aral staffers have the expertise and experience to help you find the right tools for the job.
As a growing, locally owned company, Aral Rentals strives to provide the Greater Victoria community with quality tools, equipment and services for all their toughest jobs and projects. If there is an issue with any product, the Aral team works diligently to find the best solution to any problem.
The Aral Rentals advantage is speed. The company's logistics teams support the construction arm of the business and are always out and about throughout the city, ready to drop off tools or pick up repairs.
And for the balance of the spring season, that service comes free of charge.
Think of Aral Rentals as the equivalent of Connor McDavid flying up and down a hockey rink – you need a dehumidifier after an accident in your home, you need it in a pinch and the Aral team comes up clutch.
"With us having our logistics teams on the road all the time, we can drop the equipment off to you or pick up the repairs as needed – that's easier than the customers physically coming to our store and that's often the exact opposite of what other companies do," explains Aral Rentals manager Aaron Smart.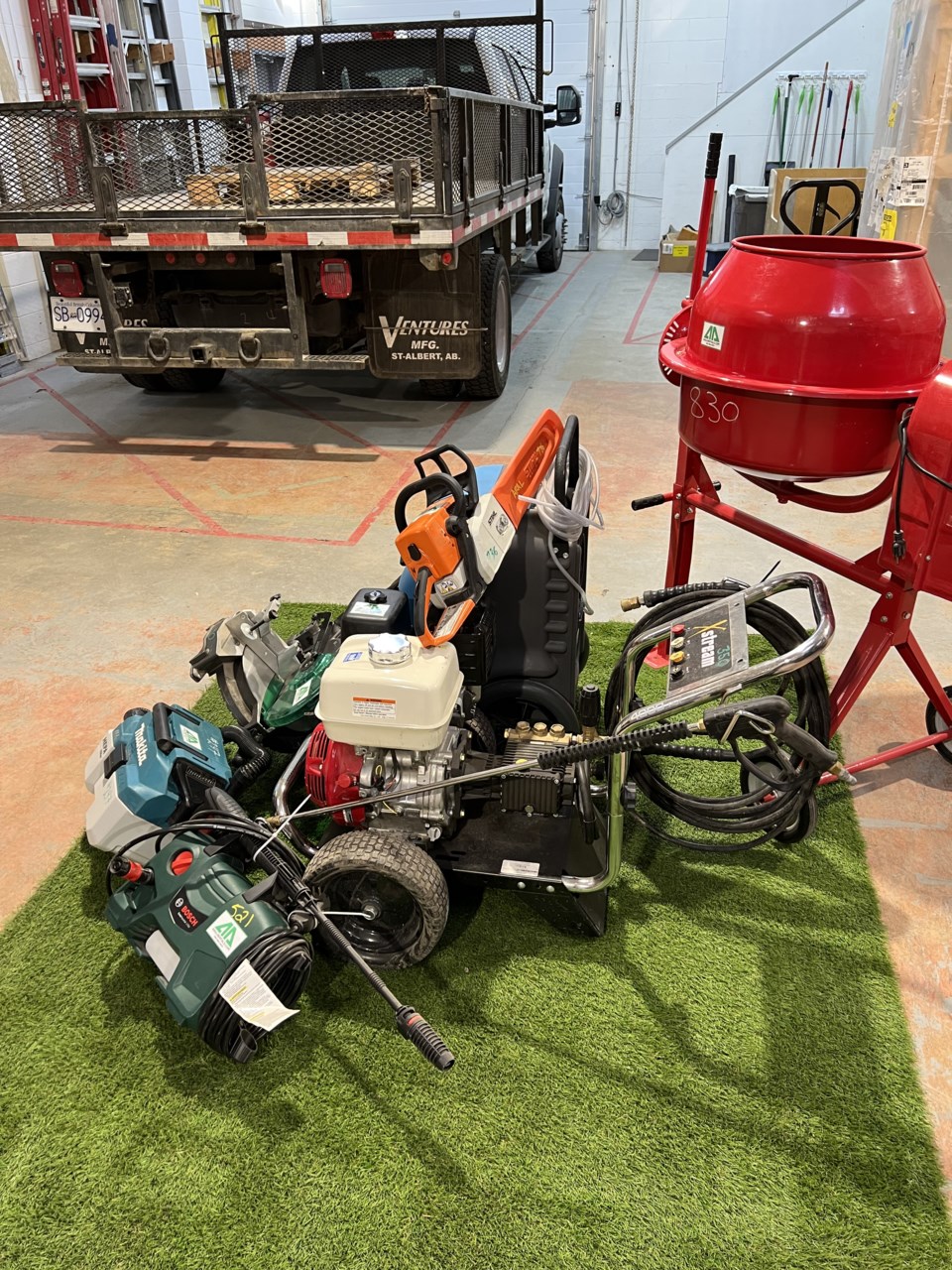 The Aral Rentals customer base is as diverse as the multicultural mosaic of Victoria: picture independent contractors, homeowners, property managers, landscapers, small businesses, DIY types, restoration companies and more.
That scope includes anywhere from a backyard greenhouse project to the company building a four-storey, multi-family apartment building.
"Let's say you're a small business and you need a generator or pressure washer quickly: we've got it, we can get it to you and away we go – we can provide that faster than any other rental company," Smart explains. "Our dispatch drivers are out all the time and they're all over town all the time."
As for the repair side of the business, some of the more common items in need of some TLC include lawnmowers, hand tools, blowers, trimmers, augers, pressure washers, tillers and pumps.
When it's time to purchase new equipment, Aral Rentals offers products from several industry leaders, including: compressors, grinders, cordless tools, generators, plate tampers, shears, planers, routers, concrete breakers, chainsaws, and table saws, among many other options.
And with the spring season quickly approaching, anything electric that you'll need in the garden is available as well: leaf blowers, hedge trimmers, weedeaters and aerators.
Another Aral ace in the hole is the quality of people it employs. These are eminently qualified, Red Seal glazers, carpenters, mechanics and other highly skilled tradespeople with the requisite know-how for any job you may have.
"Our people have experience in a number of different trades and they work for us on a day-to-day basis," Smart said. "The employee who will be working on your repair has multiple trade tickets and qualifications. Our employees have the experience and expertise."
Rentals are available across daily, weekly or monthly options. A valid piece of ID as well as a credit card is required for all rentals and the need for a deposit varies depending on the item. Delivery and pickup options are available five days a week for rental items as well.
Visit aralrentals.com for more information on their rental and repair services.