Whether you passed your driver's test last week or last decade, reminding yourself of some of the basics will keep you safer behind the wheel — and protect other road users and pedestrians. With back to school season in full swing, now is a good time to refresh your knowledge of the rules of the road, especially when it comes to school zones.
Each year, 94 people are killed in speed-related crashes in B.C., according to a 2016 ICBC report. Car crashes are also the number one cause of death among teenagers in B.C.
Serious injuries are preventable as long as you have the right attitude and make smart decisions, so brush up on the rules of the road with the following quiz, with questions taken from the ICBC Practice knowledge test (answers at the bottom).
1.  You're driving around a curve and you start to lose traction. What should you do?
A.  Ease off the accelerator and re-apply gently when you regain traction
B.  Apply the brakes firmly
C.  Pump the brakes
D.  Speed up
2.  Do you stop at an uncontrolled intersection?
A.  You would honk to let others know you're there
B.  You must always stop at uncontrolled intersections
C.  You only need to slow down and look out for other road users
D.  You would maintain speed but watch for other road users
3.  This sign warns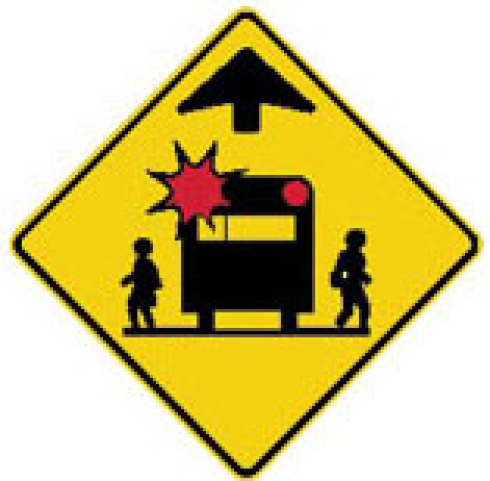 A.  A school bus stop is ahead
B.  A vehicle with its hazard light flashing is ahead
C.  A fire truck zone is ahead
D.  An oncoming vehicle's lights will be flashing
4. Unless otherwise posted, the speed limit WITHIN cities and towns is
A.  30km/h
B.  50km/h
C.  60km/h
D.  80km/h
5.  Which of the following is NOT a good way to identify your driving attitude?
A.  If you have a close call, asking yourself why it happened
B.  Asking someone you trust to give you feedback on your driving
C.  Blaming all driving errors on others
D.  Asking if the poor driving you observe is your own
6.  Pedestrians and cyclists are most at risk from vehicles because
A. They are not required to follow the rules of the road
B.  They are more often at fault when crashes occur
C.  They are slower
D.  They are more likely to be severely injured in a crash than car drivers and passengers
7. This sign means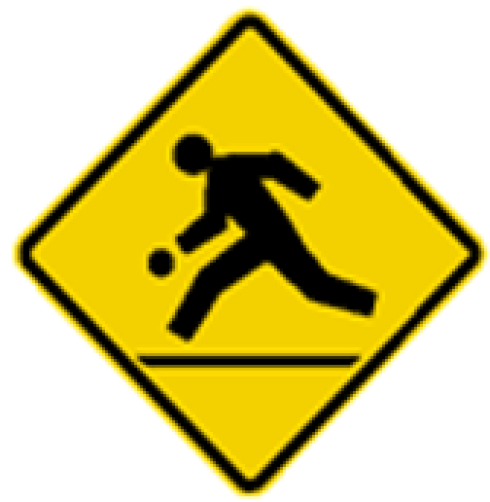 A.  Slow to 30km/h if pedestrians are crossing
B.  School crosswalk — stop for pedestrians
C.  Playground nearby — drive with caution
D.  Sports stadium nearby — watch for hazards
8.  It is 6pm and there is a school patrol at a crosswalk holding up a stop sign. You can see no children around. What should you do?
A.  Obey the school patrol and stop
B.  Slow down and if you see children, then you should stop
C.  It is not during school hours so the school patrol has no business making you stop. Continue through the crosswalk
D.  Slow down and drive slowly through the crosswalk
9.  The best way to check for vehicles in the blind spots is by
A.  Keeping clear of other vehicles
B.  Checking side and rearview mirrors
C.  Scanning for blind spots ahead of you
D.  Looking over your shoulder
10.  Which of the following is NOT part of the pre-trip check you should do EVERY time you drive?
A.  Check head rest and seat belts are properly adjusted
B.  Check radiator fluid and oil levels
C.  Check side and rear view mirrors are properly adjusted
D.  Check lights and turn signals
11.  When pulling out of a driveway on to a street with a sidewalk, what must the driver do before entering the street?
A.  Be prepared to stop, but continue into the street if no hazard is identified
B.  Stop before the sidewalk
C.  Stop just past the sidewalk before entering the street
D.  Slow down and proceed with caution
12.  What is this cyclist going to do?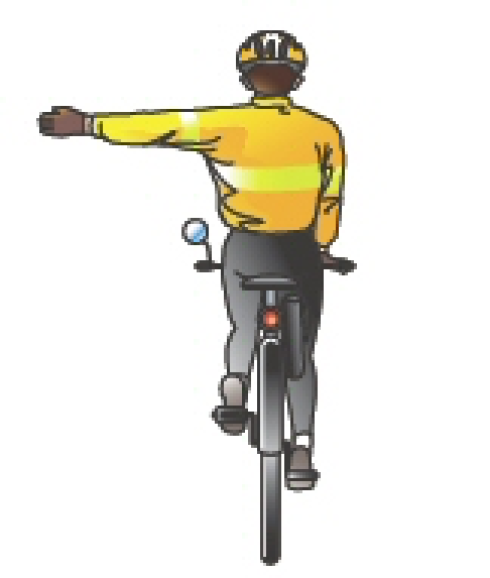 A.  Turn left
B.  Turn right
C.  Got off their bike
D.  Stop or slow down
13.  The beginning of a rainfall may cause roads to be particularly slippery because
A.  Your tires become cold
B.  The water washes the road clean quickly
C.  The water cools the road down quickly
D..The water mixes with oil on the road
14.  In good weather in the city, your minimum following distance should be at LEAST
A.  2 seconds
B.  3 seconds
C.  4 seconds
D.  1 second
15.  You are stopped for a school bus that has its red lights flashing. When may you proceed?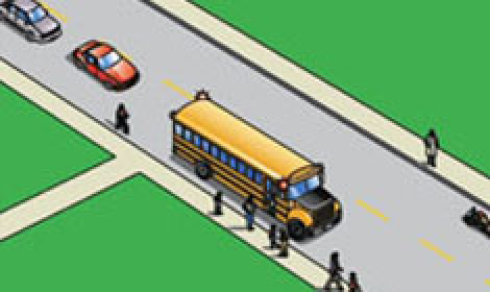 A.  You must wait for the bus to proceed first
B.  When other vehicles start to move
C.  Check for children, then proceed if it appears to be safe
D.  You must wait until the lights have stopped flashing. If the bus has a swing-out stop sign, it must also be pulled in
Answers: A,C,A,B,C,D,C,A,D,B,B,A,D,A,D
To get your Learner's license, you need to answer 80 per cent of the knowledge test questions correctly — how did you do?
Whether you passed with flying colours or need to read up a bit more, there are a few key principles you should always keep in mind when driving: Maintain a safe distance between yourself and other road users, obey all signs and signals, drive calmly and keep an eye out for pedestrians and cyclists.
A preventable injury can be life-changing for both you and your loved ones. With a little extra focus, you can keep yourself, your family, and everyone else safe this season.