Aiming to be one of the single-most ambitious housing opportunities in Victoria's history, the Harris Green Village redevelopment is positioned to be the most substantial addition of rental housing to date in Victoria's downtown core.
The anticipated project includes a five-tower, three-phase vision to transform the Harris Green neighbourhood into an exciting, multi-residential mixed-use community, which would bring more than 1,500 new rental homes, with 80 affordable homes included, to Victoria.
"We're partnering with BC Housing and the local YMCA to ensure residents have access to the 80 affordable homes we're providing," says Shauna Dudding, Starlight Developments' executive director development, Western Canada.
"We are building all 80 affordable homes as part of our first phase to address the immediate need we heard clearly over the last four years of community conversation."
This project comes at a time of dire housing need. Between 2005 and 2019, approximately 1,000 purpose-built rental homes were constructed, leaving the city with a nearly 15-year deficit. Paired with the fact that 97% of existing rental homes in the city were built before 2000, there is a critical deficiency in Victoria's rental housing supply.
Currently, Victoria needs 1,900 new rental homes annually to meet current demand.
Harris Green Village aims to make an impact on Victoria's current rental housing supply while providing additional much-needed downtown amenities. Future residents and community members should expect lively street-level activity with shops, restaurants, residential and commercial lobbies, a daycare, and a 10,000-square-foot community centre all spilling out onto the new green half-acre accessible park space.
The Harris Green Village application seeks rezoning for 1045 Yates Street at Cook Street (phase one, two towers) and the 900 blocks of Yates Street and View Street, between Quadra Street and Vancouver Street (three towers). The application is seeking a development permit for the project's first phase. The sites are currently home to commercial spaces, including London Drugs and the Market on Yates, which will occupy a new space in Phase 1.
"With the addition of more than 1,500 purpose-built rental homes, residents will help sustain the existing and future business operations within this vibrant, growing community,"says Deane Strongitharm of CitySpaces Consulting, the planner on the project.
"Employing local contractors and trades will add 450 jobs annually during construction, further contributing over $240 million in wages to the region. The future residents would contribute an estimated $36 million in annual spending with local retailers, shops and services."
Over the last several years, safety and security have been a prevalent topic of discussion in Victoria, as captured by the Downtown Victoria Business Association's annual report and member survey.
Thoughtful landscaping and purposefully lit spaces aim to promote safety in the project's redevelopment. At the same time, the built design orientates ground-related units to front onto public areas to maintain eyes on the street.
A holistic view of sustainability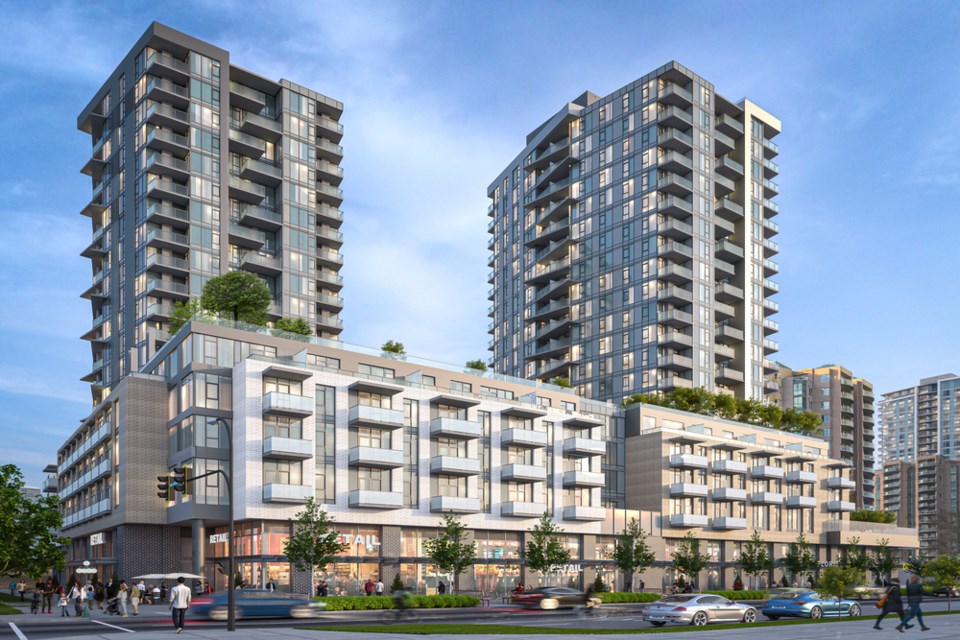 The proposed project places sustainability at the forefront, with active transportation options and commercial end-of-trip bike facilities incorporated within the plans.
"Sustainability is integral to our development approach," explains Strongitharm. "In addition to providing residents with bike repair and charging stations, the application features two Modo car share e-vehicles available to residents, four EV-ready charging spots, with a further 90 spots future-proofed as part of the first phase."
The focus on sustainability and reducing environmental impact is further conceived by implementing passive envelope design, water conservation strategies, and stormwater management, including rainwater capture gardens planted with native and adaptive species.
Residences and building amenities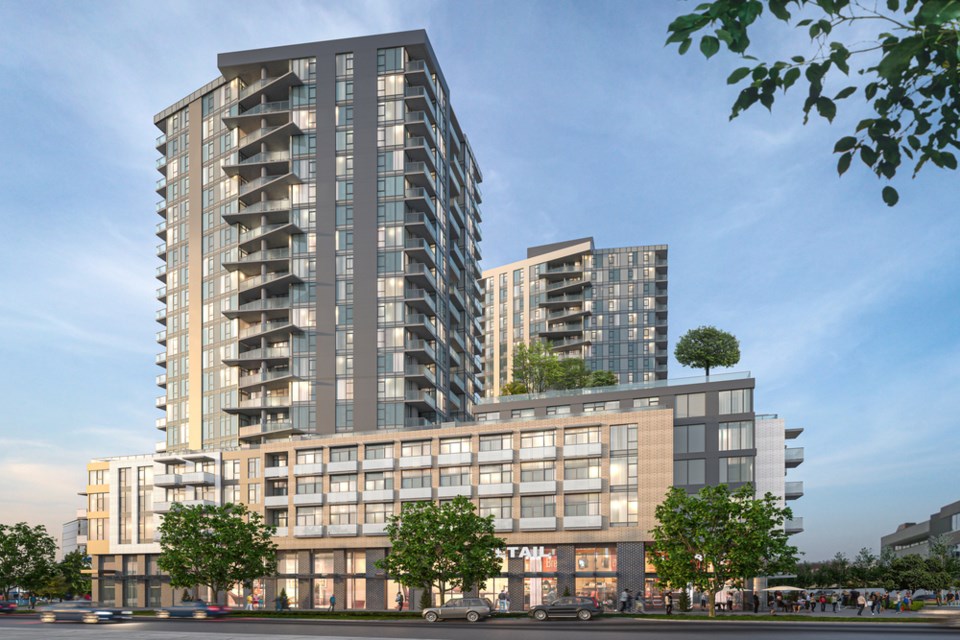 The residential spaces will have comfortable yet contemporary interiors and open-concept plans with an emphasis on achieving Fitwel standards informing building design. A range of unit types and sizes will be available, from 290 to 390-square-foot studios to three-bedroom units, including ground-oriented townhomes up to 1,400 square feet. One-third of units will be family-oriented with two-plus bedrooms.
Future residents would enjoy landscaped courtyards, rooftop spaces, outdoor barbeque and dining areas, children's play areas, a member's lounge, and a state-of-the-art gym and fitness studio.
"Harris Green Village is where we hope Victoria will come to play, and we recognize the value that play brings to a community, where some live, but everyone can access," describes Dudding.
"This is truly an exciting new development that will provide much-needed homes to so many people, all while contributing jobs to the local economy and supporting our broader business community."
You can learn more details about the proposal at the public hearing on February 9th, 2023, at 6:30 p.m.
For more information and registration, visit harrisgreen.com.