It's been one of Vancouver Island's best-kept secrets—until now. Islanders already know what the rest of Canadians are quickly learning.
People are gravitating to one of the most desirable places to live in B.C., thanks in part to Maclean's magazine, which ranked the city of Langford as the "top community in B.C."
And the praise doesn't stop there. In 2021, insurance website RATESDOTCA named the city the "most livable" place in Canada.
Its urban amenities, phenomenal growth, quality of life and natural beauty all contribute to the appeal, but it's also acclaimed for its affordability, which is the pillar of the extraordinary new high-rise condo development, The Scene, by Evantra Developments.
"Our developer wanted to create a mix of floor plans so people could be offered attainable housing," says Michael Sikich, president, The Agency Real Estate Marketing Group.
"This development offers a unit mix that will appeal to first-time buyers, young families, and downsizers; it's a good diversification of unit types that offers a very high level of finish any owner would be proud of."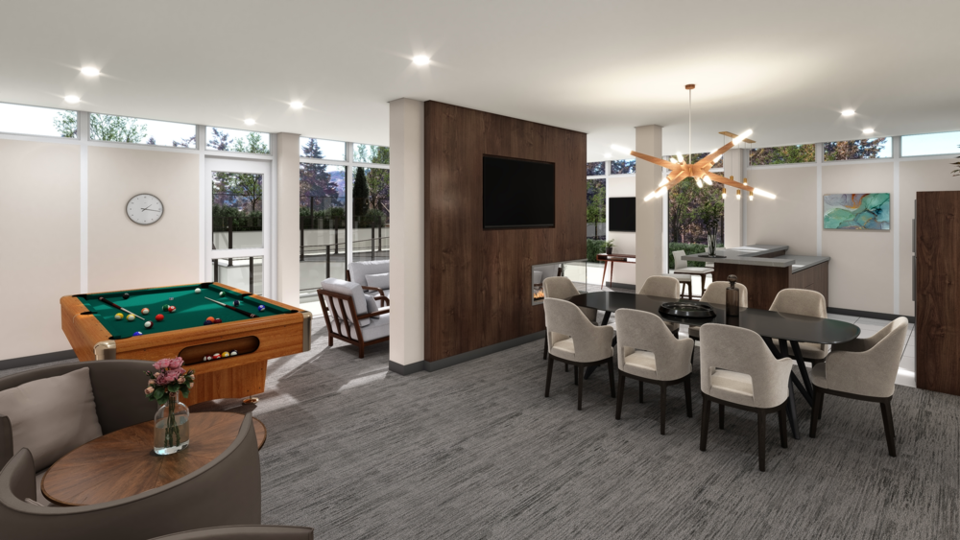 Langford is located just west of Victoria, and less than 20 minutes away. Centrally situated on Peatt Road, The Scene comprises 270 high-quality contemporary suites over two towers, 18 and 24 storeys, with stunning unobstructed views in all directions.
A collection of spacious one-, one-plus den, two- and three-bedroom (penthouse only) residences with thoughtful floor plans and high-end finishes will meet your family's most desired needs.
The condos are the first high-rises and the tallest concrete towers in downtown Langford and the first with concierge service.
Dynamic interiors, building amenities
With timeless interiors, executed by Mintaka Design, warm colour palettes of calming hues, luxurious flooring, stone countertops, premium stainless-steel appliances and a Kohler fixture package, are intended for an easy-to-maintain comfortable living environment.
With more than 10,000 square feet of indoor and outdoor amenities, your new home will take care of: your health and fitness needs, with a fully-equipped fitness facility; your special event celebrations and social gatherings, with a modern amenities room, with pool tables, bar, and fireplace; and your R&R essentials, with an exquisitely appointed patio and gardens.
"Residents will have amenities that are not available in other developments," reveals Sikich. "The beautiful garden includes garden plots, landscaping, child's play space, and BBQ with picnic area, which all extends across both towers."
An on-site daycare, yoga studio and ground floor retail shops will also add to the building's undeniable attraction.
​
Natural and urban amenities
Surrounded by nature and urban amenities, it's no surprise that Langford is the fastest-growing municipality in B.C. This dynamic family-friendly community is a charming, walkable neighbourhood, with everything your heart desires within proximity to your new dream home.
There's a multitude of recreation at your fingertips, including four lakes, a new YMCA, world-class golf, and more. Lace up for a hike, grab your bike, or simply head out for a stroll among a variety of parks with extensive trail systems. A local favourite, Goldstream Provincial Park, boasts sky-kissing old-growth trees and magnificent waterfalls.
Take advantage of walking distance to farmers' market and groceries, convenient shopping at Westshore Town Centre, entertainment at seven-screen Cineplex, and high-octane fun at Western Speedway.
"This is an exceptional opportunity to own in one of the best communities in the country," says Sikich. "It will only continue to appreciate, not just because of the product it is, but because of where it's being built."
Coming early spring 2022. For more information and to register today, visit livethescene.ca or email INFO@livethescene.ca.