An accident or injury requiring collaborative care from Island Health's trauma services can happen in the blink of an eye. As someone who has worked in healthcare for 30+ years, including critical care and trauma nursing in both the USA and Canada, I know this all too well.
Recently, however, I received trauma care as a patient at two Vancouver Island hospitals.
On June 4, 2022, I fell from a ladder, tearing my artery that supplies blood to the spleen. Shortly after the accident, I arrived at Saanich Peninsula Hospital's Emergency Department. The team, led by emergency physicians Dr. Carrie Wilhelm-Boyles and Dr. Jeff Unger, recognized I was in shock and immediately put me in the trauma bay. Within moments, I had intravenous lines inserted, a CT scan, and blood work drawn. They quickly inserted more lines, as I was rapidly losing blood. Over a few hours, I received 12 units of blood and two units of plasma, almost depleting the hospital's small blood bank. I also went into cardiac arrest—twice.
My nursing experience made my life-threatening situation feel surreal. As I watched my blood pressure on the monitor creep dangerously low, I felt myself slipping away. Just before my first arrest, I told Dr. Unger I was going to die.
The team constantly communicated with my husband Richard (and me, when possible), and he was allowed to stay by my side—including during both cardiac arrests. After resuscitating me the second time, BC Emergency Health Services paramedics, Dr. Unger, and two nurses accompanied me to Victoria General Hospital (VGH).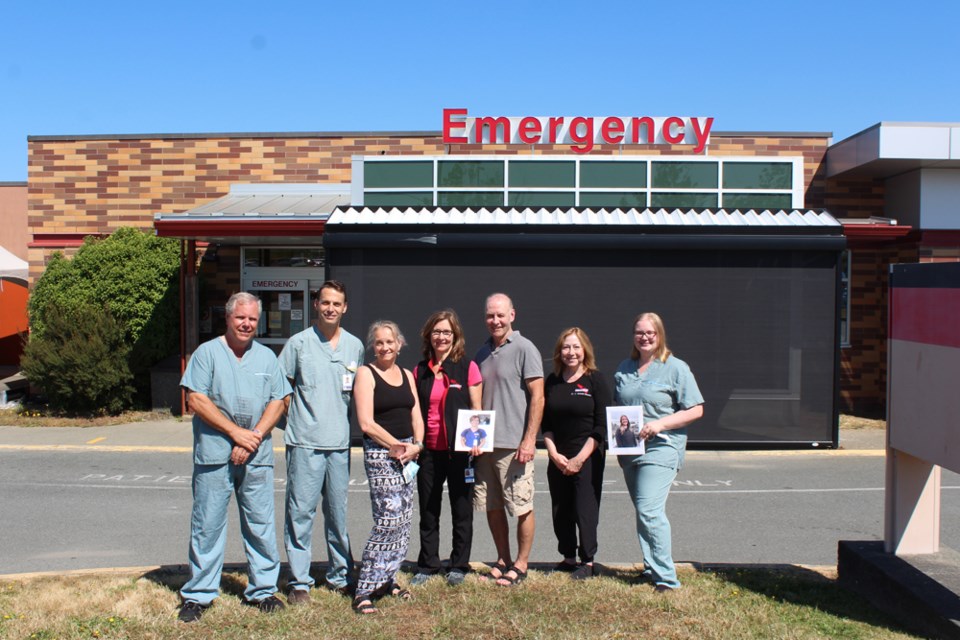 At VGH, I was transferred to the trauma team, led by Dr. Dennis Kim, Island Health's Medical Director of Trauma Services. I can't thank Dr. Kim enough for his care, sense of humour, and compassion. Patients and families across the Vancouver Island region are incredibly fortunate to have a trauma surgeon of his calibre and experience to lead its regional trauma program.
The VGH operating room team, led by Dr. Sepehr Khorasani and Dr. Lesley Silver, got me safely through surgery. Post-surgery, I received highly compassionate care from the ICU, Anesthesia Pain Services, and the trauma floor (5A).
Healthcare strives to deliver seamless, coordinated, patient-centred care. Sometimes, it falls short—these care teams did not. They delivered exemplary care under highly stressful circumstances.
On June 10, the day of my hospital discharge, Dr. Unger invited Richard and me to the review of my trauma case. Resuscitating patients, even successfully, can take a toll on staff and physicians. Taking part in this review allowed us to wholeheartedly thank the team and check in on how they were doing. Involving patients and families in a review of their case helps everyone heal.
While VGH is Island Health's designated trauma hospital, any hospital can and does receive trauma patients. The ability of a community-based hospital to stabilize and manage a critically-injured patient requires the right team, but also necessitates access to the right equipment.
While the primary intent of this letter is to praise and celebrate the care teams at Saanich Peninsula Hospital and Victoria General Hospital who saved my life, I invite you to join me and contribute to the Victoria Hospitals Foundation and Saanich Peninsula Hospital Foundation in support of Emergency and Trauma Care. To provide Island Health's emergency departments and trauma teams with advanced equipment, it takes a community who understands the importance of giving. Giving to your local hospital foundation accelerates the ability to respond to this need. Trauma care is so vital—care I sincerely hope you will never need.
For more information and to donate, visit victoriahf.ca/donate. You can also follow The Victoria Hospitals Foundation on Facebook, Twitter, Instagram, and LinkedIn.
With gratitude,
Cheryl Armstrong,
a former patient at Saanich Peninsula Hospital and Victoria General Hospital.