Retirement may be uncharted waters to you, but you're the captain of your own vessel, and as such, you have a choice of how your adventure unfolds.
Keeping your wellness top of mind is an important factor in your pursuit of luxury senior living, while supporting your desire to age in place. Fortunately, a vibrant retirement living community on Vancouver Island is near completion and fills this niche seamlessly.
The Avenir Senior Living team is applying the finishing touches on The Vista, an 11-storey high-quality building that supports a luxury independent retirement lifestyle. Here, you'll have the freedom to live well today, with the assurance your long-term needs will be met in the future.
The community is meticulously curated to deliver a continuum of care across a range of living environments, including 34 beautifully appointed one- and two-bedroom condominiums for ownership, independent or supportive living suites for rent, and 48 dedicated memory care studios.
"We encourage folks to come in as independent residents, whether purchasing a condominium or choosing a rental suite," says Wayne Melvin, general manager of The Vista. "Residents will have the ability to age in place with a menu of services that can be provided in their private suites. If the time comes when round-the-clock support is required, we have two floors dedicated to provide a 24-hour support including specialized memory care."
The bespoke offerings are more akin to a five-star all-inclusive resort with state-of-the-art services and premium amenities that supports residents' mental and physical well-being. You have the flexibility to add services and care whenever your needs change, not change to a new building—you won't have to relocate; a hallmark of living at The Vista, your forever home.
At some point, your daily routine might be easier if you can get help with personal care, or transportation to appointments, errands or events, for example, or it might be simpler if you don't have to cook for yourself. As Melvin mentions, "having all your meals provided makes for a really fulfilling lifestyle."
"Our assisted living services are available in your independent suite, with supports like administering medication, assistance with bathing, and selecting wardrobe," explains Melvin.
"Some residents may need a little help getting moving in the morning, but are quite capable of continuing their day, perhaps eager to take in one of our art classes, fitness classes, music sessions, or spa treatments—all the types of activities and amenities we offer. We've been described as a cruise ship on land—you can participate in as much or as little as you want."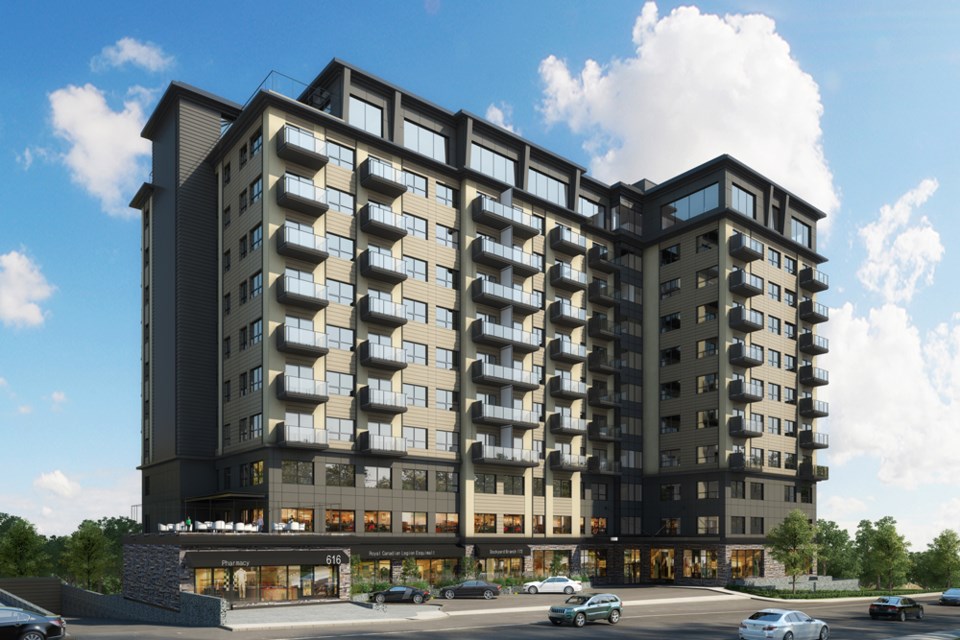 The peak of amenities
Like the name suggests, a stunning 360-degree view envelopes the top floor through floor-to-ceiling windows, where the Grand Salon encompasses a host of superior amenities, backdropped by spectacular vistas of downtown Victoria and the ocean, out to the Olympic Mountains.
"The social dynamic keeps seniors vibrant," says Melvin. "It's been intentionally designed for community and comfort in mind, and we really took advantage of all the views around the building."
Hemingwayesque touches bind the common spaces: the palm trees, Montmartre art studio, the library, and such, reflect the writer's life and times.
Enjoy resort inspired dining prepared by Red Seal chefs in the Palm Dining Room and French Bistro, or partake in high tea in the English Garden Tea Room. Get in the groove in the Fred & Ginger piano lounge, and don't be shy to unleash your best moves.
A special space on the ground floor will house the Royal Canadian Legion, Esquimalt Branch #172, the original property owners.
Home-like atmosphere
Melvin notes, the gentle care and compassion provided are really something to behold.
"Our staff members become like family to residents. We're not a revolving door of caregivers and we get to know you to provide that personal touch."
"We're proud The Vista and Avenir Senior Living are a family-owned company," says Melvin. "Owners, Violet and David Craik take pride in designing communities they would be happy to live in."
"Family members are grateful for the service we provide their loved ones, just as it gives us immense satisfaction that we're doing good work in the community."
For more information, visit avenirseniorliving.com.