Canada's minister responsible for housing announced Wednesday that the federal government will provide nearly $500 million in low-cost loans to developers to build up to 1,100 rental units across nine sites in Vancouver.
But Sean Fraser was reluctant to share details or the locations of the projects. He only acknowledged one of the sites was a six-storey building under construction on the University of B.C. campus, where the minister made the announcement.
"Aside from UBC, we've discussed with some of the proponents that they have a desire to share their own news to celebrate the occasion in their own communities," said Fraser, when asked by Glacier Media for details on the projects.
"You should expect in the weeks ahead, the individual project proponents will be looking forward to sharing the details of the specific projects that impact their communities."
The project at UBC is in the 5700-block of Gray Avenue, where crews were busy Wednesday morning working on the 150-unit building. A mix of studio, one-, two-, three- and four-bedroom homes will be available for faculty, staff and other campus workers.
A news release said a minimum of 10 per cent of the homes will go to the elderly, young people, students, "individuals in need of assistance," or individuals whose eligibility is dependent on them being members of the university's faculty or staff.
Fraser didn't say how much rent would cost at the nine sites, but suggested it would be a range of prices that would be determined by the income of the person or family interested in moving in one of the buildings.
"So at the top end of the price point for the projects we're funding today, it's going to be at about 30 per cent of the median household income," the minister said.
"But every single project that we're financing is going to have units that are available at a lower price point than that — some of them as low as 70 per cent of that typical market rent that would exist for a median household income."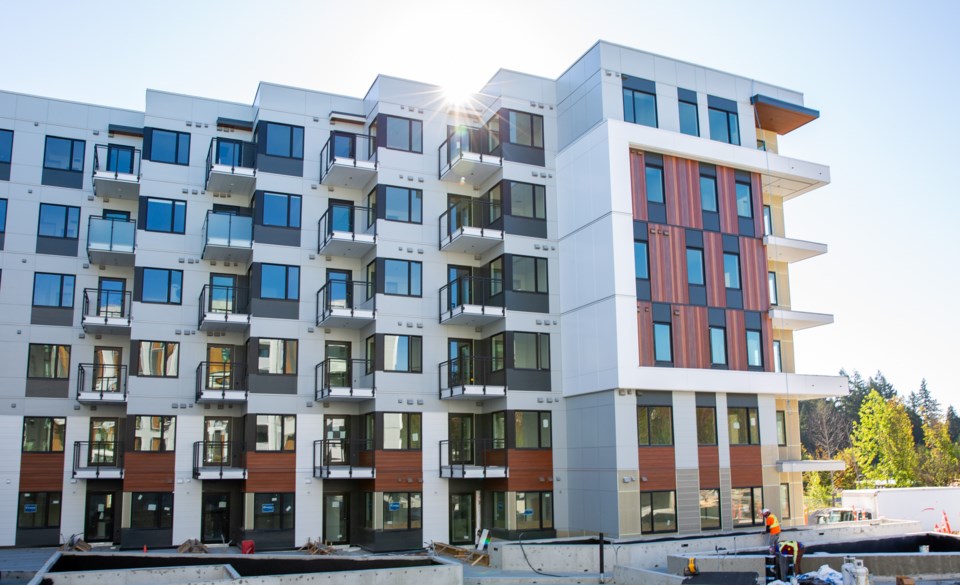 'Fantastic announcement'
City councillor Pete Fry, who was in a deputy mayor role Wednesday, spoke at the news conference and later told Glacier Media that he was grateful for the federal government's investment.
Fry noted council has approved several rental housing projects in recent years — a total of 4,260 units in 2022 — but many are stalled because of poor economic conditions, high interest rates and difficulty in finding construction workers.
Those numbers do not include development at UBC, which is not in the city's jurisdiction.
"So if this kind of financing is one of the pieces that can help move the dial on some of those housing units that we've already approved — but we just can't seem to build — then it's a step in the right direction, for sure," he said.
Coun. Peter Meiszner also attended Wednesday's announcement and was equally pleased the federal government was making an investment in rental housing in Vancouver, where prices continue to increase and the market remains tight.
City staff have also pointed out 75 per cent of newcomers to Vancouver are renters.
Meiszner said he's heard the projects planned for Vancouver will be near rapid transit, but didn't have more details. He suggested sites along the Broadway corridor, where a subway is under construction, might make sense.
"This is a fantastic announcement from the feds," he said. "We're hearing of many projects that are having trouble finding financing, which is really concerning in the housing crisis that we're in."
The low-cost loans come via the federal government's rental construction financing initiative, which was created to encourage the construction of more new purpose-built rental housing in Canada.
'This is outrageous, folks'
Fraser, who was recently appointed the country's housing minister, has been in Metro Vancouver for the past couple of days and met with provincial and municipal politicians, where they made it very clear to him about the need for more housing in B.C.
"I saw a newspaper article this week on the first day that I landed in Vancouver, saying that the average one bedroom listed right now is going for $3,000 a month," said the minister, who is from Nova Scotia. "This is outrageous, folks."
He said the federal government is committed to taking a leadership role to build more housing for people, including the country's most vulnerable and those people who have good jobs but are having a hard time finding affordable accommodation.
"My view is that if you work in this country, you should be able to afford a place to live," he said.
Fraser shared stories from his visit to B.C., saying he spoke to a man who is worried he will lose his rental home because of luxury condos going up around him.
"And he fears that if his building is sold off, he's not going to be able to find another unit at the price point that he's paying right now," said the minister, before telling a story about a young woman who has an hour-plus commute to her job because she can't afford to live where she works.
"These are the kinds of challenges that people are living with, and these are the kinds of challenges that we want to help overcome."
'Limited the impact'
Two years ago, Ottawa's Parliamentary Budget Officer Yves Giroux made it clear that the federal Liberals' national housing strategy, which includes the low-cost loan fund, could be more effective.
Giroux said in a report released in August 2021 that a combination of expired bilateral agreements with provinces, a decline in funding for low-income households and program implementation delays "limited the impact" of the Liberals' plan.
After the report was released, Fraser's predecessor, Ahmed Hussen, told Glacier Media that the government had since seen an uptick in interest in the low-cost loan fund and the government's co-investment fund, which is a low-cost or forgivable loan program aimed at construction, repair and revitalization of affordable housing.
Fraser told reporters Wednesday that when he and the Trudeau Liberals took power in 2015, the task of addressing the housing crisis in Canada was made difficult by previous governments. He included the Liberals in that statement.
"We were on the heels of several decades where there was a complete retreat from the housing space by successive governments," the minister said. "The reality is, we have stepped back into the housing space in an enormous way."
Middle-class families
Though the initial focus of the government's housing strategy was social housing and catering to the most vulnerable, the pandemic and its effect on the economy — coupled with the continuing surge in rental and real estate prices — has put middle-class families' needs up front.
"As the world changes, so too is our approach going to change," Fraser said. "We're going to do more to make sure the middle-class families who go to work every day have a place to live. I don't think that's too much to ask."
Added Fraser: "But it is going to take some time, given the 30 or 40 years where there has been a retreat from the housing space by federal governments of different party stripes. I have faith that we can solve these challenges."
He emphasized municipal and provincial governments, developers and nonprofits all have to be involved to see progress. Listening to residents to "understand the anxieties they're living with" is key to that progress.
"If we listen to people and work with our partners, we're going to be able to make a meaningful difference," he said. "I'm up to the task. It's not going to be easy, but my God, is this a job worth doing."