A woman in a serious head-on crash on a remote stretch of the Port Alberni highway saved the other driver's life when she and two bystanders pulled him out of his burning pickup on Tuesday.
"Without all three of these people working collaboratively, there would have been a fatality," said Mike Owens, Port Alberni's fire chief. "Without a question, all three of these people are heroes in my mind."
The SUV driver, "who was in this incredible collision," escaped out of her passenger window only to jump into the pickup to free the driver, whose leg was in a cast, Owens said.
"Her immediate thought is to go help the gentleman who she was just in a collision with," he said.
Two bystanders pulled the driver out the passenger-side door.
Were it not for their quick response, the outcome could well have been tragic, said Cpl. Mike Halskov, of B.C. RCMP Traffic Services.
"We are thankful for their selfless actions that likely saved a life today and wish all involved a full recovery from this ordeal," he said.
Nick Labadie, driving to work in Nanaimo, came upon the scene and was one those who helped in the rescue. He recalled the trapped driver calling for help.
"There was definitely a gentleman who was trapped in his pickup truck. And there was a fire started under his pickup truck already," he told CHEK News. "He just wanted to get out, like: 'Get me out, please get me out, somebody get me out.' "
Labadie said the fire was growing quickly: "It was incredible how fast the flames came up."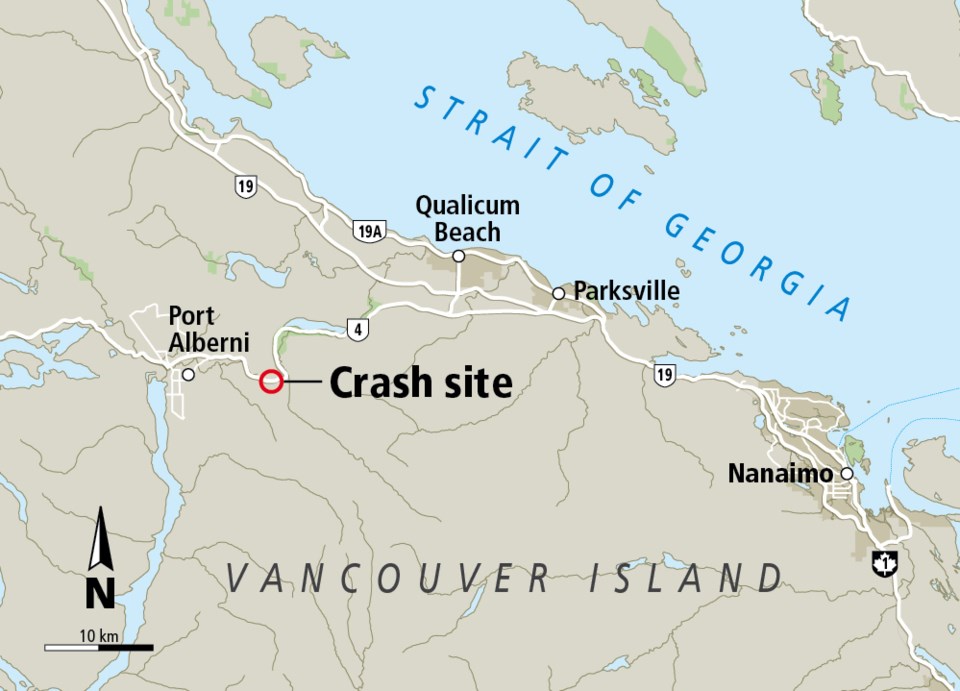 Owens said the fire department received the call about 7:15 a.m. and arrived about 15 minutes later.
The two-vehicle collision was on Highway 4, east of Port Alberni on a hill that's called the Hump.
RCMP determined that the driver of the pickup truck, which was eastbound, lost control on the wet and icy road, crossing into the oncoming lane. The truck collided head on with a westbound SUV-style Jeep. Both drivers were alone in their vehicles.
The front end of the SUV was crushed and the driver's door crumpled and pushed in.
"She was able to get herself out of the vehicle on her own with only minor injuries," Halskov said of the SUV driver.
He said the area of the crash is remote. The pickup was a ball of flames by the time first responders arrived. "What they did was appropriate and took a lot of bravery," Halskov said of the rescuers.
The female SUV driver and another motorist were taken to hospital with minor burns. Owens said he was told some of the people who happened upon the scene to help were first responders themselves.
The male pickup driver was taken to a Victoria hospital with injuries police described as serious but not life-threatening.
Police reminded motorists to drive according to the road conditions and be mindful that those conditions can shift quickly at this time of year, especially as elevations change while navigating mountain passes.