Several skiers are counting themselves lucky after an avalanche on Blackcomb Glacier last month, with one woman particularly indebted to a speedy Grade 12 student from Nanaimo.
After hiking over the ridge from the top of the Showcase T-bar, Brad Squire and his sons, 17-year old Chase and 19-year-old Jack, dropped into the glacier at about 1 p.m. on March 24, with the intention of heading toward the ice cave. The family usually makes several trips to Whistler from their Vancouver Island home each winter, but this time was in town for March break.

Brad said he was skiing ahead of his sons and had only made about four turns when he noticed a large chunk of ice out of the corner of his eye, about "half the size of a small car," rolling and bouncing past him down the hill. Another similar-sized chunk followed, until the slope disintegrated into a fast-moving debris field about 15 metres wide, Brad estimated. The slide narrowly missed all three Squires, but caught several others who had traversed further to skiers' right.

A confused Brad noticed Chase bolting toward the debris, even losing a ski in the process. "He was going really fast, recklessly in a straight line, and you know, kind of bouncing all over the place because of the rubble," said Brad.
Chase managed to keep skiing for a few more metres on one ski until he bailed and lost that one too, but "before he even stopped tumbling from the fall he was up again and running."
Brad only began to clue in once Chase dropped to his knees and started digging.
"As soon as I saw him pull this arm out, I realized," he said. "It all happened so fast, but yeah, I was pretty proud of him."
Skiing behind his dad and his brother, Chase said he only noticed the slide after it moved over the well-travelled traverse path and started knocking people down.
"I saw these big chunks of ice flying and honestly I didn't see it hit anyone, but once it all came to a still all I saw was this girl's helmet," he said. Though covered in snow and avalanche debris with a rectangular chunk of ice more than a metre long laying horizontally across her back, Chase could make out the woman's head resting "almost on top" of another large ice block, he remembered.
"I knew it was a person so I just started skiing as fast as I could."
The woman had been bowled over and carried by the falling snow—coming to rest about 20 to 30 metres down-slope from the traverse she had been crossing, said Brad—but was conscious and seemingly uninjured.

After some digging, Chase managed to pull her out from underneath the massive ice block that Brad said "wouldn't budge."
Across the slope, "everybody else was just kind of yelling around to see who was in their group to make sure nobody was missing," recalled Brad. "And then some people started pulling those bamboo poles out"—typically used to designate a marked run—"and were kind of probing around."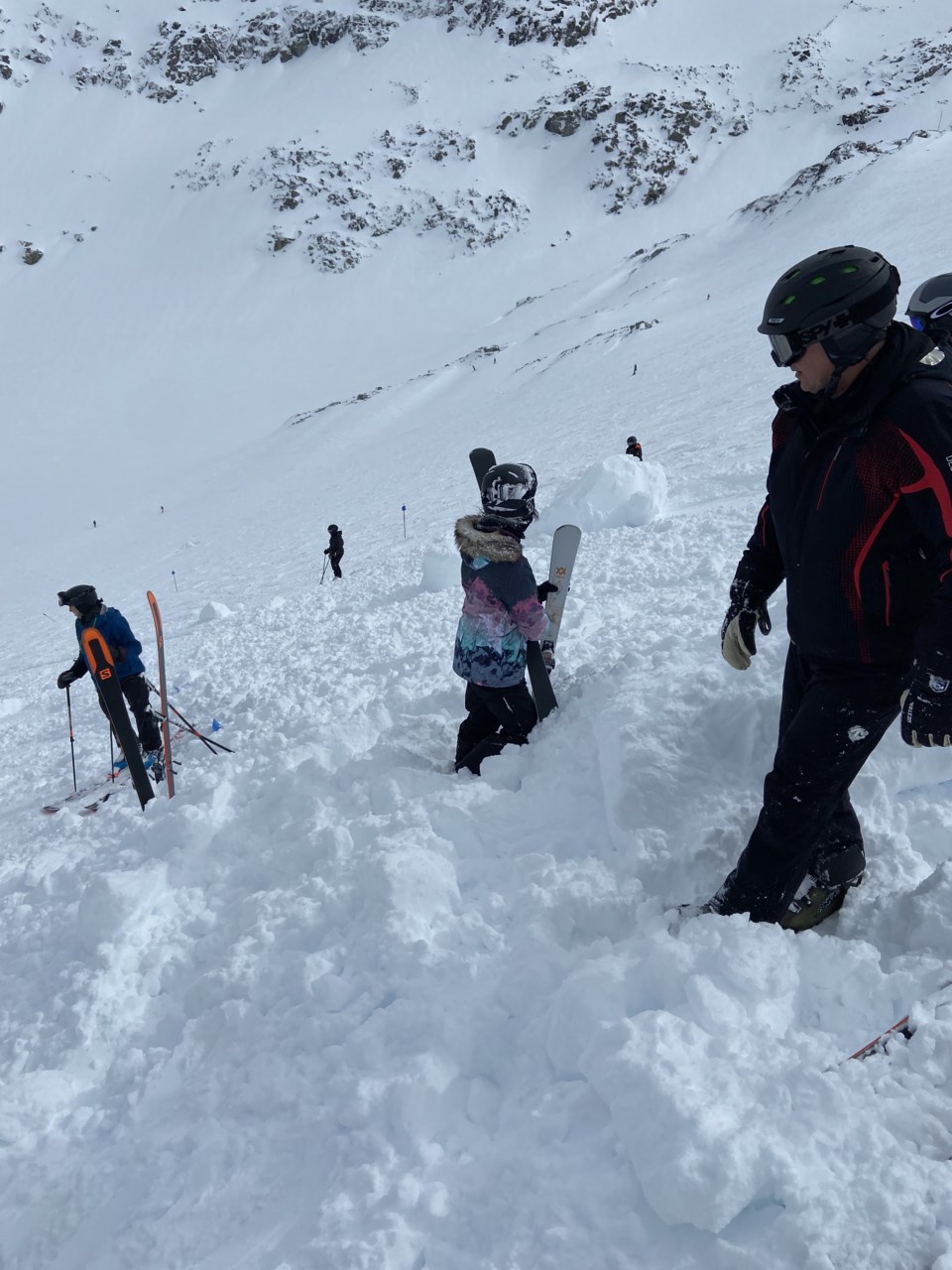 Brad said a snowboarder hiking above the traverse had inadvertently triggered the slide. "What he told us was that he had hiked up there, noticed that the cornice had separated from the rock, and said to himself, 'Oh my god, this is obviously not stable, I shouldn't be up here.' And then he said, without any warning, [the slope] just let go."
Brad added, "He saw it coming down and he started screaming [to warn] all the people, but he said he didn't see any heads turn, and then he saw everybody get knocked down."
Brad said the avalanche affected about 10 people, including one who was reportedly injured, though the woman Chase raced to dig out was the only one buried. A few people lost pieces of equipment.

The slide is one of four avalanches confirmed to have occurred in open terrain within Whistler Blackcomb's boundaries between March 15 and April 6 of this year, ranging in size from 1.5 to 2. A skier was rescued after being fully buried near Sapphire Bowl on March 15, while one 34-year-old Whistler man died after being caught in a small slide near West Bowl on April 5. Another Size 2 avalanche released on Blackcomb Glacier on April 6, but resulted in no injuries.
In a statement, a spokesperson for Whistler Blackcomb said the slides stemmed from a spring storm cycle and remain under investigation.
"Whistler Blackcomb is home to big mountain skiing and riding, with unique and variable conditions. We are extremely grateful to our dedicated Ski Patrol team who is relentlessly focused on guest safety and is passionate about what makes Whistler Blackcomb so special," the statement read.
Chase, for his quick-thinking efforts last month, was later rewarded with an invitation to ski with a patrol team on an upcoming morning.
The slide "caught me off guard, for sure," said Brad. "I wasn't expecting it, but I'm sure you never are."