Five days before his death, Tony Hoar sat down with medical staff to discuss what was to come.
"All he could talk about was getting better and getting back to his projects," says his wife, Gay Wise.
Hoar, an endlessly curious inventor, Tour de France cult figure, designer of Rick Hansen's wheelchairs and friend of the disadvantaged, died of cancer Saturday at 87.
That Hoar wanted to get back to his Cowichan Valley shop surprised few. The bikes, carts, kayak carriers and other forms of human-powered transportation that emerged from Tony's Trailers were an unending passion.
Neither Hoar nor Wise — who was 72 when she began working on her MBA at Royal Roads, and who then opened two more branches of her financial-services business — was ever interested in slowing down. "They never considered retirement or death," says friend Bill Yearwood.
Hoar, big, strong, stubborn, animated and healthy, was indefatigable — right up until his recent decline.
Born in Hampshire, England, Hoar was known on that side of the Atlantic as a cyclist. Although he placed well in races in Britain, Ireland, Egypt and Holland, and competed in the 1954 British Empire and Commonwealth Games in Vancouver, his greatest fame came from the 1955 Tour de France, when he won the Lanterne Rouge.
The Lanterne Rouge — named for the red light hanging from the back of a caboose — is the unofficial honour earned by the last cyclist to complete the sport's most famous race.
It's no booby prize. Hard-core riders celebrate the final finisher for enduring more pain, more time in the saddle, than anyone else, even as crashes, fatigue and illness claim others.
In Hoar's case, he crossed the line 69th overall, but 51 others didn't finish at all. Eight of the 10 riders on his team didn't complete the 22-day, 4,495-kilometre war of attrition. "After nine days, we were down to two," he said a few years ago.
At one point, the 23-year-old crashed in a tunnel after hitting gravel at high speed. "There were no lights in the tunnel. Can you believe it?" The bike was OK, though, so he kept going, minus a good amount of flesh.
As the bloodied Hoar struggled past the roadside crowds, Lord Byron's poem about a gladiator who suffers for the entertainment of others — "butchered to make a Roman holiday" — came to mind. When Hoar and teammate Brian Robinson finally rode into Paris, they became the first two Britons to ever finish the Tour de France.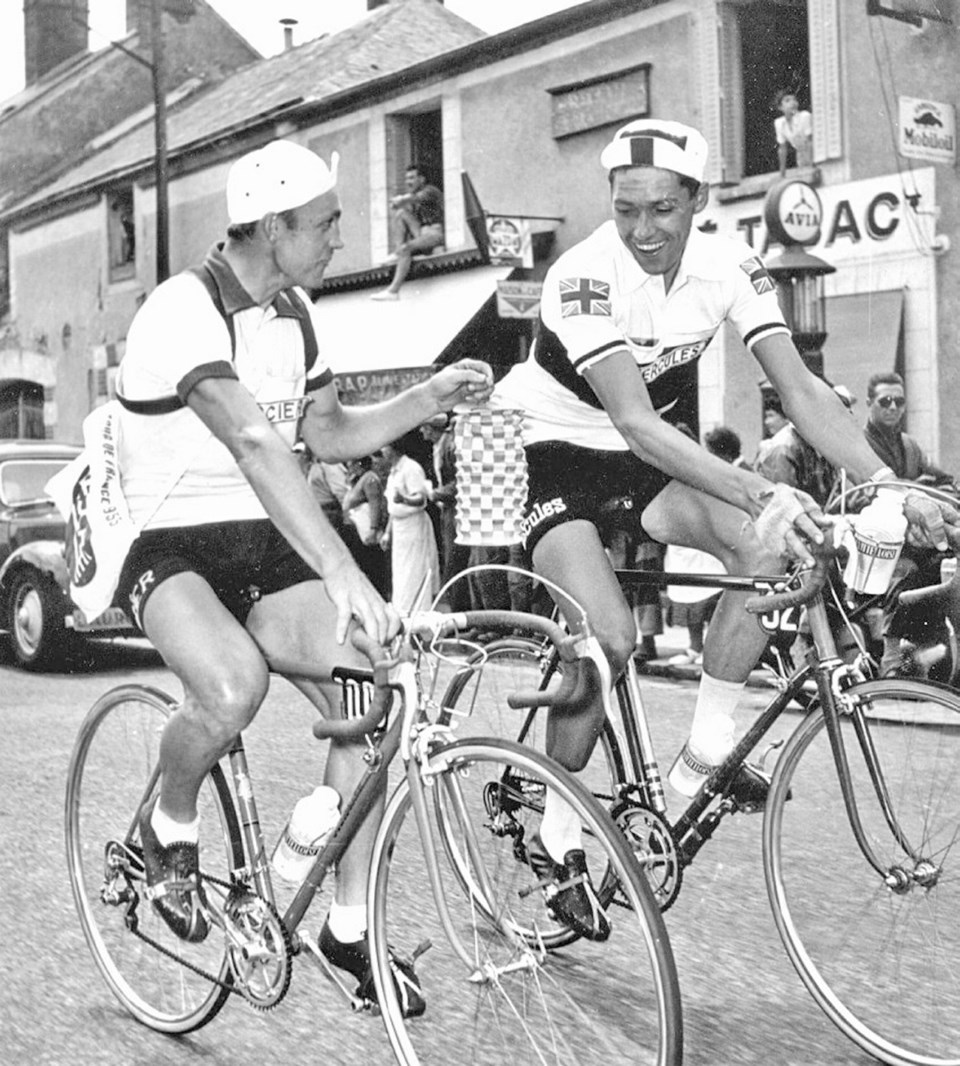 Hoar related this in 2010 while enthusiastically touring me around his Mill Bay workshop, which I described as looking like a meth head's rec room: a confusion of bikes, bike parts, shopping carts, lengths of steel tubing and other bits.
This is how Hoar the inventor became best known on this side of the pond: building trailers, cutting steel, welding joints and performing all manner of engineering wizardry. He built custom trailers for customers around the world.
He built the wheelchair in which Hansen began his round-the-world journey (and that the Man in Motion crashed while preparing for the Boston marathon, though separating his shoulder allowed him to meet the physiotherapist who would become his wife).
"Tony was a slow starter in the morning, but he'd work until midnight or later," Yearwood said.
Using his talents to make the world a better place got Hoar fired up. He would buy bikes at garage sales, fix them and give them to the down and out.
He designed and built bike-drawn cargo trailers that folded out into beds for those who had none. Grocers gave him old shopping carts that he would fit with bigger wheels and pneumatic tires. "He would convert these noisy, hard-to-push shopping carts into something the homeless could push or pull on their bikes," Yearwood said.
"He loved problem-solving," Wise said. Hoar would spend weeks, months figuring out an engineering puzzle, build what was required as a one-off project, then move on to the next challenge. It was satisfying, but hardly lucrative. "He certainly wasn't a guy who was going to get rich," Wise said.
She met him four decades ago when Hoar, then the general manager of an industrial valve manufacturer on the Lower Mainland, found himself drawn into bicycle-retailer Wise's plans to build a new kind of bike. "He left a secure, well-paying job to take a flyer in the bike business," she said. "We worked together in the bike business until we ran out of money."
They wed on New Year's Eve in 1982 (the timing allowed Wise the accountant to claim a year's worth of tax credits). After a series of overseas jobs and a couple of years in Campbell River, they settled in the Cowichan Valley, which they judged to have the best bike-riding on Vancouver Island, in 1990.
Although Hoar stopped racing competitively at age 75 (Yearwood thinks his last race might have been an 80-kilometre time trial), he never got off his bicycle.
Nor did he stop building them, though at first glance, the mud-covered machines might not look worth stealing. "There were no pretty bikes in his shop," Yearwood said. Hoar didn't maintain them; he just fixed them when they broke.
Hoar was fun to ride with, shunning the asceticism of some cyclists, said Yearwood, who succeeded his friend as president of the B.C. Masters Cycling Association. "I learned a lot from Tony about how to think about amateur sport, and how to help the less fortunate and how to help the environment."
Wise hopes to gather friends and family for a memorial in May, where those who wish to do so can start the day with an early-morning ride.