The clicking sound of boots marching on wet blacktop punctuated a grey, drizzly afternoon as a procession of about 2,000 law enforcement officers arrived for Const. Sarah Beckett's funeral in Colwood.
Hundreds of people lined the procession route as the hearse carrying Beckett made its way to a service at the Q Centre arena.
> West Shore Mountie loved life, prized her family and community service: funeral
West Shore Mountie loved life, prized her family and community service - See more at: http://www.timescolonist.com/west-shore-mountie-loved-life-prized-her-family-and-community-service-1.2228879#sthash.tsbzpH5p.dpuf
Beckett was killed April 5 when her police cruiser was struck by a pickup at Goldstream Avenue and Peatt Road. She died at the scene about 4 a.m. The 11-year member of the force leaves behind a husband and two young children
A riderless horse signifying a fallen officer was part of the procession as officers in full regalia marched toward the arena.
Beckett's coffin was carried into the service by RCMP officers dressed in their traditional red serge uniforms.
Her death has led to an outpouring of sympathy, including a memorial of flowers in front of the West Shore RCMP detachment. A candlelight walk in her honour Sunday night drew about 1,500 people.
Colwood Mayor Carol Hamilton, who is attending the service, said that as the host municipality, Colwood has done whatever it can to help with organizing the service. "Our staff has been working over the weekend helping to pull things together."
Local businesses have been "overwhelmingly supportive" in supplying things such as bottled water and food, Hamilton said. "It's going to be a very long and hard day, for sure."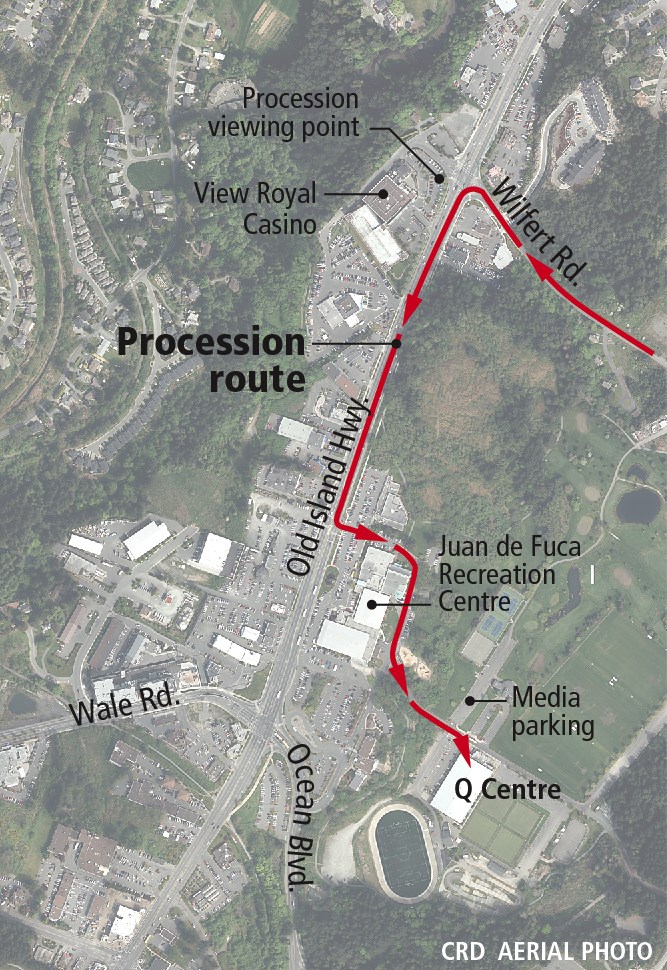 About 150 seats will be designated for the public at the funeral, and are expected to fill quickly. Members of the public are advised to be seated by 12:45 p.m.
The main area for public viewing will be Westhills Stadium at 1089 Langford Parkway, where there will be a live feed from the service and seating for about 2,000. People wanting to watch from there are asked to be seated by 1:45 p.m.
There will also be about 900 seats to view the proceedings inside the Juan de Fuca Recreation Centre complex.
The service can be seen online at livestream.com/rcmpgrc, while the best place to watch the march is at Wilfert Road and the Old Island Highway. Cones or barricades will be set up along the marchers' route to indicate other vantage points for spectators.
Marchers will turn into the parking lot at the Juan de Fuca Recreation Centre and head down the service road to the venue.
The Old Island Highway will be closed to traffic between Wilfert and Wale roads from 11:30 a.m. to 2 p.m. Vehicles will not be able to enter or exit businesses in the area during the closure, and RCMP will be encouraging motorists to leave from 11 to 11:30 a.m.
A restricted area will be established between Six Mile Road and Wale Road/Ocean Boulevard.
Saanich police will respond to calls for the West Shore detachment while its members attend the funeral.
B.C. Transit is advising that some routes will be affected, and those who use the Juan de Fuca park-and-ride might want to choose an alternative option for the day because it could be subject to restrictions or delays. Uniformed personnel going to and from the service will be able to travel free on transit.
jwbell@timescolonist.com