Almost 8,000 hectares of grizzly bear and wolverine habitat will be added to a conservation area in southeastern B.C. thanks to a $14.65-million investment by the federal and provincial governments.
The federal government is contributing $7 million and the province $7.65 million to add 7,900 hectares to the Darkwoods Conservation Area, located along Kootenay Lake between Nelson and Creston.
Federal Environment Minister Catherine McKenna made the announcement at the Swan Lake Christmas Hill Nature Sanctuary in Saanich with B.C. Environment Minister George Heyman.
A small group of protesters opposed to the proposed $9.3-billion Trans Mountain pipeline expansion gathered at the announcement, carrying placards reading Stop Peddling Pipelines and For The (Heart) Of Our Water.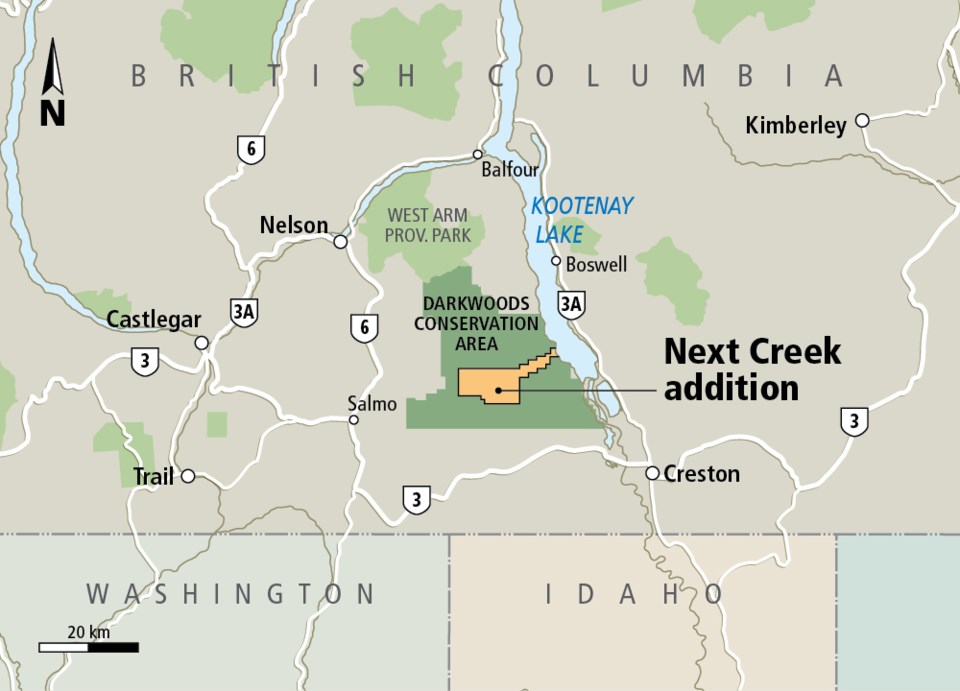 The Darkwoods Conservation Area provides essential habitat for almost 40 species at risk, including grizzly bear, wolverine, peregrine falcon, mountain caribou and whitebark pine, according to the federal government.
"This important expansion of Darkwoods will not only protect nature and the wildlife that depend on it, it will also increase conservation measures for the only inland temperate rainforest in the entire world," McKenna said.
The federal money comes from the Natural Areas Conservation Program, a public-private partnership to accelerate the pace of land conservation across southern Canada.
In 2008, the Nature Conservancy of Canada, a not-for-profit private land-conservation organization, said it completed the single largest private land acquisition for conservation in Canadian history with the Darkwoods Conservation Area — 56,000 hectares of remote valleys, mountains and lakes.
The portion announced Wednesday, the Next Creek watershed, is unprotected private forestry property in the heart of Darkwoods and expands the protected area by 14 per cent and bring species-at-risk habitat under conservation management.
Darkwoods and Next Creek, in the traditional territory of the Ktunaxa, Syilx and Sinixt peoples, feed 17 watersheds and more than 120 alpine lakes.
The acquisition allows for a substantial restoration plan for previously logged portions of the Next Creek property, according to the federal government. And the watershed will expand a network of conservation lands in the South Selkirk Mountains to more than 110,000 hectares.
John Lounds, president and CEO of Nature Conservancy of Canada, expressed gratitude to the federal and provincial governments. "The investment kick-starts our work in the Next Creek watershed, and is a catalyst for conservation of global significance," he said.
The Darkwoods expansion is part of the group's initiative to raise and invest at least $25 million to expand its conservation work in the Canadian Rockies.
About a quarter of the land that the Nature Conservancy of Canada protects is in B.C.