The province and Doctors of B.C. have agreed on a tentative $708-million, three-year deal that includes a new payment model that the government hopes helps attract and retain family physicians.
The new Physician Master Agreement, announced by Health Minister Adrian Dix and Doctors of B.C. president Dr. Ramneek Dosanjh in Vancouver on Monday, includes payment increases for all physicians, with additional money for overhead costs. There's also more money for specialist recruitment and retention, rural programs, after-hours on-call programs and team-based care.
"I think what we're doing today is both historic and foundational," said Dix at the Pan Pacific Hotel. "It is there in place to allow us both to stabilize and support our current practices, to make it more attractive for people to become family doctors."
The deal, to be ratified by doctors in a few weeks, also includes a provincial roster system starting in mid-2023 for all B.C. residents seeking a full-service family doctor, so they don't have to search on their own.
About one million people in B.C. are without a family doctor — more than double the 437,000 people without a family physician in B.C. in 2003.
The new payment model, co-developed with the Doctors of B.C., would allow full-service family practice physicians who opt in starting Feb. 1 to earn $385,000 gross a year. That amount is based on working about 1,680 hours a year, with about 1,250 patients of average complexity — about 5,000 annual visits.
A family doctor must work at least one day a week to qualify for the new fee structure, but there's no longer a cap on the number of patients a physician can see in a day, allowing physicians to earn more if they take on more patients.
The new payment model also ensures that family doctors with full-service practices are paid the same as family physicians working in hospitals, who earn about $300,000 a year without having to pay overhead costs in the range of $80,000.
Dosanjh said the deal is a "seismic shift" in the way doctors practise in B.C. "[It's] by far the best agreement negotiated for physicians in Canada this year and I believe it is one of the best that has ever been negotiated here in B.C."
The $708 million over three years of the deal represents two to 5.5 per cent increases each year to the total base budget. The base cost of the physician master agreement was $4.8 billion in 2018, but is now $5.3 billion.
The new payment model takes into account the time a doctor spends with a patient, the number of patients seen in a day, the number of patients supported through the doctor's office, the complexity of a patient's issues, and administrative costs currently paid directly by family doctors.
The average family doctor paid under the traditional fee-for-service model, which pays a base rate of $32 per patient visit, earned about $250,000 before overhead in 2021-2022.
Dosanjh said the new payment model represents a "middle road" between the traditional fee-for-service model — which family doctors complained did not fairly compensate them for their time — and the contract model, which some doctors felt impeded their autonomy.
Saanich family physician Dr. Jennifer Lush, who has spoken publicly of the challenges facing family doctors and their patients, thanked all involved for what she called an "unprecedented" compensation model that allows doctors to spend more time with their patients and to see more patients.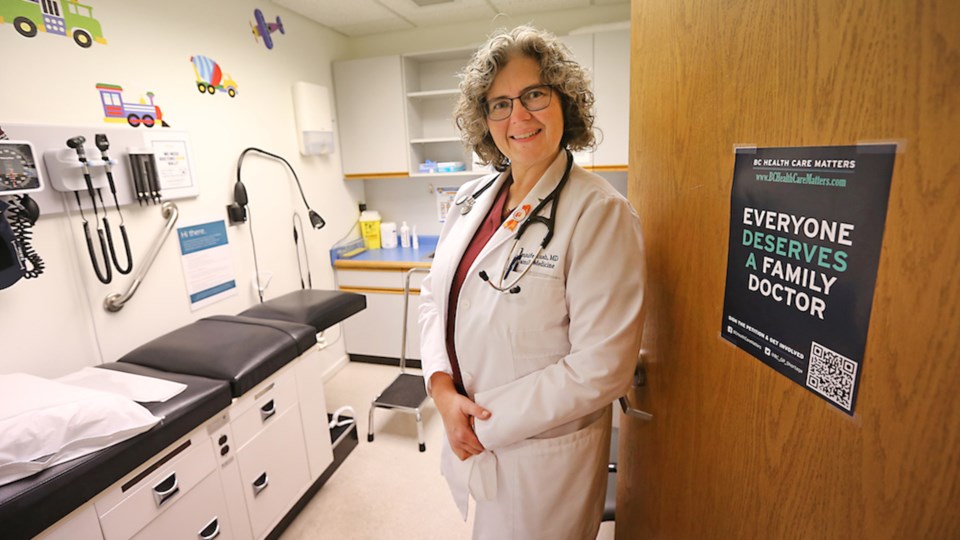 "It is enough that we can continue to operate our practices in the face of rising business costs, and it retains the autonomy of physicians independent of health authorities," said Lush, adding the deal is "attractive enough to change the minds of those who were thinking of leaving their practices."
She said it should also help recruit much-needed doctors into community family practice in B.C.
Dr. Ian Bridger, who runs five family practice clinics and walk-ins in Greater Victoria, said after reading the highlights of the agreement released Monday, "this looks like a really amazing effort to attract and reward longitudinal care family physician which I am sure will help us get this province's community health care back on its feet."
Dr. Nancy McFadden said the deal looks "pretty good" in that it addresses unpaid administrative work, which she does many evenings and weekends. McFadden plans to attend a town hall next Tuesday where she hopes to hear a more detailed discussion of the deal.
Liberal Health Critic Shirley Bond said she's pleased to see that the action government has taken was informed by physicians. "Obviously the details matter — it's one thing to announce and it's another thing to implement — but I think it's long overdue for some action and I'm relieved to see that this might make a difference for physicians."
Green Leader Sonia Furstenau said in a statement that the plan seems to address physicians' need for compensation and fairness but requires benchmarks for patient attachment, doctor recruitment and increasing preventive care.
While the province can't say how many people will get family doctors as a result of the new deal, recent incentive packages have helped keep physicians in family practice and attract commitments from new doctors, said Dix.
Those packages include lucrative contracts and loan forgiveness for newly graduated family doctors, 62 of whom have signed up and $118 million in temporary stabilization funding offered in August to individual physicians in primary-care clinics and walk-ins.
About $107 million of that is now going to more than 3,000 physicians, with a remaining $11 million to be given out in November.
"All of the indications show that it is going to significantly improve things," said Dix.
ceharnett@timescolonist.com