A massive fire that destroyed a Saanich townhouse complex, damaged nearby buildings and rocked the neighbourhood with explosions Sunday night has been deemed suspicious by investigators.
"A closer inspection of the scene can now be done by both police and fire investigators to determine the cause and scope of the damage," said Saanich Police Sgt. Julie Fast. The fire was so intense that siding on neighbouring homes was melted, a Saanich fire truck sustained heat damage and flying embers sparked small spot fires in the area, Fast said.
The fire started at about 8:30 p.m. Sunday at a townhouse complex under construction in the 4000-block of Cedar Hill Road, just north of the University Heights shopping centre.
The building was empty but the neighbouring two townhouse complexes were occupied and evacuated. More than 40 residents were helped by emergency social services. Many were allowed to return home, but Fast said at least 10 units in the neighbouring buildings were destroyed or severely damaged.
Residents have been provided emergency services to assist them with immediate relocation needs, she said.
Witnesses said they bolted for safety as flames shot 25 metres in the air and propane tanks exploded. Sparks showered down on people who ran from nearby shops. They said they could feel heat from the blaze behind them. Flames rose into tall trees. Clouds of black smoke were seen throughout the region. Saanich, Victoria and Oak Bay fire departments helped battle the blaze.
Cedar Hill Road reopened at about 7:30 p.m. Monday after being closed for most of the day, as firefighters continued to douse the smouldering charred framework of the townhouse building. The five-unit development was being built by local company Seba Construction. Owner Jamie Gill said he was thankful no one was hurt in the fire and grateful for the work of the first responders.
"We look forward to getting the investigation report and moving forward from there," he said, adding he definitely plans to rebuild.
A steady stream of neighbours and onlookers came to the area on Monday to get a look at the building and talk about the drama from the night before.
"We were supposed to work there today," said roofer Johnny Evans, as he looked at the burned-out remains from behind police tape across the street.
"All of our tools are still there. Destroyed," said Evans, who had not been at the site since Saturday afternoon.
Janet Firth, who lives nearly two blocks away on Marcola Place, said she heard an explosion and went to look out the front window. "That was the first one. They shook the house," said Firth, who called 911 and went out with other neighbours to see a huge fire. "A crowd gathered very fast."
Hailey McNeil, 22, a tenant in a house on Glencraig Place directly behind the fire, said Sunday she was on the couch when the woman who lives downstairs knocked on the door to warn her.
"I saw a red reflection on the door and looked out the window. The flames were up the side of the [adjacent] building. I ran and got some things and got outside," McNeil said.
"I ran down to the other end of the house and the smoke was in my mom's bedroom because her window was open. So I closed the window and ran outside. As I ran outside, things were exploding back there."
She said her mind went blank. "I was like, I need to call her," she said, pointing to her mother.
Mother Tammi McNeil said: "I wasn't home so she called me, freaking out, to come home. I was at a baby shower."
She was "terrified" when she heard from Hailey and raced to the scene to make sure she was safe. "She was freaking. She just said: 'Mum, you need to get home now.' "
The downstairs tenant and her cats escaped safely, Tammi said.
On Sunday, Ken Graham, owner of the rental house, stood with the McNeils waiting for news about the fate of his property.
"My tenant phoned me. She was outside the house and said the house was maybe going to burn down and I got over here right away."
Grim condominium residents, some with their dogs on leashes, milled around the area.
Ethan Hendricks and friend John Gorenstein were in the Tim Hortons restaurant on Shelbourne Street when they heard one loud bang, followed by a second explosion about 30 seconds later.
Employees immediately told them to get out of the building, they said.
"We came outside and there was a huge plume of smoke," Hendricks said. They heard two more explosions. "People started running."
A propane tank flew by, Gorenstein said.
Christian Makaveli was in the area, thinking at first that someone had started a bonfire, but smoke increased and he heard the explosions.
"Then all the shrapnel started coming down. Pieces burning. It just started raining fire all the way to Shelbourne Street as cars were trying to get away. … There were sparks just everywhere."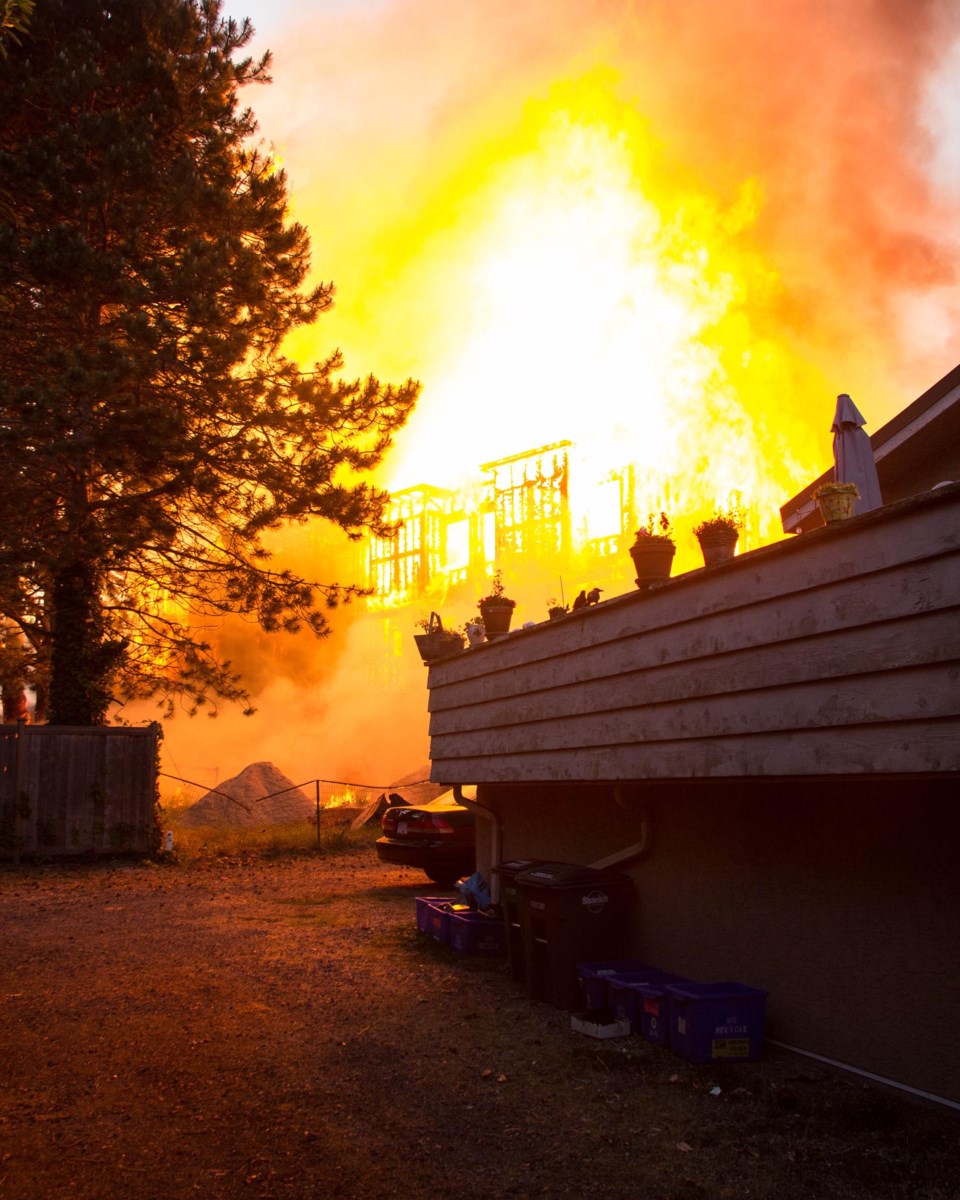 Photo by Amber Fee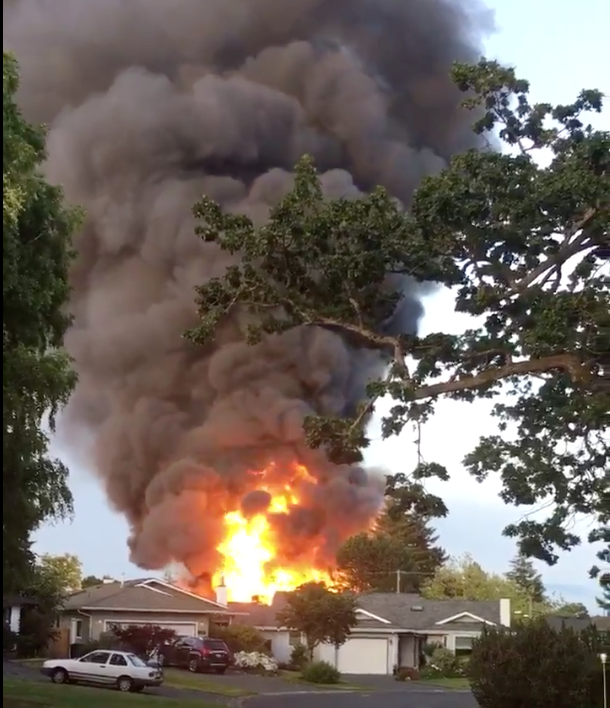 Photo by Trevor Davies via Twitter
Incredible house fire - cedar hill #yyj pic.twitter.com/CXx3Q1Op3B

— Trevor Davies (@TDaviesCUPEBC) May 23, 2016
Crews have fire knocked down at 4009, Cedar Hill Rd, continuing to knock down hot spots. pic.twitter.com/ZQ4z0a7N1r

— Saanich Fire (@SaanichFire) May 23, 2016