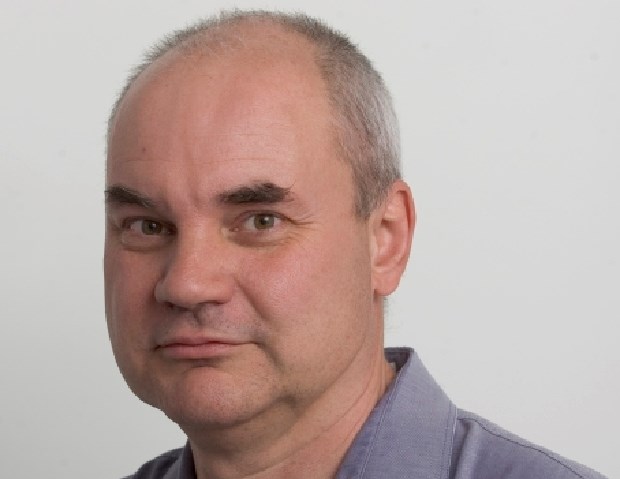 I peered out the window, took a sip of coffee and turned to her: "Looks like the robins are back."
She acted as though she hadn't heard, just shifted in her seat, looked ahead and said: "Where do you think we'll be in five years?"
"Probably right here," I replied. "I can't see us moving, can you? We've already been here for two."
The woman said nothing, just rolled up her window, put her SUV in gear, and inched forward. I stayed in the next lane, my progress halted by a line of cars that stretched to infinity, or at least View Royal. Damn Colwood Crawl.
You thought the Crawl was bad before? This week it went to Defcon 4, with a temporary wrinkle in the McKenzie interchange construction zone — which handles three times as much traffic as the Johnson Street Bridge, BTW — helping extend the already sluggish West Shore-Victoria morning commute to an hour or more.
Just before 8 a.m. Thursday, it was taking Sooke Road traffic 16 minutes to travel the one kilometre from the Colwood Dairy Queen to the entrance of Royal Roads University. James Dunsmuir could have hoofed it to Hatley Castle faster on foot while two-fisting a Blizzard and a Dilly Bar.
It took another 23 minutes to reach the Trans-Canada Highway, three kilometres away, then a further 12 to cover the 3.5 km to the McKenzie interchange. Those going to downtown Victoria from Sooke said the entire drive took an hour and 40 minutes.
The good news? The work causing the delays — the installation of a water line — should be done Saturday morning, more than two days ahead of schedule.
The bad news? There'll be more days like this before the interchange opens in the summer of 2019. Commuters are resigned to that, knowing it's the price to pay for the long-awaited uncorking of the bottleneck. Cracking eggs to make omelets, and all that.
The nagging fear, though, is that the interchange still won't be enough to keep traffic flowing as demand grows. Between 2006 and 2016, the population of Sooke and the West Shore climbed from 62,000 to 83,000, with all those people funnelled into the same stretch of highway.
It's wishful thinking to believe people will abandon their cars, too. As much as the politicians and planners might want it to be so, the trend is in the opposite direction. The number of insured vehicles on Vancouver Island rose from 570,000 in 2012 to 630,000 in 2016. And just wait for driverless cars to show up, providing freedom for old people who would otherwise park as their skills diminish.
Would it be better if more of us cycled, or walked, or took transit? Of course. They're great options — if you're young and healthy, or your job doesn't involve moving sheets of drywall, or your family doesn't have one kid who's a hockey goalie with a practice at Juan de Fuca, another with a soccer game at Lochside Park, one spouse with a job in Sooke and another working downtown. Not everybody gets to live as though Victoria were a compact country village. Note that the Old Island Highway through View Royal is plugged solid every day with traffic heading to and from CFB Esquimalt; unless they move the navy base to Costco, that's not going to change.
Nor will drivers ditch the comfort and convenience of their cars — which go exactly where you want, exactly when you want, and with no need to worry about a stranger sneezing in your ear — until there is a faster, cheaper, reliably frequent alternative.
The most practical solution would be continuous, dedicated transit lanes between downtown and the West Shore, allowing buses to blow past the Crawl. That's B.C. Transit's long-term vision.
For now, the reality is a patchwork in progress. Construction of one of the last legs of the (sometimes confusing) Fisgard-to-Uptown bus priority lanes is underway on Douglas Street. B.C. Transit is talking to View Royal and Colwood about what to do — priority lanes, queue-jumping at traffic lights — to give Island Highway buses an edge from Goldstream Avenue to the Trans-Canada.
Priority bus lanes will extend in both directions from the McKenzie interchange when it is fully complete in late 2019, the Transportation Ministry says. "Additionally, we will be announcing next steps for the Douglas Street bus lane extension in the coming weeks, which will provide continuous northbound transit priority from Tolmie Avenue to the Burnside Bridge on the busiest bus corridor in the region," the ministry said in a statement.
We're inching forward.