The site of a fatal bus crash on Friday is a "dangerous" narrow stretch of the road between Port Alberni and Bamfield, says the chief of the Huu-ay-aht First Nations.
Robert Dennis, chief councillor for the Huu-ay-aht First Nations, was driving home with his wife when they passed by the scene on Friday night.
"There were some people laying on the ground, laying on what appeared to be blankets and were being looked after by the rest of the students," he said.
"They were definitely panicked."
A bus carrying 48 people went off the road and down a steep embankment about 9 p.m. The passengers — 45 University of Victoria students in a first-year science class and two teaching assistants — were bound for the Bamfield Marine Sciences Centre.
Two people died at the scene and more than a dozen were taken to hospital. All but one had been released as of Saturday afternoon. The two people who died have not been identified.
Dennis said the bus was overturned and about six to nine metres down an embankment, adding that it rested against some trees, which seemed to have stopped it from rolling further.
People were helping remove others from the bus and getting them up to the roadway, Dennis said, adding that he and his wife provided them with water and a rain poncho for warmth. He said he and his wife stayed at the scene to help in any way they could.
Dennis said the area has no cellphone reception and he estimates he was at the scene for about two hours until first responders showed up.
He said the First Nations community has been asking the provincial government for years to improve the road. They would like to see it chipsealed, which Dennis said would be a better pavement surface.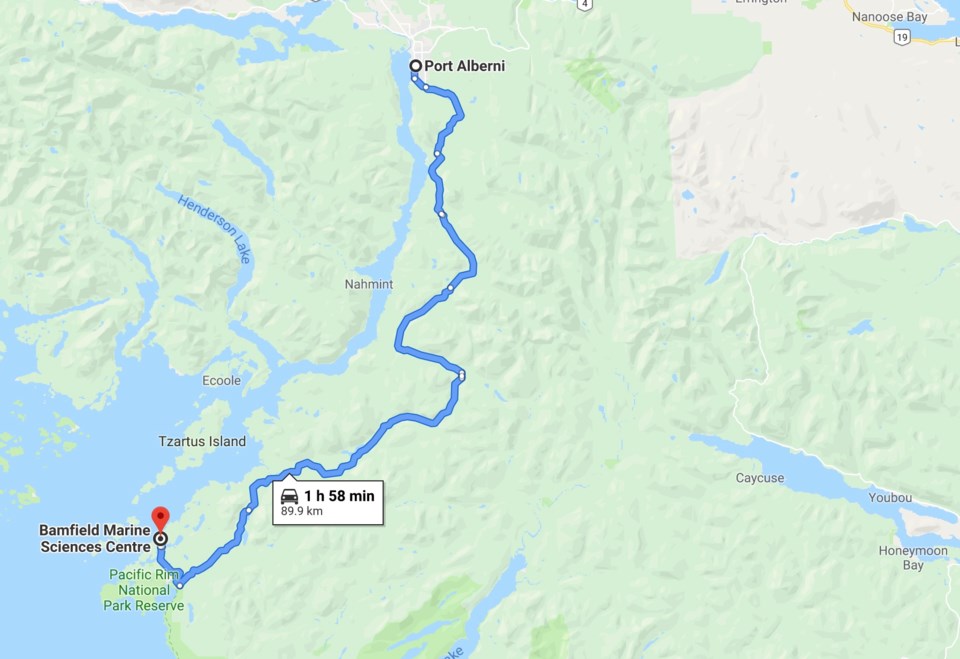 The road is more than 80 kilometres long and mostly gravel, said Port Alberni Mayor Sharie Minions. It was once mostly heavily used by logging companies, she said, but now it's also frequented by tourists and people living in coastal communities.
"It's a challenging road at the best of times. It's narrow and [winding]," she said, adding its condition is not up to standard. "It's a concern, for sure."
The city has supported the First Nations community's call for improvements, she said, reaching out to the provincial government as well.
She would like to see it paved or chipsealed, receive regular maintenance and increased lighting, and offer cellphone service for at least emergency calls.
"The road has significant issues and there's a lot of work that needs to be done," she said.
The research centre's website warns travellers to drive slow on the "logging road," which it says can be rough, but is usually well maintained. It also states that there is no cellphone service between Port Alberni and Bamfield.
Dennis said his thoughts are with the families of those killed, as well as the people injured, and he hopes the incident will lead to increased safety measures on the road.
Minions echoed that sentiment.
"I'm incredibly saddened that it had to come to this," she said, "but at the end of the day, we don't want to see it happen again."
— With a file from the Times Colonist