As he prepares to pack up after two years as commander of CFB Esquimalt, navy Capt. Sam Sader admits it's difficult having to leave Vancouver Island.
It has been a post he loved in a region he is very fond of — he doesn't like being reminded that he is moving to Ottawa in two weeks — and Sader is quick to note the posting has been one of his most rewarding because it has allowed him to oversee both operations at the base while being a major part of the region.
"It's always difficult because the most special part about all this is the relationships you build with the people, and that's over the [last 20] years, not just the last two," he said. "It's been incredible building those connections with these people."
Sader, who had his first Royal Canadian Navy posting in Esquimalt, said part of the job as base commander is ensuring the connections he makes extend deep into the region.
"We have such strong ties and relationships with a diversity of community groups and that speaks to how integrated the base is into the community," he said.
That was laid bare in a recent economic impact report prepared for the Greater Victoria Harbour Authority.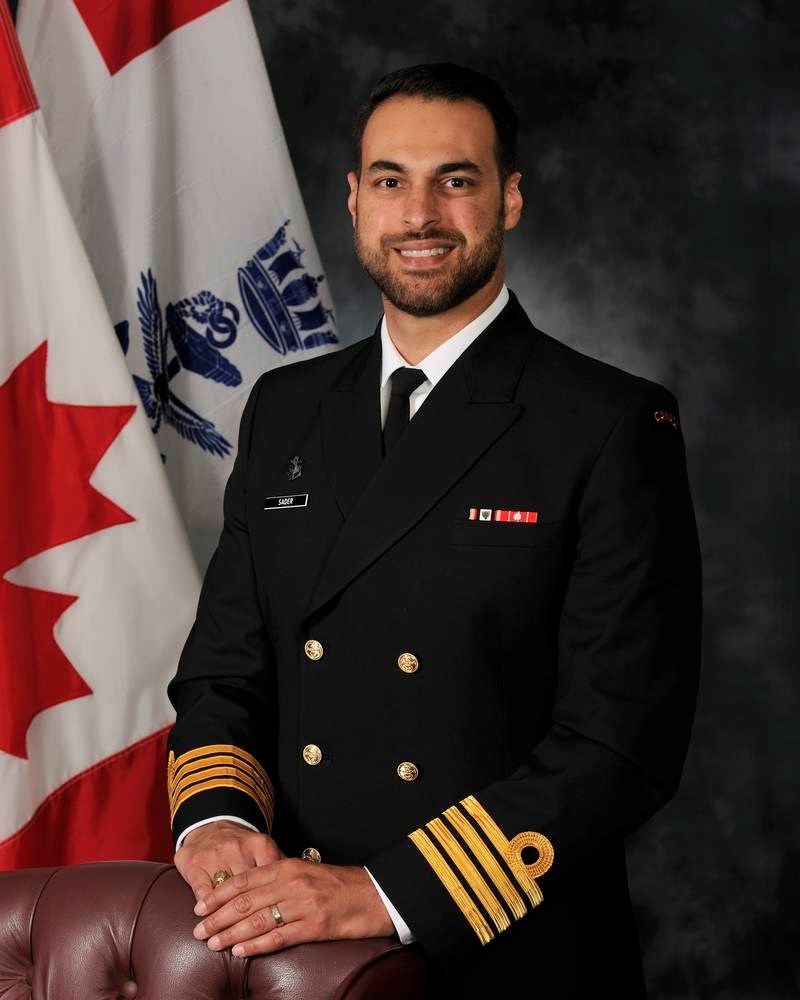 The study, which did not include cruise ship activity and revenue, showed that harbour organizations in Victoria and Esquimalt generated a total of $2.9 billion in economic output in the region in 2019 and employed nearly 15,000 people.
The vast majority of that economic output was generated by the Department of National Defence lands in Esquimalt.
More than $2 billion of Esquimalt Harbour's $2.4-billion economic output was generated by the government and institutional sector, which employs 10,276 people and contributes $408 million in taxes each year.
The base itself is the capital region's third largest employer, with 6,500 employees.
Sader said the report is an indication of the base's importance to both the region and the country.
"It's important for Canadians to know what the base represents," he said. "In economic terms, Canadians are are the shareholders, this is their navy, and they should know what is going on with their base and how it's being managed based on a triple bottom line."
That triple bottom line, which includes looking at the social and environmental impacts of the base, is important to Sader, who said they strive to be more than an economic engine.
"We want to be good citizens, good neighbours," he said.
To that end, the study noted the base made sizeable contributions to United Way, the Boys and Girls Club and other organizations supporting sport activities for children.
It also sponsored several events, including Defence on the Docks, which showcases the Canadian Armed Forces, the Dragon Boat Festival, Remembrance Day sail past, and Ceremony of Flags.
The base also offers the RAVEN Program, which provides training and employment for First Nation youths each summer.
On the environmental side, the base was behind the Esquimalt Harbour Remediation Project, a $162.5-million initiative to remove contaminants from the Esquimalt Harbour.
But it's the sheer weight of the economic impact that is really felt around the region.
Sader estimates there are hundreds of local companies represented on the base every day, which translates into thousands of jobs in Greater Victoria.
"The community becomes our extended supply chain," he said.
And that chain is about to be leaned on as the navy and CFB Esquimalt continues to go through a massive recapitalization effort that will see more than $1 billion in new infrastructure established.
Sader said along with new ships and jetties, there will be a need for new naval training systems that will require input and partnerships with training facilities and local companies.
aduffy@timescolonist.com