Delighted with dumplings
June 6, 2010: Dumplings are all the rage in Melbourne, Australia. It might even be the Year of the Dumpling, The Age newspaper declares.
- - -
Fine dining in Scotland
Scottish cuisine apparently has a bad reputation. Too much deep frying. Too many oats. But writer John Gilchrist found many dining delights in his recent tour of Scotland.
- - -
Food fit for a funeral
Fake mourner attended funerals to eat the food, brought along containers to take some home.
eHow's guide to preparing food for a funeral
Ham sandwiches are apparently quite common at funeral buffets, and tuna, too. There's a funeral food report with recipes at the Seasonal Ontario Food blog.
- - -
Salt is magical – at least food processors think so
June 2, 2010: A long piece at nytimes.com explores why salt is so essential to processed foods. It adds that extra zip. Without it, many famous foods would be zip-less. Food manufacturers have tried to tweak their recipes, and insist that dropping much more than 10 per cent of salt from their recipes brings unpleasantness. Salt-makers are rolling out PR campaigns to extoll the benefits of salt, and to suggest that a pinch of salt in your ice cream, and many other things, will enhance it with a "briny kiss."
- - -
High praise for Vancouver's Chinese food
Mia Stainsby at the Vancouver Sun writes about the success of Ken's Chinese Restaurant, and its much-lauded golden Dungeness crab. Ken's was recently praised in Conde Nast Traveler magazine, and that has resulted in a surge of out-of-town diners. The restaurant has also attracted attention for dropping shark's fin soup from its menu, in a nod to environmental concerns.
- - -
Recent meals around town
The bento boxes at Pho Ever, off Shelbourne on Pear, are huge. This one has tempura, spicy stir fried pork, noodles, rice and salad. There was also a miso soup. All for under $10.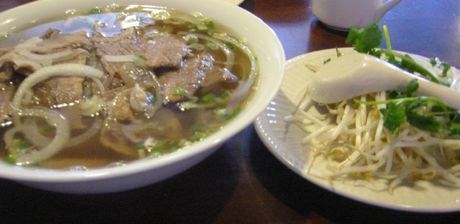 The pho portion at Pho Ever - for $8.95 - was also generous. This version has flank steak and tendon slices. The tendon was really good, but the beef slices were a little tough, as is often the case with pho. There were a lot of noodles, which I couldn't finish. The noodles were good at the beginning of the meal but started to taste bland and became a chore to chew as I got full. Some sort of psychological thing, I guess. It was my first visit to Pho Ever, and something like the sixth for my eating companion, who really, really likes the place.
- - -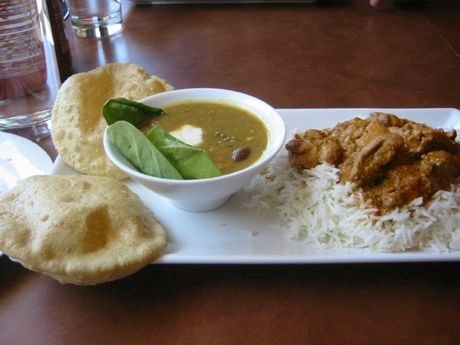 The noon special one day at Tibetan Kitchen, on Broughton near Douglas. It's butter chicken on rice, with dahl and pita, for $9.99. It was my first time there. After eating the meal, I decided it was definitely a go-back-to place.
- - -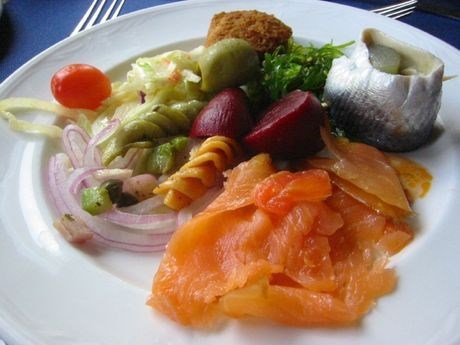 A group of us dropped in on the Chemainus Theatre Festival and had their buffet-and-show combo. Their buffet is fairly reliable, though a tad bland sometimes, perhaps because they cater to bus tours filled with older folks who like to stick to meat and potatoes and nothing spicy. I say this based on eavesdropping.
- - -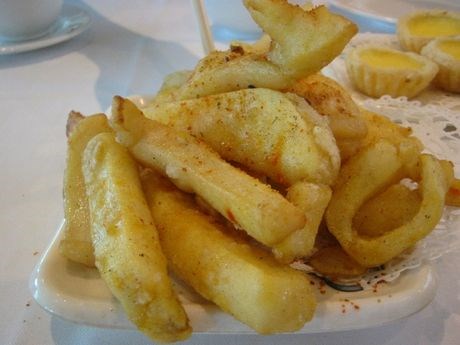 Deep fried squid chunks during dim sum at Sun Sui Wah on Main Street in Vancouver. The squid was a little tough and a little greasy, but still tasty. I've never encountered squid served quite like this. I need to expand my squid horizons.
- - -