Sweet potato fries are all the rage -- they're popping up on restaurant menus everywhere. And, while I was  watching The Mentalist, a commercial popped up for McCain Sweet Potato Superfries. Frozen goodness that just needs a little oven time. Commercials have an unhealthy sway over me. That's how I ended up loving Canada Dry's green tea gingerale. (But we won't discuss the fruit juicer gathering dust in a cupboard.) So I'm adding frozen sweet potato fries to my next shopping list. I'll report back after I bake some. And, I know. I could buy some whole sweet potatoes, cut them up, and bake them almost as easily. But the McCain people went to all that trouble.
- - -
A group of us had a nice buffet meal at the members-and-guests-only Union Club in downtown Victoria. Most memorable moment: the scorching hot buffet plates. I was too much of a sissy to hold mine barehanded, so I went back to the table for my cloth napkin and used that as a plateholder. I'm also incapable of holding hot tea in a paper cup; that paper heat-shield ring is not enough for my delicate hands.
- - -
McDonald's in the U.S. is making its wi-fi free as part of an effort to get people to hang around more, buying coffee and sweets. Haven't tracked down anything yet on what McDonald's is doing in Canada on the wi-fi front. Starbucks offers free wi-fi, but you have to become a member of their Starbucks club first, and sign in with an ID and password.
- - -
Just had the green curry rice noodles with prawns and kale at Fifth Street Bar and Grill. Non-dairy, it said on the menu. It's among the best restaurant curry noodle dishes I've had. Sometimes, the noodles taste bland despite a spicy accompanying sauce. That's not the case with Fifth Street's version. The kale was a delight, soaked with curry flavour but still very recognizable as kale. And no skimping on the prawns — there were four large ones. A wonderful meal for $10.
We then went up the street, along Quadra, to the Italian Bakery (corner of Quadra and Tolmie) where we encountered hot, freshly baked loaves of bread — at 3 p.m. 
- - -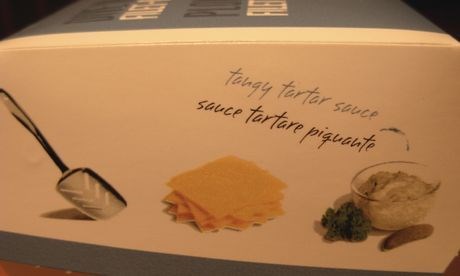 McDonald's has whimsical, engaging, and, in a way, puzzling packaging for its Quarter Pounders, Filets-O- Fish, and Chicken Nuggets.
They've probably been using the packaging for ages — but I haven't dined at a McDonald's for a long spell, so I've just clued in.
At first look, you might not even know that the Quarter Pounder or Filet-O-Fish box is from McDonald's. Mighty Simple, says the biggest type on the Quarter Pounder box. Dive In & Enjoy, says the one on the Filet-O-Fish. The name of the sandwich is in smaller type, and you have a picture of the sandwich.
The famous Golden Arches logo is hidden on a side panel.
The side panels also have whimsical drawings and little photos that hint at the ingredients. 
There's also a sentence or two extolling the virtues of the sandwiches.
Chicken Nuggets come in a humble, but sensible paper bag. It's not elegant, but it works. The bag is covered with drawings and type. To Dip or Not to Dip, says one line. (An aside: when I bought the nuggets, I wasn't offered any dips, and I forgot to ask.)
Presentation, they say, plays a big role in the enjoyment of food.
For a fast food experience, McDonald's has done a nice presentation job, and has even provided  its customers with a fair bit to read while they chomp through their politically-incorrect meal.
Some wondering:
What market research led them to this — present their products in packaging that hides the McDonald's identity?
To print the product name in smaller type?
And why so many words on the boxes? Does anyone apart from a packaging-design geek like me bother to read it?