Ginger Cilantro Sticky Rice, $14.25, at The Mint.
My eating companion said it had been her best restaurant dish of the year. 
That's how we ended up in the dimly-lit dining room at The Mint (on Douglas Street near Johnson) so that she could have the dish again.
You can easily miss The Mint. You go through an entrance that's blocked by an iron gate during the day (The Mint opens at 5:30 p.m., closes at 2 a.m.), down a set of outdoor stairs, and into a dimly-lit room that's decorated in dark colours. Little white Christmas lights are strung in rows on the ceiling.
The dish that excited my eating companion is called Ginger Cilantro Sticky Rice. It's a multi-layered creation, with a base of sticky rice, baby bok choy and red pepper slices in the middle, and a slab of grilled, crispy tofu on top. All of this is  covered with a coconut peanut sauce and a scattering of peanuts. Ginger and cilantro are somewhere in there too.
My eating companion thought briefly about having something else, but couldn't resist having the sticky rice dish again.
"It's just perfect," she said of the dish (though, she did go on later to criticize it). "Peanut dishes are often overwhelmed by the sauce, but this one isn't."
It has a nice combination of ingredients in the right portions. "There's not too little of one thing."
Then the criticism: "The bok choy is all one piece, it's  big, and slippery, and needs more work than I want to do."
And finally, on finishing: It was good the second time, but not like the first, when it was a discovery, and it was amazing.
I ordered the mango chicken curry but ended up with the butter chicken curry. Which was fine. I didn't want to wait for a replacement, so I pressed on.
The presentation was a surprise. The meal comes on a multi-compartment metal platter. In separate compartments were:  butter chicken, a cold sesame-seed potato and carrot salad, fried fenugreek pieces (which I wasn't familiar with), a mound of rice (not hot enough, a bit hard) topped with a ring of onion and a piece of lime. Plus a side order ($1.50) of naan.
The chicken and potatoes were pleasantly, mildly spicy. The fenugreek held a surprise chunk of very-spicy pepper, and eating it was an interesting experience — it's slightly bitter and has unfamiliar maybe licorice-like  flavours. My eating companion didn't like the fenugreek pieces she popped into her mouth. She made a face and said: "It tastes like body odour."
Despite that comment, I pressed on with the fenugreek.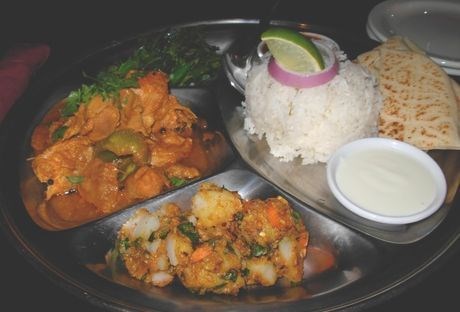 Butter Chicken Curry, $14.95, with a side of naan, $1.50, at The Mint.
- - -
I've been struggling with store-bought, frozen dim sum. Sometimes you want to have dim sum, and it's 2 a.m., and no dim sum restaurants are open.
The good experiences: sticky rice wrapped in lotus leaves, sui mai (the pork dumplings) and pot stickers.
The bad experiences: shrimp dumplings, white chicken buns, and mini pork buns.
I use a steamer to cook them.
The shrimp dumplings stick like crazy to the steamer tray, fall apart easily and taste metallic. I oiled the steamer tray, which didn't help much. I tried wax paper. 
Finally, copying the dim sum restaurants, I tried lettuce leaves. That worked. But the shrimp dumplings still fell apart before they were hot in the middle.
So, I'm leaving the shrimp dumplings to the professionals.
The sticky rice and sui mai can withstand more mistreatment. They've turned out fine.