If you have a foodie on your Christmas gift list, a new cookbook is something they'd enjoy unwrapping. Today, I've written about two cookbooks by B.C. authors to consider putting under the tree and included a recipe from both.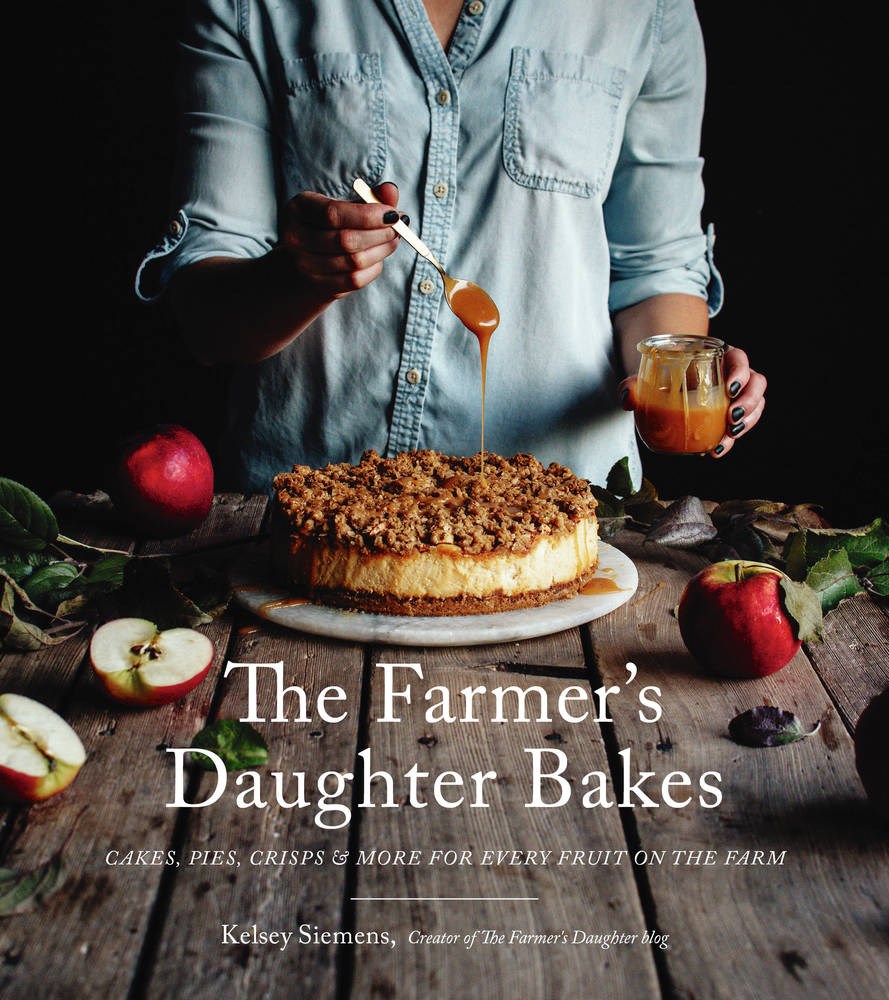 The Farmer's Daughter Bakes (Page Street Publishing, $34.50)
If you or someone you know loves baking, I'd highly recommend this book by Abbotsford's Kelsey Siemens. She's the founder of the popular blog The Farmer's Daughter (the-farmersdaughter.com), a full-time apple farmer and one heck of a baker.
When you flip through the book and drink in the gorgeous photos, also taken by Siemens, you'll want make everything; it all looks so good. Siemens has a sweet way of taking things to the next level and her concise methods and many step-by-step photo instructions will take you there too. Some of the many "must make" recipes in the book include rhubarb-pistachio coffee cake, fresh mint Nanaimo bars, gluten-free raspberry brownies, apple crisp cheesecake with salted caramel, linzer cookies with homemade jam, orange chocolate swirl bread, and apple pecan scones with brown butter glaze. Yum!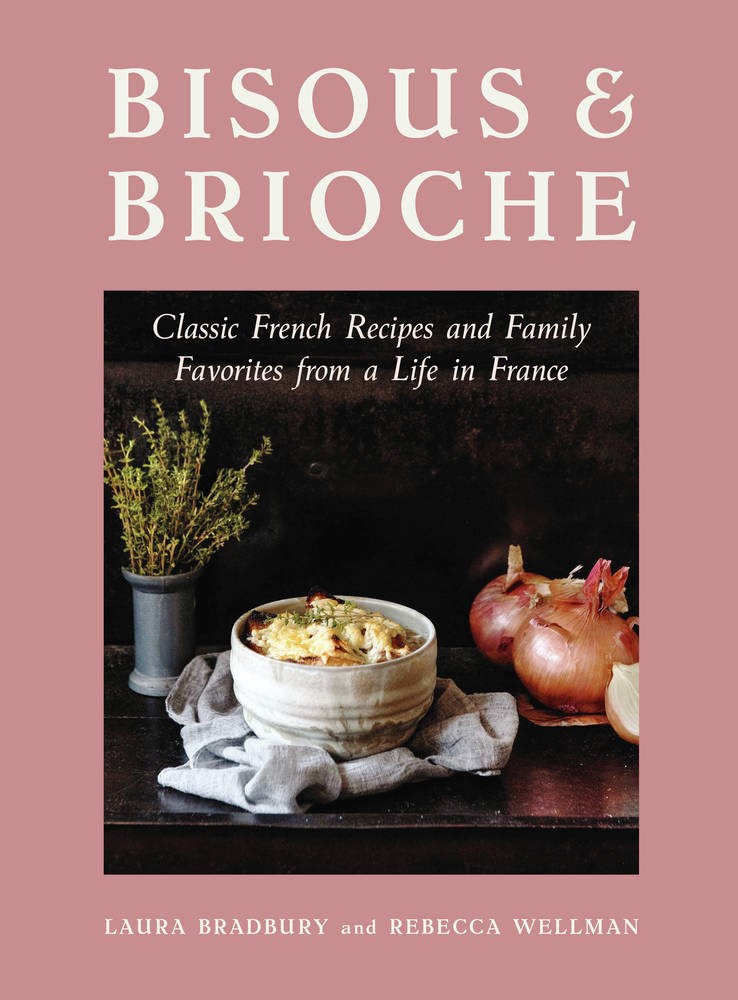 Bisous & Brioche (TouchWood Editions, $45)
If you'd like to take a tasty trip to France, without getting on a plane, this delightful book will transport you there. Laura Bradbury, who wrote the novel A Vineyard for Two and the bestselling Grape Series memoirs, and Rebecca Wellman, a talented magazine/recipe writer and photographer, created it. If you're wondering, bisous is the French word for kisses.
Wellman lives in Victoria. Bradbury does too, but also spends part of the year in France.
The latter fact is reflected in the book's subtitle, Classic French Recipes and Family Favourites from a Life in France — exactly what you get in this book. Comforting, delicious creations you'll want to make time and time again, such as Sunday night crepes, Marie's French tomato tart, creamy Dijon chicken, beef bourguignon with homemade noodles, and French apple cake, to name just a few.
Bradbury offers charming and personal introductions to the book's recipes. Wellman artfully styles and photographs them and also includes pictures of the French countryside. Gift this book with a nice bottle of wine and you'll make someone very happy.
Christmas Quiche
This recipe and the pastry below are from Bisous & Brioche by Laura Bradbury and Rebecca Wellman (TouchWood Editions). Bradbury says she loves this festive-looking tart, packed full of delicious winter flavours. It's perfect for Christmas Eve or Boxing Day.
1/2 recipe Marie's French Pastry (below)
2 Tbsp butter (divided)
1/2 small onion, minced
4 cups sliced mushrooms, such as cremini, oyster, or shiitake
2 cloves garlic, minced
1/4 cup dry white wine
1 tsp fresh thyme leaves
3/4 cup jarred or canned prepared chestnuts, quartered
1/2 cup heavy (whipping) cream
1 egg
4 oz plain goat cheese
Heat oven to 400 F. On a lightly floured surface, roll dough to a circle about 1/8-inch thick and large enough to cover the bottom and sides of a 9 1/2-inch tart pan. Roll it around your rolling pin, then unroll it into the pan, tucking the dough into all the sides. Trim the top so it sits about 1/4 inch higher than the edge of the pan. Poke bottom of the pastry all over with a fork so it doesn't puff up.
Cut out a 10-inch round of parchment paper and place it inside the pan, on top of the dough. Fill pan with baking beads or dry beans. Bake until pastry is browned, 20–25 minutes. Remove beads and parchment. Turn down oven to 350 F.
Place a large sauté pan over medium heat and melt 1 Tbsp of the butter. Add onions and cook, stirring, until softened, about five minutes. Add the remaining 1 Tbsp butter. Add mushrooms and cook until they are browned and have released their liquid, 10–12 minutes. Add garlic and cook for another 30 seconds. Add wine and cook until most of the liquid has cooked off, but mixture is not dry, three to five minutes. Stir in thyme and season with sea salt and pepper.
Add mushroom mixture to the tart shell and scatter chestnuts evenly over top.
In a small bowl, whisk together cream and egg until well mixed. Pour this over the chestnuts. Scatter goat cheese evenly over top.
Bake until centre of the quiche no longer jiggles, 25–35 minutes. Let sit for 10 minutes before serving.
Marie's French Pastry
Makes: two (10-inch) crusts
2 cups all-purpose flour
1 cup cold butter, cubed
1 tsp sea salt
1/3 cup cold water
Place flour, butter, and salt in a food processor fitted with the steel blade. Blend until ingredients are incorporated but you can still see pea-sized bits of butter.
With the processor running, drizzle in the water, watching as the dough comes together and starts to form a ball, about 30 seconds. If dough is too dry, add more cold water, 1 Tbsp at a time, until the dough sticks when pinched and is pulling away from the bowl. If it seems too sticky, add more flour, about 2 tsp at a time
Remove dough from bowl, wrap in plastic wrap, and press lightly into a disk. Refrigerate for at least one hour before using. At this point, dough can be frozen for up to three months. Allow it to thaw in the fridge overnight before using.
Blueberry–Lemon Curd Muffins
This recipe is from The Farmer's Daughter Bakes by Kelsey Siemens (Page Street Publishing). She says these muffins put a spin on a classic with a dollop of lemon curd added to each before it is baked. The curd adds a great creamy texture to the muffins, and the crumb topping is a must.
Make: 12 muffins
For crumb topping
1/4 cup (55 g) packed brown sugar
2 Tbsp (30 g) granulated sugar
2/3 cup (83 g) all-purpose flour
1 tsp ground cinnamon
1/4 cup (60 ml) melted butter
• pinch of salt
For muffins
1/2 cup (110 g) packed brown sugar
1/4 cup (50 g) granulated sugar
1/2 cup (114 g) unsalted butter, softened
2 large eggs
3/4 cup (180 ml) plain Greek yogurt
2 tsp (10 ml) vanilla extract
2 cups (250 g) all-purpose flour
1 Tbsp (14 g) baking powder
3/4 tsp salt
1 cup (148 g) fresh or frozen blueberries
1 cup (240 mL) lemon curd (see note)
Preheat oven to 400 F. Grease two muffin tins and set aside.
To make crumb topping, in a medium bowl, stir together brown sugar, granulated sugar, flour, cinnamon, melted butter and salt with your hands. The mixture will form crumbs as you squeeze it in your hand, and you can control the size of the chunks. Place the mixture in the fridge until ready to use.
To make muffins, in the bowl of a stand mixer fitted with the paddle attachment, cream together brown sugar, granulated sugar and softened butter on high for two to three minutes, or until light and fluffy. Beat in eggs on medium-low speed, one at a time, until well mixed. Mix in yogurt and vanilla extract on low, scraping down sides with a spatula as you go. Set aside.
In a medium bowl, whisk together flour, baking powder and salt. Gradually add this to the wet mixture, mixing on low, until mostly incorporated with a few streaks of flour remaining. Use a spatula to scrape down the sides, and then gently fold in the blueberries until the batter has just come together. The batter will be very thick; that's just right.
Spoon the batter into 12 cups of the prepared muffin tins. I like to use an ice cream scoop to make this nice and easy. I usually skip every other muffin spot to get even higher muffin tops! So, it will go: batter, no batter, batter. And then the next line will be: no batter, batter, no batter. Not strictly necessary, but it does help the muffins get a better rise.
Use the back of a spoon to create a small dip in the center of each muffin, and spoon about 1 tablespoon (15 ml) of lemon curd into the dip. Add the crumbs on top of everything, dividing evenly between the 12 muffins.
Bake for five minutes. Reduce temperature to 350 F and bake for 12 to 15 minutes, or until an inserted toothpick comes out clean or with just a few moist crumbs. (But do your best to avoid poking a toothpick into the curd.)
Remove the muffins, place them on a cooling rack and allow them to cool for 5 to 10 minutes before removing from their pan. Serve warm.
As with most muffins, these are best on the first day; otherwise, let them cool completely and move to an airtight container in the fridge for a couple of days or to the freezer for a couple of months.
Seasonal Substitutes: Use cranberries, rhubarb, apples or peaches in place of the blueberries. Lime or grapefruit curd are also fun variations.
Note from Eric Akis: You'll find a recipe for lemon curd in Siemens' book. You'll also find jars of it for sale at most supermarkets.
Eric Akis is the author of eight cookbooks. His columns appear in the Life section Wednesday and Sunday.
eakis@timescolonist.com