Pork buns - six-pack in one of those transparent crunchy boxes - for $5.99 at Fairway. BBQ pork filling is plentiful, if a little too salty and sometimes -- depending on the mouthful -- fatty. They're good straight from the store. Less good after microwaving. Pork buns don't seem to microwave well.
- - -
nytimes.com story on the art of menu-writing. Avoid using the $ symbol - it frightens customers, reminds them of the need to pay. Saying something is 10 is better than 9.99 if you're trying to convey a high tone. Have something high priced to make your lower-priced best-sellers look more affordable. 
- - -
On B.C. Ferries, you can buy return ferry fare in the ferry gift shop. Why would you want to do this? I know frequent ferry riders who never look out the window will roll their eyes at this. But, a ferry outing with buffet  is a nice experience, especially if you have visitors. 
So, you do this. (I guess, more accurately, I do this.)
Park your car at Swartz Bay terminal. (Or ride the No. 70 there.)
Buy your ticket to board the Tsawwassen-bound Spirit of Vancouver Island, Spirit of British Columbia, or Coastal Celebration -- the only three ships that offer the Pacific Buffet. 
They'll only sell you one-way passage at the ticket booth.
Once aboard, immediately go to the buffet, which is a few steps from where you board.
Have a leisurely meal. Admire the view. 
Towards the end of the meal, go to the gift shop and pay for your return fare. You'll get a receipt (as opposed to tickets).
Stay on board for the journey back to Victoria. Go outside to enjoy the sea breezes.
There must be a mini-market for these excursions since B.C. Ferries is set up to sell return fares in gift shop.
Click here for details about the B.C. Ferries Pacific Buffet, in a blog post from the summer.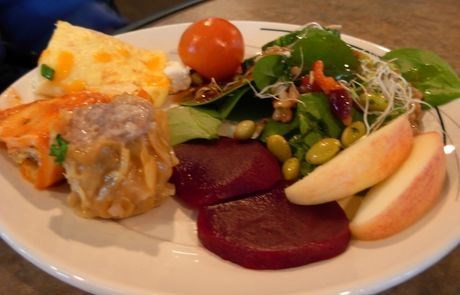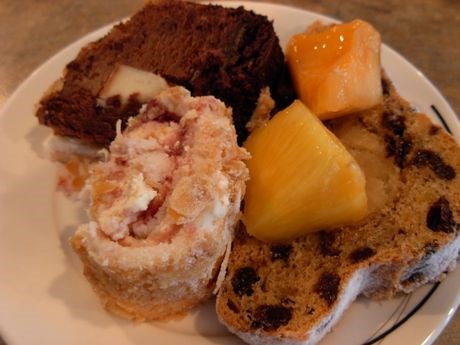 Ferry buffet fare from a December 2009 trip. Brunch was $19.95. Among the items on offer: cheese omelets, sausages, sui mai, shrimp dumplings, steamed beans, curry pork (the one disappointment - it was dry and hard), chicken, bean salad, apple slices, beet slices, cherry tomatoes, cheese-stuffed pasta, a variety of cakes, fruit salad, rice pudding.
- - -
Nellie McClung's story of a special Christmas meal that almost didn't happen. The article first appeared in the Dec. 19, 1936 edition of the Victoria Daily Times.