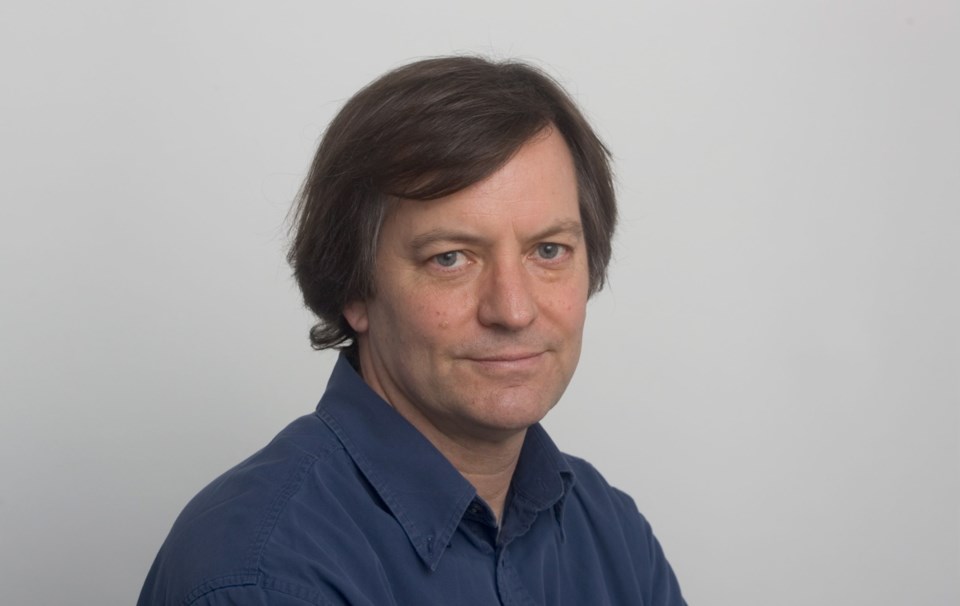 It's one of the fixtures of our fine art season, like the Moss Street Paint-In and the Sooke Fine Arts Show. Fired Up! at the Metchosin Hall has been drawing crowds of potters and discerning buyers of ceramics for 32 years. Ten core members and four invited guests present a jam-packed show Friday night, and all day Saturday and Sunday with lots of sales, and plenty of stimulating cross-pollination among peers.

I asked Meira Matheson, the very capable organizer within the group, whom I should speak to, and she instantly suggested Sam Dickie. "We went to China together," she said. As I learned, Matheson had gone with Dickie and Cathi Jefferson two years ago for a month-long residency at the legendary kilns of Jingdezhen. "Sam lives in a fabulous new house in Fairfield, with her kilns upstairs on the second floor.

She's a newer member of the Fired Up! group, and I know you'll enjoy meeting her," Matheson said.

Dickie's house is strikingly functional, fronted by a charming garden with lovely stone basins. Within, tall columns by sculptor Birgit Piskor and a canvas by abstract painter Blu Smith over the mantelpiece set the tone. We sat at the white marble kitchen counter looking out to the art filled garden.

Dickie was wearing her clay-spattered MISSA apron, a memento of happy summers as a student and then instructor at the Metchosin International Summer School of the Arts. A thoroughly urban child from Toronto, Dickie said she discovered clay while a student at the sylvan campus of Trent University in Peterborough. Inevitably, the west called, and drew her in the 1990s to take a three-year course at the Kootenay School of Art, known for its hands-on, down-to-earth art training. She followed this with time at the Banff School of Fine Arts and then in Red Deer.

At Red Deer College, she made the transition from functional wares to sculptural work made up of multiple elements, to be shown as installations in public galleries. "I was moving from market goals to what can be explored conceptually," she said. After the installations, she breaks up the group and sells the components.

While based in Alberta, she also worked on community projects in the Yukon during 10 summers and eventually spent two years living in Whitehorse, before moving to Victoria with the first of her two children. She became a student and then an instructor at the Metchosin Summer School of the Arts, and was invited by to join Fired Up! Considering their years of experience, Dickie says it is "an honour to be exhibiting with master potters who have paved the way with everybody else."

That said, she is an unusual member for the group, as her approach to ceramics is decidedly not functional. She showed me the latest productions, which are porcelain forms with applied necks. "They'll hold water, so I guess you could put flowers in them," she said with a laugh.

In her design for her house, she gave herself the smallest room for a bedroom, and the area with the most space and best light became her studio. There, on the second floor, she has both an electric and a large gas-fired kiln in separate rooms off her principal work area. Music, skylights and a patina of clay dust make this a welcoming work room.

Shelves hold a collection of items brought up from beneath the sea which could easily be mistaken for the suite of porcelain sand dollars she created. Here and there were some of her 50 little carved towers, which look like spinal columns or camshafts. She subsequently created these in a large scale, almost three metres tall, and installed outside over the winter in the forest in the Yukon.

On a table were heavy plaster moulds made by craftsmen in China for her. From these she cast hollow clay batons — sort of elongated baguettes about the size of a flute. These are not coloured or given a glassy surface of glaze, for Dickie enjoys the raw quality of the clay.
"The simplicity of form and surface are very important to me," she said, "that natural place of basic simplicity."

The buff and sienna surface of her recent work is a result of an April firing by the Fired Up! group in a legendary hillside kiln on Denman Island. Built with an Japanese craftsman in the 1970s on the Denman Island property of Gordon and Sandy Hutchens, the voracious Tozan Anagama (or cave kiln) was stoked every 15 minutes for three days, using up five cords of wood to achieve firing temperature. "It is this breathing, living organism," Dickie recalled.

Waiting for her attention was a fleet of wonky little skyscrapers to which Dickie has applied photo transfers of her photos showing the patterns of nature, and I can see she is eager to get these into one of the two large kilns in her loft. It's a lot of work being a potter, and and the results can be sublime.

Fired Up! May 27, 28, 29. Hours: May 28 and 29, 10 a.m. to 5 p.m. The opening is Friday, May 27, from 6:30 to 9 p.m. Metchosin Community Hall, 4401 William Head Rd., Metchosin. Participating members are: Alan Burgess, Samantha Dickie, Sandra Dolph, Mary Fox, Gordon Hutchens, Cathi Jefferson,Meira Mathison, Beth McMillan, Kinichi Shigeno, Pat Webber. (Gary Merkel on sabbatical.) Guests include: Robin Dupont, Kasumi Lampitoc, Vincent Massey, Debra Sloan.

For more information, go to artopenings.ca/fired-up-2016.html.