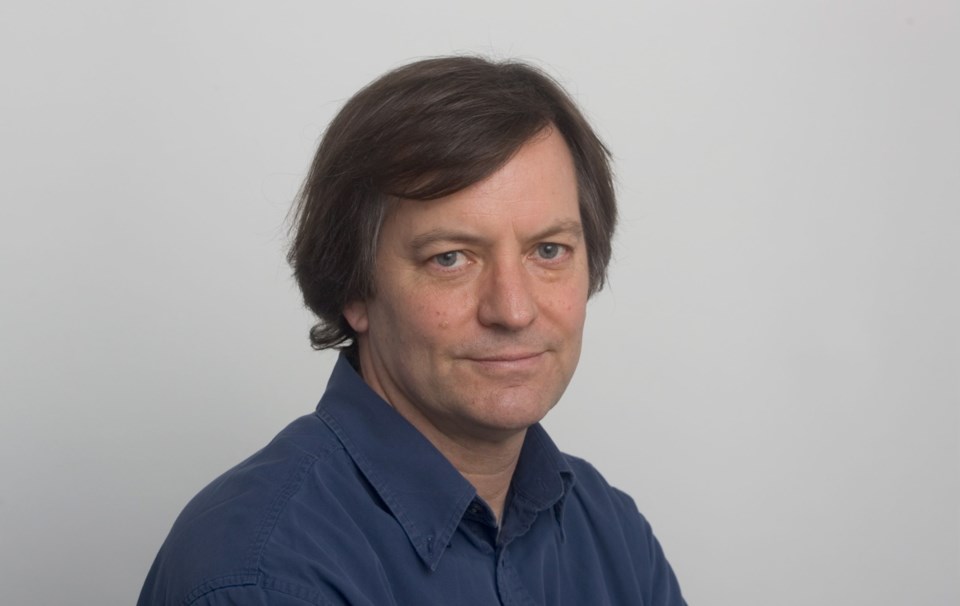 Really? An art column on rug hooking?
The International Guild of Handhooking Rugmakers is holding its triannual conference at the Laurel Point Inn in Victoria this week. About 200 devotees from Britain, Australia, Japan, the U.S. and Canada are gathering here for four action-packed days. A train left Halifax a few days ago, picking up rugmakers who have been hooking their way across the country.
My attention was drawn to this conference by photos of some striking interpretations of paintings by Emily Carr that have been made for this event. When I told the organizers that I couldn't review their conference unless it was available to the public, they added an open event so that people could come and see the display of more than 150 rugs that members are bringing. This special showing will be from 4 to 7 p.m. on Tuesday at the Inn at Laurel Point. Admission is $10.
When I visited the president of the guild, Sheila Stewart, at her Oak Bay home, she had to teach me about rug hooking. The technique arrived on this continent at the time of the Mayflower, about 400 years ago. It was a way that any fabric could be recycled to make warm and colourful additions to what must have been very spartan homes. Old clothes and woollens, and later even nylon stockings and lingerie, were cut up into thin strips. Those strips were held under the base fabric — potato sacks, for instance, in the early days — and were then pulled up through the burlap using a hook. These loops were drawn up to an even height, and packed tightly side by side so they did not slip back. It's as simple as that.
In Canada, rug hooking has a long history on the East Coast, where the patterns tend to be simple, with colours set out in bold shapes of a "folk art" nature. But human ingenuity never sleeps, and these days rug hooking has developed into an art form. Every locale has its own style, and here on the West Coast the designs are more "artsy." The new designs usually begin with a simple line drawing transferred to the backing, and then the colours are worked with a painterly range of colours, careful shading and rich tonal values. The imagery is sometimes derived from paintings and even photographs, and is worked with endless imagination by the passionate — even obsessive — practitioners.
And, of course, the materials are better than ever. Stewart has an abundance of all the top quality necessities, which she showed me in her cheerfully crowded studio. The support used is no longer burlap but is now linen or cotton, of a weave rather more open than embroiders use. Frankly, I had no idea what was hooked through to make the visible part of the rugs. Stewart buys bolts of fine natural woollen fabric, which she dyes in her kitchen. There, in stainless-steel pots, she mixes Prochem dyes. "They aren't natural," she confessed, "but they are the same dyes used for food colouring, so they're safe." She loves colour, and her dying is a two-stage process, resulting in a gently mottled effect.
Stewart cuts the cloth into 12- or 18-inch lengths, which she feeds through a special cutter that then spits out strips a quarter-inch wide, like linguini from a pasta maker. These pieces are placed one at a time under the linen (which is held flat in a frame) and then pulled through in loops by a hook. Though the loops are usually wool, some hookers use different materials — yarn, ribbon, cut-up T-shirts and so on.
They are called "rugs", but most of these artworks will never land on the floor. They are surprisingly thick, and quite beautiful, and don't respond well to dog hair or cat claws. Unlike these hooked "rugs," most carpets are made by knotting yarn, not pulling loops of flat material.
You may wish you had signed up for the conference when you hear of the many workshops. Each is 31⁄2 hours in duration, concerning hooking and also other fibre arts, such as felting, appliqué, braiding and the special aspects of designing for rug hooking. There are walks to Emily Carr House and also the Royal B.C. Museum, where visitors will see some twined First Nations rugs, Carr paintings and also her rugs.
"Emily Carr was a rug hooker," Stewart reminded me. When she was discouraged, and running a rooming house, Carr also did pottery, raised sheep dogs — and hooked rugs.
Attendees will visit three fibre shops – Beehive Wool, Satin Moon for quilting, and Knotty By Nature for yarn. Renowned Cowichan sweater expert Sylvia Olson will speak about Salish knitting; rug hooking guru Gene Shepherd from California will speak on colour; Kerry Mason will describe the life and art of Emily Carr; and in conclusion Robert Bateman will deliver the keynote address on Nature in Art.
Rug hooking can claim more than 300 dedicated practitioners on the Island. The best of them will bring their latest creations for the exhibition, and also a 5x7-inch square for a friendly exchange with someone they don't already know. By the end of the gathering, there will be quite a few happy hookers taking fond memories of our fair city back to the four corners of the world. If you can't resist, Sheila Stewart will be teaching a one-day course at the Monterey Centre in Oak Bay this month.