Our Place Society has joined with artist Elfrida Schragen to recognize some of the region's most remarkable young people.
The Admired Youth exhibit has been set up in the Hillside Shopping Centre, next to B.C. Shaver & Hobbies, with portraits created by Schragen of 28 people ages 18 to 29. All have made contributions to their communities by improving life for others.
"There are so many impressive youth in our region," said Our Place executive director Julian Daly. "And this is just one small way for us to shine a spotlight on their work."
Steven Seltzer, manager of special events and corporate giving for Our Place, praised "the vision and accomplishments" of Schragen's subjects.
Among those featured by Schragen are Chanel Mandap, Eleonora Stoynova and Hannah Estabrook.
Mandap is one of the original members of Voices in Motion, an intergenerational choir that focuses on people with dementia. She also created Wise & Well VIC for people who are stressed or alone with an aim to bring adults of all ages together online.
Stoynova takes part in restoration work on Mount Tolmie, and volunteers with Island Health and Victoria's Bulgarian community. She teaches Bulgarian youth about the history of the country and also teaches Bulgarian folk dancing.
Estabrook helped co-ordinate Community Cabbage, an initiative to redirect food from the waste stream for meals, and is a member of the Youth Food Justice Group.
She is also part of starting a community garden in her neighbourhood and leads youth programs with the Compost Education Centre.
An online auction for the portraits began June 1. The public can purchase them for $1,000 each, or make a smaller donation to the portrait or portraits that most speak to them.
Funds raised will support the Victoria Our Place Society, which supports some of the region's most vulnerable people, including people struggling with homelessness, mental health challenges, substance use issues, the working poor, and impoverished elderly.
The portraits can be seen at the Hillside mall or online at hibid.ca/events/portraits-of-caring.
Virtual race on to help support kids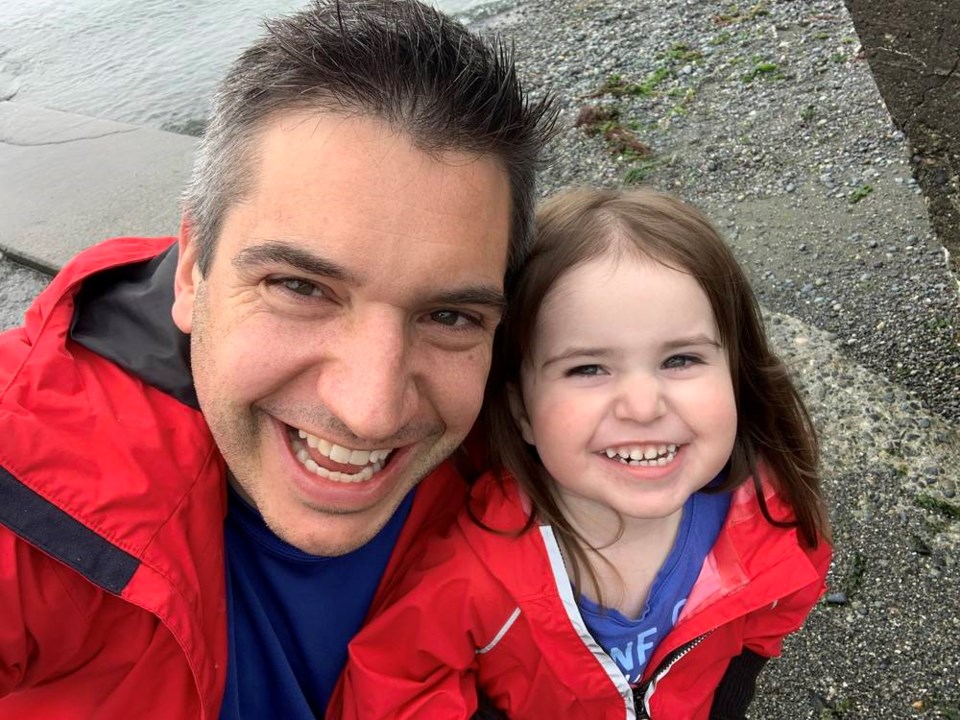 The RBC Race for the Kids happens today across the province after a month of activities and fundraising efforts by participants. Now it's time for them to head out for a run or walk in their neighbourhoods, and support an event that has raised more than $15 million for the B.C. Children's Hospital since it began in 1986.
One of the top individual fundraisers is Victoria's A.J. Delisle, who is taking part because of the expert treatment his three-year-old daughter, Ophelia, has received at the Vancouver-based hospital.
Ophelia was born with Bartter Syndrome, a rare kidney condition, and is now an energetic toddler eager to take part in the race to help other children.
Delisle said the hospital has been very important to his daughter.
"Without the hospital as part of my extended family, Ophelia wouldn't be the happy three-year-old she is today — and for that we are truly grateful."
The race is being praised for its longevity.
"As the new president and CEO of B.C. Children's Hospital Foundation, I am proud to be part of the race team and this incredible long-standing legacy," said Malcolm Berry. "I am so grateful to see the amazing show of support from across the province.
The event is supporting vital cancer-related and mental-health initiatives that will help children directly, he said.
To donate,go to visit raceforthekidsbc.com.
CRD supports arts groups
The Capital Regional District Arts Commission has announced approval for $69,000 in funding to help 20 not-for-profit arts organizations, ranging from cultural associations to community groups.
"Funding recipients put forward impressive proposals that promise to benefit underserved artistic communities in particularly challenging times," said Victoria Coun. Jeremy Loveday, the commission's chairman. "Moreover, the projects funded will support the development of a more vibrant and inclusive regional arts ecosystem."
The funding comes in two forms: Equity and IDEA (Innovate, Develop, Experiment and Access) Grants designed to broaden the reach to art groups and remove any barriers to funding; and Incubator Grants to help with the development of new arts projects and increase the sustainability of the arts in general.
Included on the funding list are a Filipino-Canadian theatre workshop, healing drum sessions from the Oasis Society for the Spiritual Health of Victoria, an art installation for the Victoria Native Friendship Centre's Bruce Parisian Library and the Culture Den Society featuring contemporary dance performances that engage south Vancouver Island Indigenous communities, led by Lindsay Delaronde.
Grants range up to $5,000.
There is also the Friends of Bowker Creek Society program of free concerts (with a bicycle-powered sound system), music therapy for Our Place Society and a film festival put on by the Jewish Community Centre of Victoria
The grants are part of the CRD's mandate to promote arts and culture. Support for the CRD Arts & Support service comes from Saanich, Victoria, Oak Bay, Esquimalt, View Royal, the Highlands, Metchosin, Sooke and the southern Gulf Islands.
Event aims to make kids' dreams come true
Trailblaze for Wishes is a virtual walk/run/hike event to help dreams come true.
Organized by Make-A-Wish Canada, it is continuing until July 28. Participants are invited to go at their own pace and establish fundraising goals so that children can have their wishes realized.
"We know that more than ever, especially a year into the COVID-19 pandemic, people are struggling to find hope and joy," said Simone Conner, Vancouver Island director for Make-A-Wish Canada. "There are currently thousands of children with critical illnesses across Canada waiting for wishes to be granted, and a 30 per cent fundraising shortfall from our last fiscal year along with that."
Conner's son, Ryan, had his wish to meet NHL star Alex Ovechkin granted in 2011, which is inspiring her to take part in Trailblaze for Wishes this year.
The event is free, and people can sign up as individuals or as part of a team as they raise funds.
Go to trailblazeforwishes.ca/vancouverisland to register.
jbell@timescolonist.com