The First Open Heart Society has donated $45,000 to the Victoria Hospitals Foundation in support of heart health at Royal Jubilee Hospital.
The society has donated more than $776,500 to the Victoria Hospitals Foundation since 1977.
The donation will support the foundation's $3.5-million You Are Vital campaign, and will help fund the purchase of a wearable cardiac monitor for the heart-health unit at Royal Jubilee Hospital.
"We are so grateful for the longtime support of the First Open Heart Society and their efforts to improve cardiac care on Vancouver Island," said Melanie Mahlman, president and CEO of the foundation. "Their generous gifts have helped so many people in our communities have access to the leading-edge cardiac technology that ultimately saves their lives. The leadership and commitment they have demonstrated to our community is extraordinary."
The First Open Heart Society of British Columbia was formed in 1973 on the initiative of cardiologists and early heart-surgery patients to function as a support group for patients awaiting and recovering from heart surgery.
Every year, more than 200,000 Vancouver Island residents undergo cardiac assessment. More than 6,300 cardiac procedures are performed through Royal Jubilee Hospital's heart-health program by almost two dozen cardiac physicians and assisted by hundreds of specially trained caregivers.
For more information, go to victoriahf.ca.
Volunteers help seniors Return to Health
Seniors Serving Seniors is accepting applications for volunteers who are willing to attend a training session in May to work with seniors in the Return to Health program.
Training for the program is funded by the United Way of Greater Victoria.
Return to Health is a free program that provides social support for live-at-home seniors who are returning home after a stay in the hospital. Returning home can be a stressful and nerve-racking experience, especially after stay in hospital due to illness or surgery.
Volunteers visit clients after they are discharged to offer assistance to help them connect to services and regain self-confidence. The goal of the program is to assist the client in re-socializing and making new friends at seniors' social programs in the area.
Clients also receive help connecting to practical services they might need following hospitalization.
New recruits receive training on effective communication skills, nutrition, the effects of disease on normal aging, navigating the health-care system and how to access community programs.
The training takes place for three hours a day over three days in May. Volunteers also receive monthly two-hour support meetings throughout the year. The training sessions run May 1, 3 and 8.
For more information, call Julie at 250-413-3211 or go to http://seniorsservingseniors.bc.ca.
Apply for a life-changing renovation
Horizon Pacific Contracting is accepting applications for its second Step Up Community Build program.
The program helps youth and families facing challenges by offering renovations that help reduce a family's challenges at no cost. The renovations address specific issues and give families one less barrier so they can focus on their children reaching their full potential.
"Every candidate expressed such gratitude for this program and said they hadn't seen anything like it before," said Samantha Agar, program manager. "Regardless of whether they were selected, they wanted us to know how much they appreciated the opportunity to apply. That tells us what we are doing is of real value to our community."
The program is open to youth age 16 or younger whose daily challenges could be reduced with an improvement to the living environment. Potential projects range from simple improvements such as a wheelchair ramp to larger projects such as a bathroom modification.
Often, several companies in the construction industry will provide support with labour and materials.
Applications will be evaluated based on how much of a difference the renovation will make in the daily lives of the youth and the family; how the renovation will contribute to the applicant's overall well-being; how it will improve the ability to enjoy a fuller life; and if the renovation will allow the youth to live more independently.
The home must be in Greater Victoria, and the family cannot be currently receiving charitable assistance from another organization.
The deadline for applications is midnight on April 30. The family, or families, selected will be announced in May, with work commencing this year.
Program criteria and applications are posted on horizoncontracting.ca.
Campaign aims to remove contraception barriers
AccessBC has just launched a campaign to remove barriers to prescription contraception, with a goal of seeking universal coverage of prescription contraceptives.
On Friday, as part of Victoria's celebration of International Women's Day, the group launched its campaign and is encouraging members of the public to contact their MLAs on the issue.
More Canadian women are relying on less-effective methods of birth control and are using them less consistently than a decade ago, according to the Society of Obstetricians and Gynecologists of Canada.
"For most men, condoms are a cheap and easy-to-access method of birth control. But for women, contraceptive options can cost hundreds of dollars and be much more difficult to access," said Devon Black, co-founder of AccessBC. "It's an equality issue that isn't being addressed."
Cost remains a significant barrier to getting contraception, particularly for people with low incomes, youth and people from marginalized communities.
The result is that too many B.C. residents use less effective methods of contraception — or simply go without.
"Programs that offer free prescription contraception have been found to be revenue positive," said Dr. Teale Phelps Bondaroff, co-founder and committee chair of AccessBC. "This is because the cost of providing free prescription contraception is considerably lower than the costs associated with unintended pregnancy."
AccessBC's goal is to ensure that all costs of prescription contraception are covered for B.C. residents.
For more information about the campaign, go to accessbc.org.
Bats in B.C. need your help
Residents on Southern Vancouver Island and the Gulf Islands are asked to help the Habitat Acquisition Trust's Bat Program, a citizen-science bat-monitoring program, by reporting dead bats and bats flying during winter.
Canadian researchers are warning that white-nose syndrome, a fungal disease responsible for the deaths of millions of bats in eastern North America, has moved to the West Coast.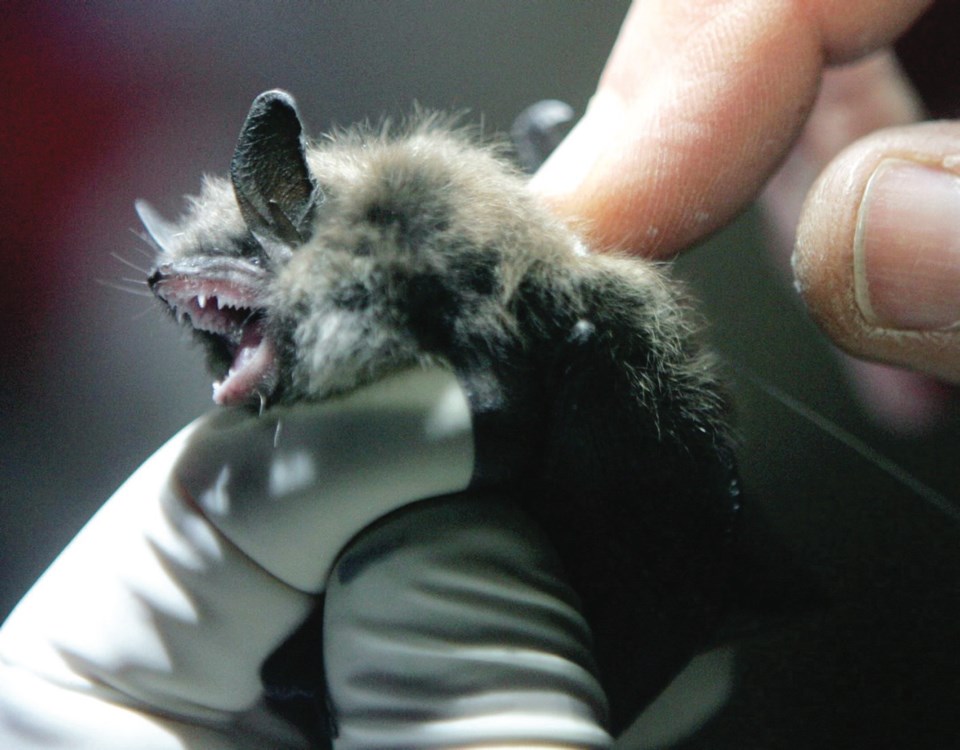 The disease has already been confirmed just 150 kilometres south of the B.C.-U.S. border in Washington state. The disease has near 100 per cent mortality for some species of bats exposed to the fungus, including myotis lucifugus, a little brown bat that is the most common and widespread of Canada's 19 species of bats.
Researchers stress that, although devastating for bats, the syndrome does not affect humans.
The presence of the fungus is worrisome for the health of bat populations in British Columbia.
"We believe that our bats hibernate in relatively small groups across the province," said Mandy Kellner, provincial co-ordinator for the B.C. Community Bat Program. "Detecting white-nose syndrome in our province will require many eyes on the ground."
The typical first sign of this disease is bats flying during the winter, an unusual sighting at a time of year when bats should be hibernating. Another sign of the presence of the disease is the appearance of dead bats outdoors as they succumb to the effects of the syndrome.
Currently, there are no treatments for the syndrome. However, mitigating other threats to bat populations and preserving and restoring bat habitat might provide bat populations with the resilience to rebound.
"Bat carcasses will be submitted for testing for white-nose syndrome and would provide the earliest indication of the presence of the disease in B.C.," said Kellner.
Reports of winter bat activity will help focus research, monitoring and protection efforts. If you find a dead bat, report it to the Bat Program at 250-995-2428 or bat@hat.bc.ca as soon as possible for further information.
Never touch a dead bat with your bare hands. Note that if you or your pet has been in direct contact with the bat, you will need further information regarding the risk of rabies to you and your pet.
The program is funded by the Habitat Conservation Trust Foundation, the Forest Enhancement Society of B.C., the province of B.C. and the Habitat Stewardship Program.
For more information, go to hat.bc.ca.
Flash mob will cheer team on the road
Be part of a Flash Cheer Mob to put smiles on faces and raise awareness about the Ravens Hockey Team for persons with developmental disabilities, March 17 at the Juan de Fuca Arena in Colwood.
The South Island Ravens Hockey Team is an all-ages hockey team for persons with developmental disabilities on Vancouver Island.
The team competes in Canada's Official B.C. Adaptive Hockey Tournament for Persons with Developmental Disabilities every year.
March 17 is the team's last game of the season, so the flash mob will serve as a send-off to the team before they travel to Kamloops for the tournament.
The goal is to have more than 500 enthusiastic fans in the stands to cheer as part of the flash mob. People are encouraged to come dressed in the funniest outfits — think Halloween, but not scary — or come as you are. Come with body painting and noise-makers such as drums, cowbells, bangers or clackers.
This is a free and fun event — not a fundraiser. It runs 11 to 11:45 a.m. March 17 in the Juan de Fuca Arena at the Westshore Parks and Recreation Centre, 1767 Island Hwy. For more information, call Tia Arseneault at 250-217-9988.
Conference focuses on inclusiveness
Engage in conversations about the issues of diversity, equity and inclusiveness at the Inclusion Project, an all-day forum at Royal Roads University on March 30.
The initiative engages stakeholders across civil society, public and private sectors. It strives to cast a global lens on local issues and leverage community-based collaborative efforts to address the challenges faced by newcomers — immigrants, refugees and international students.
The gathering is meant to develop new initiatives to support equity in policy development, post-secondary education, non-government groups and corporate organizations. Conversations will take place with a focus on gender equity, racial inclusion and youth engagement.
General admission is $125 and $75 for students, youths and non-profits. The event runs 8 a.m. to 6 p.m., March 30, at Royal Roads University, 2005 Sooke Rd. For more information, schedule or for a list of speakers, go to theinclusionproject.com.
Your smoke alarm needs a new battery
Clocks sprang forward one hour at 2 a.m. for daylight time while you were sleeping. The City of Victoria wants to remind you to change your home smoke-alarm batteries when you change your clocks.
Residents should consider smoke alarms as the most important clocks that need to be changed every spring and fall.
Smoke alarms should be tested once a month and replaced once they are more than 10 years old. To test a home smoke alarm, press and hold the test button. If the sound is weak or non-existent, replace the batteries.
Victoria residents can arrange for a free smoke-alarm home visit by a fire-prevention officer, who will determine the best locations for a smoke alarm or test existing ones.
If you live in a single-family home, duplex or townhouse and require a new smoke alarm, you might be eligible to receive one free of charge.
For more information, go to victoria.ca/smokealarms.