Five young patients at Victoria General Hospital and some lucky pals got to take a break from medical treatment on Thursday to take the driver's seat in a real fire truck.
The firefighters were there with their truck to present a cheque in support of a $250,000 pledge for pediatric care made by the Professional Firefighters of Greater Victoria Charitable Foundation.
The Victoria Hospitals Foundation has earmarked the funds for a new vital-signs monitor for neonatal patients, including prematurely born infants.
The new monitor is one of the 370 pieces of new medical equipment funded in 2019 by the Victoria Hospitals Foundation. Since 1989, the foundation has raised more than $150 million to assist Victoria hospitals and medical care.
Catholic priest thanks teens who helped him
A retired Roman Catholic priest now living in Saanich is sending an enormous thank-you to two teens from Claremont High School.
Rev. Juanito Santos de Dios says he was rushing for a bus at the Royal Oak Exchange on Feb. 20 when he suddenly blacked out. He found himself on all fours, looking at a pool of blood from a cut on his head.
His bus drove off. Adults standing at the stop stood by. But two Grade 11 boys from Claremont Secondary School stopped, spoke with him, called an ambulance and even ran to Commonwealth Place to alert his gym pal.
"I didn't know what had happened, so one of the boys, who saw the whole thing, even spoke for me when I was being asked questions by the ambulance people," said de Dios.
The 72-year-old has since been to his doctor and had tests, although the cause of the blackout remains unknown.
But de Dios made a point of visiting Claremont, spoke with the principal and learned the names of the two boys: Parker Stenson and Eric Lee, both 16. He now wants everybody who knows them — parents, families, teachers and friends —to hear of his gratitude.
"They have raised two outstanding young men they can be proud of," he wrote in an email to the Times Colonist.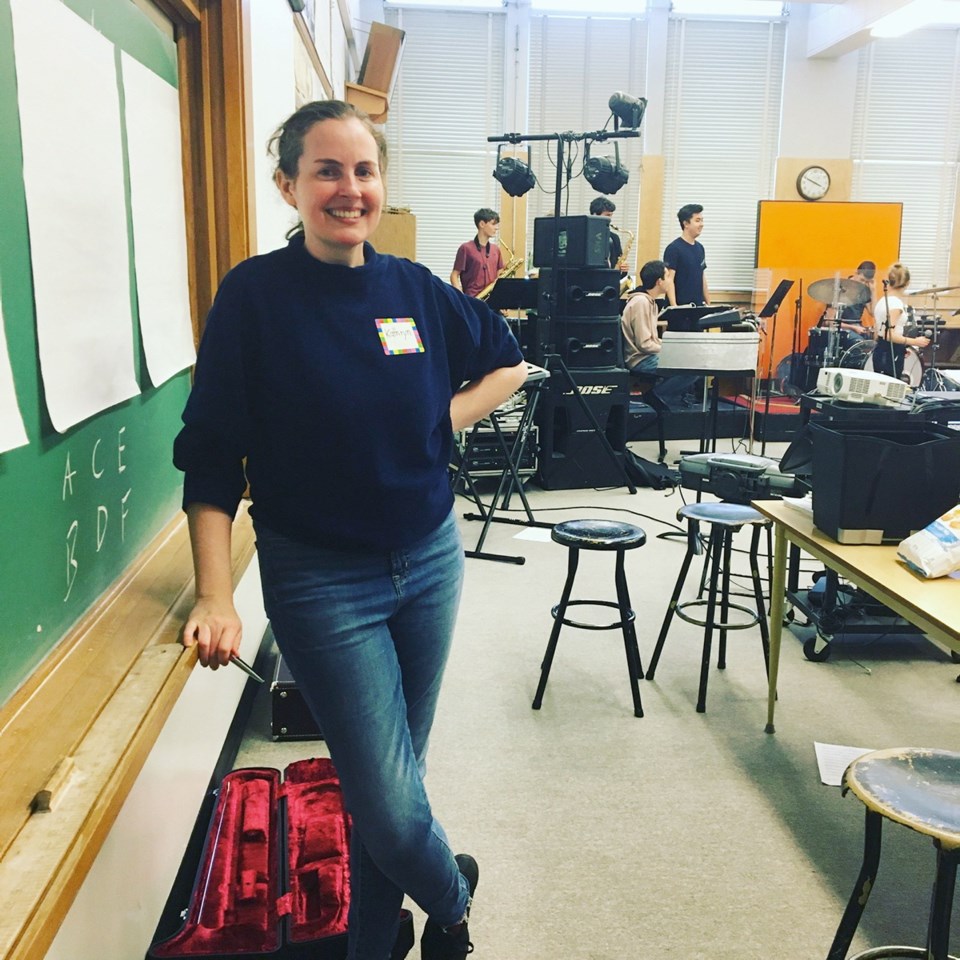 Artist in residence seeks youths for focus group
Kathryn Calder, the City of Victoria's official Artist in Residence, is looking to recruit a team of 15 young people to provide direction in arts programming.
"I wanted to so some youth programming, but I didn't want to try it without youth," said Calder.
The Youth Focus Group will help develop three projects already identified with assistance from young people, including a youth busking space, workshops for songwriting and professional development and a music and arts space for young people.
Calder is a 37-year-old Victoria-based musician, songwriter, recording artist and recording-studio owner. She was selected as the city's Artist in Residence in 2019 and will hold the position until July 2021.
Calder said the Youth Focus Group will be great experience for young people. Also available through her position is a series of workshops for young people called Opening Act.
To be considered for the focus group, you must be 14 and 24, live in the Capital Regional District and be available to attend regular monthly meetings. Musical ability is recommended, but not necessary. Interested young people should apply online by March 16 at 8 a.m.
Read more about Opening Act and the Youth Focus Group and how to apply at victoria.ca/openingact.
Guide offers path to a healthier planet
Photographer and environmentalist Frances Litman has spearheaded the creation of a new guide suggesting easy ways to help keep the planet healthy.
"The whole idea is to just bring people together and inspire ways of living life with a lighter footprint," said the Esquimalt resident. "With all the bad news, it's nice to be able to look at something and think: 'Wow, here is something I could do and it's not even that hard.' "
Solutions: When Inspiration Meets Action, 58 Ways to Lighter and Happier Living, offers small steps anyone can take without feeling overwhelmed by the enormity of the goal.
Advice such as "get outside and breathe" or "fall in love with nature's beauty" is accompanied by explanations of how each can help both you and the Earth.
For example, in advising readers to eat seasonally and regionally, she explains that purchasing food grown close to home means investing in "fresher, more nutritious food with a reduced carbon footprint."
Litman is one of the creators of Solutions, which she conceived and completed with the group Creatively United for the Planet, where she is a founder and co-ordinator.
Solutions has been distributed in print to municipal councils, mayors and other politicians, and is now freely available to anyone who wants to download it. To find the book, go to creativelyunited.org.
School turns to rabbi for help with musical
Students and teachers at Oak Bay High School are getting national recognition for making their production of Fiddler on the Roof a chance to learn about history and social injustice.
The Canadian Jewish News in its March 5 edition highlighted the production and gave special recognition to the 90 students taking part for their determination to learn the historical and social background for the story.
With only two Jewish students in the play, Rabbi Lynn Greenhough of the Kolot Mayim Reform Temple in Saanich was enlisted. Greenhough told the students about the history of anti-Jewish prejudice and pogroms in Russia, and even helped some with their accents.
"I was impressed with how open the students were," she told the Canadian Jewish News. "I give the school, the students and their teachers all the credit for not just treating this as a comedy or a play that everyone's familiar with, but by committing to do it justice."
Fiddler on the Roof is an award-winning 1964 musical set in a Jewish village in Russia in 1905. It centres on a man who is struggling to maintain cultural and religious traditions, while his daughters want to marry for love.
Steve Price, musical theatre instructor at Oak Bay secondary, told the Times Colonist that all credit belongs to the students for their determination to learn more.
"They were the ones who came to me and said: 'We've read the script, but we want more because we think the story has more to it than we are getting here,' " said Price.
Oak Bay High's Fiddler on the Roof ended Saturday.
Victoria offering grants for neighbourhood projects
Whether it's a Halloween block party, some bicycle stands or a garden-themed neighbourhood festival, Victoria City Hall wants to help out.
My Great Neighbourhood Grants support communities with funding for projects to help people shape their local neighbourhoods. Funding is available in matching grants, including volunteer time and in-kind donations. Up to $5,000 for building projects and $1,000 for activities is on offer.
This year, Victoria has budgeted $136,955 for My Great Neighbourhood Grants.
For more information and to apply, go to victoria.ca/neighbourhoodgrants. The deadline is April 15.
CRA seeks volunteers to help seniors with taxes
Albert Einstein is said to have proclaimed that income tax is "the hardest thing in the world to understand."
Luckily, volunteers have been coming forward for the past 49 years to help seniors, new immigrants and others complete their tax returns with the Community Volunteer Income Tax Program.
Every year, the program assists in the preparation of more than 500,000 returns. Last year in B.C. alone, 2,480 volunteers and 500 community groups helped 102,790 people prepare their returns.
Now the Canada Revenue Agency is looking for more volunteers and community organizations willing to host tax clinics or assist with the program. People with language skills are especially needed.
Volunteers should have a basic understanding of income tax, but Canada Revenue Agency offers free training, tax-preparation software for organizations and a designated help line.
Those interested in helping should go online to canada.ca/taxes-volunteer or call 1-888-805-6662. For those looking for nearby tax clinics, go to canada.ca/taxes-help.
Habitat for Humanity seeking home hopefuls
Habitat for Humanity Victoria is looking for families willing to take on the commitment, challenges and benefits of home ownership on the Saanich Peninsula.
Construction is set to begin on 11 new homes in North Saanich that are expected to be completed next year.
Now all the agency needs is 11 families whose members work on the Saanich Peninsula.
The families must be willing to work alongside volunteers and tradespeople to construct the homes and purchase them at fair market value. Habitat Victoria provides access to affordable financing through its mortgage model.
Founded in 1990, Habitat Victoria has built 23 homes to date. The organization is dedicated to promoting community strength, stability and independence through home ownership.
Those interested in applying and becoming a partner family should go to habitatvictoria.com/homeownership.