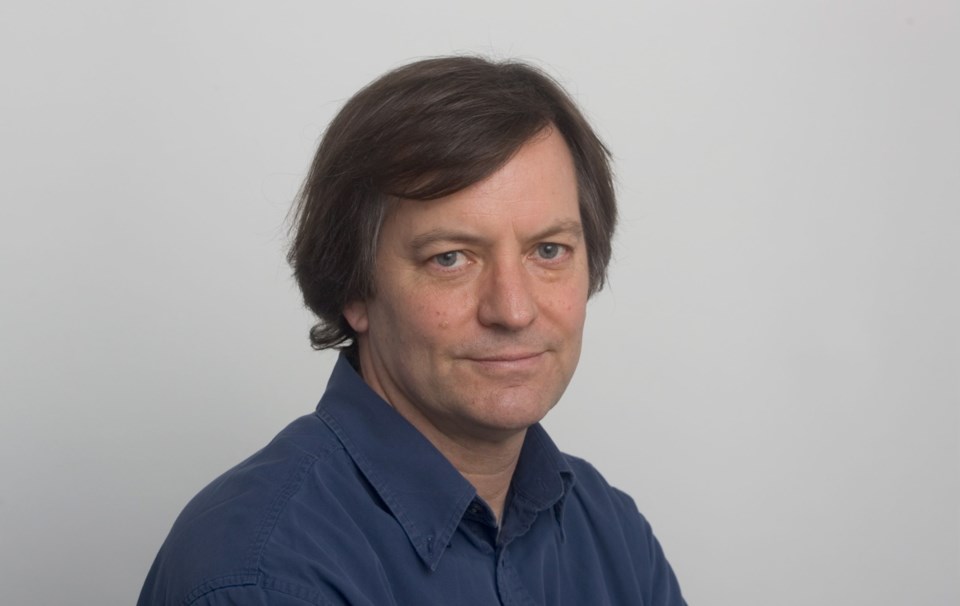 Recently, I received an email from potter and gardener Robin Hopper of Metchosin, where he and his wife Judi Dyelle have made their 'Chosin Pottery an international destination.

He had much to say about the early blooms and the hummingbirds, but what got my attention was his health news.

In September, he had learned that the cause of his tiredness, which has kept him from the potter's wheel for the past five years, is inoperable liver cancer. That email was a sort of valediction, so I thought I'd make a visit.

Despite the grim diagnosis, Hopper was lucid, upright and full of chat.

We shared a lovely lunch prepared by Dyelle (herself a potter of superbly refined porcelains) while the birds made free at the feeder and Hopper told tales of his early life.

First, he told me of his experiences as a child in wartime and his discovery of clay.

This was prompted by the recent attacks in Paris, where Hopper had spent some years, first as a hitchhiker, then as a student and eventually as a multi-lingual tour guide.

The recent bombs stirred memories of his childhood during the Battle of Britain.

"I put 19 years of my life into a little compartment at the back and I haven't been there since," he told me, as we sat watching the hummingbirds. "I don't know if I ever forget anything. Suddenly, all these things are flashing."

Life during wartime.

"I was born in 1939, so I was 18 months old when [the Battle of Britain] started. I was in London throughout the whole time. Kids were being evacuated, but I got chicken pox before they were evacuated and I wasn't allowed to go. My mother was running the family grocery business and I stayed in London, being bombed almost every day for five years. That's kind of a significant experience."

"I lived in an area just south of London, near a town called Croydon, and a little further south of that was where all the fighter pilots were stationed during the Battle of Britain. I watched the battles, standing on an Anderson shelter with my plastic tommy gun.

"As a kid, it was just fireworks. It was fun. Right above my head, it all took place there. It was an area when the fighter pilots went up to shoot the German bombers down — the German bombers jettisoned their bombs right around where I lived. It became a total bomb zone.

"London is all built on clay, a huge strata of clay. And when the bombs came down, the clay came up. At the age of three, I had my first taste of clay and have been there ever since. When you are in a zone like that, you don't know what's coming down or where it's going to land. All around me, houses were being blown up and people were being blown up. Mostly I didn't have any friends — they'd all gone off. I wasn't in school yet, anyway.

"That's when I found clay. You couldn't buy anything; nothing available. Food was almost minimal. The only toys that I can remember [were] hot shrapnel and blue clay.

"Croydon was essentially flattened. You've probably seen pictures of Hiroshima — it wasn't far from that, and that's the way it stayed for quite a while after the war … I never saw my first banana … well, we had plaster models of them in the grocery. The first orange I can recall, I was seven.

"Hot shrapnel was the prime toy for us kids. It is basically a combination of metal substances — minerals. All the colours you see in raku are in a piece of hot shrapnel. There were no other toys available. There was nothing there. That was my lifeblood — hot shrapnel and blue clay."

So these became the elements of Hopper's long and productive life: the clay, the minerals, the heat, the smoke — pottery.

"As a net result," he concluded, "from very early on in life I have devoted my life to making beautiful things and spaces. Everywhere I live. Not just for me, but for other people as well."

With the future uncertain, Hopper can look back on a highly productive passage through life.

In addition to the thousands of pieces of stoneware that have come from his kilns, he has written and illustrated the definitive studio manuals for potters used all over the world, published by Krause Publications of Iola, Wisconsin.

His teaching has taken him around the world.

Most significantly, his "glaze development" seminars were the reason that he initiated the hugely successful Metchosin International Summer School of the Arts at Pearson College, an annual event that continues.

Those who come after will be encouraged to know that Hopper's papers for his books and teaching have found a home at the University of Victoria's Artists Archives, part of the special collections of the library there.

For now, Hopper's marvellous strolling garden and delightful shop are still available as the perfect end-point to a trip in the countryside.

Judi Dyelle told me they are bringing pieces out from a hoard of prime examples from all stages of his career, for sale in their delightful showroom.
Might be worth a visit.

'Chosin Pottery – 4283 Metchosin Rd., 250-474-2676, chosinpottery.ca. Open on the weekends, or by appointment.