Looking forward to #25
I have more memories of the TC 10K than I could ever condense into an email so I'll start by replying to your questions.
First: yes , I have participated in all 24 TC 10Ks and I am very excited to be taking part in the 25th run.
Not only did I run the first one, it was the very first race I ever entered. My sister and my two children (aged 9 and 12) did it with me and we had a wonderful time, all of us.
The most memorable TC 10K for me was the one in which my whole family (my parents in their late 70s, my husband, my children and my sisters) formed a team and we all completed it, and had such a GREAT time! I will always remember that day as one of the highlights of my life.
Funny thing, all my TC 10K memories involve good weather. I am certain there were some years where conditions were less than ideal but I only remember  sunshine, light cloud and ideal temperatures.
The first TC 10K was a major turning point in my life. I had made a few half-hearted attempts at running prior to that, but after participating in that inaugural run I was hooked. I got really serious about training, devoured books and magazines, joined running clinics and participated in many other runs . In addition to 24 TC 10Ks, I have completed 15 marathons (my last one was New York), 50+ 1/2 marathons, 100+ 10Ks, 50+ 5Ks, and two Great Lake Walks. I have helped others attain their goals and I have made many friends.
So I just want to say thank you from the bottom of my heart to the organizers of this great event. I will be participating until I am no longer able. I love it and all that it has brought into my life.
See you on April 27!
— Birgit Fuerst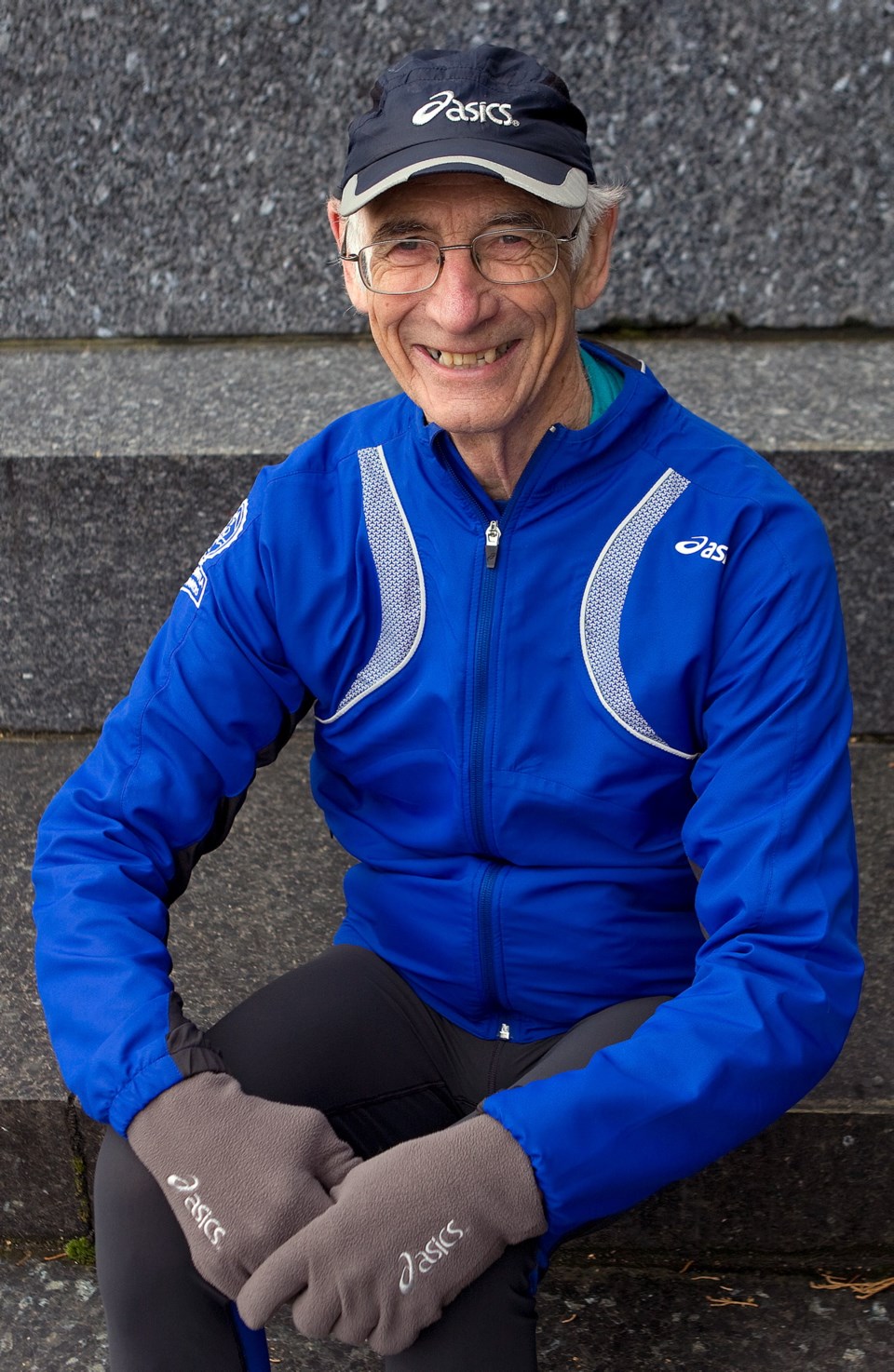 24 10Ks and counting
Legendary runner Maurice Tarrant has participated in every TC 10K since 1990 when, at the tender age of 60, he completed the course in 36:37.

In those early days, he was responsible for setting up the start line, where his friends would pitch in and they would hold up estimated finishing times on a board. Once everything was set, Maurice would jump into position to run the race.

Maurice holds more than 50 Canadian running records, and five of them are on this course. He has won 230 consecutive Vancouver Island race series races and is looking forward to next year in his new age category of 85+.
Maurice is a very humble and modest man, who keeps his medals in shoe boxes and enjoys every run to its fullest. His take on the best and worst weather for the races: "Who notices the weather when you are having a good time?" He began running as a young man in England in 1952, and has still not found the finish line!

The TC 10K is a wonderful motivator for runners and walkers alike, and this year Maurice and his daughter will be joining the Hospice team, in honour of his beautiful wife of more than 63 years, Phyllis, who recently passed away after a brave struggle with pancreatic cancer. The Victoria Hospice was a huge support and an amazing group of professionals who showed compassion during those difficult times. Joining the hospice team will be some family and friends, including two of Maurice's children and two grandchildren. This will not be the usual time-driven race for Maurice, yet a time to savour and perhaps even stop and smell the roses along the way … or at least glance at them!
— The Tarrant family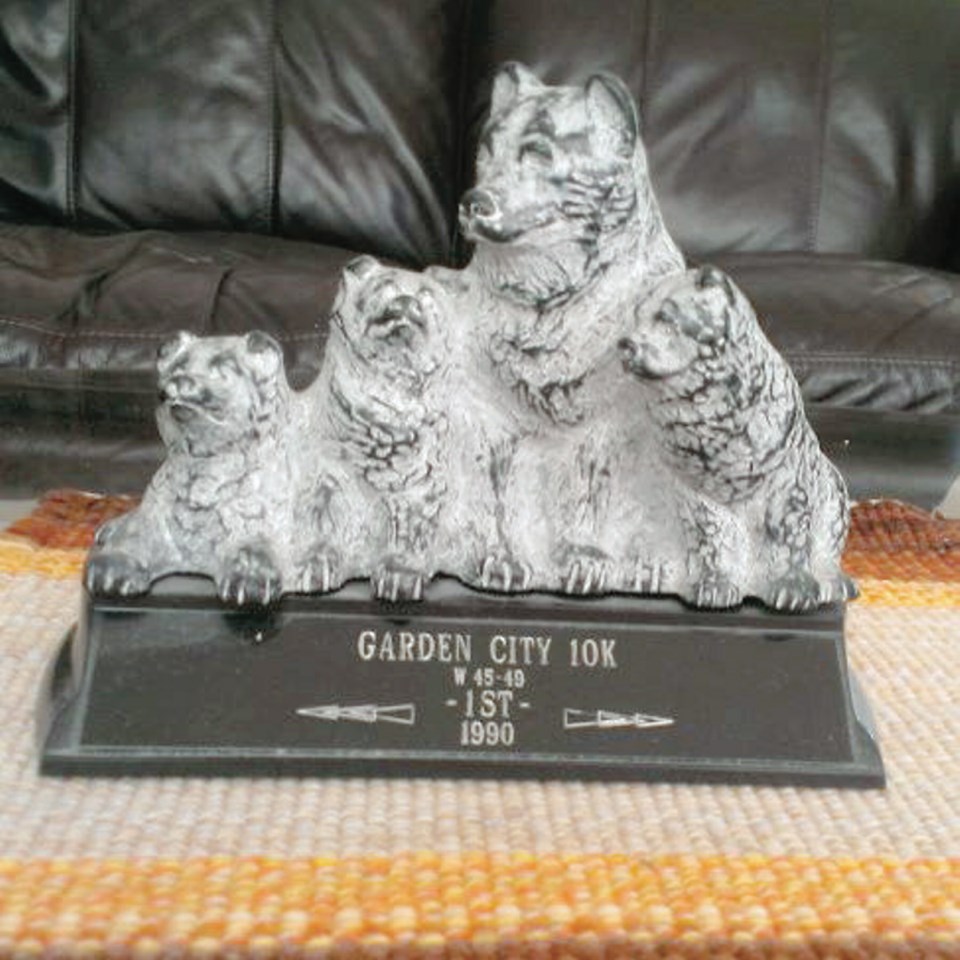 A unique win
I ran the first one, and a few subsequent ones. Came first among women 45-49 years, and received this gift, plus I think $100. My one and only monetary win ever.
I now volunteer in the medical tent and finish line.
— Sylvia MacMahon
Too bad about the Leafs
On April 26, 2009, I ran my first Times Colonist 10K run. I was the one in the Toronto Maple Leafs shirt. There was some teasing about that, but also some high fives from fellow Leaf fans in the race.
My husband and I were on our annual trip from Toronto to Victoria to visit our son, Eric, and his wife. Lycette had been training for speed with a group in Saanich. She encouraged me to sign up for the race and join the group. We met that morning on the steps of the Legislature, but soon were at the start line at the edge of Beacon Hill Park.
The race started with a bang and we were off. I managed to keep up with Lycette for half the race, but had to slow down. There is certainly a difference between 60-year-olds and 40-year-olds when it comes to speed.
Within 10 minutes, a young woman my daughter-in-law's age caught up to me. She said I was running a great pace and joined me. Interestingly enough, her mother-in-law had left her in the dust!
She really got me going again. About half a kilometre from the finish line I encouraged her to put on a burst of speed. We finished well. I came sixth for my age that day. Seeing my name in the paper made me proud of my accomplishment. Thanks to two young women, I did well.
We are now living in Victoria. I am still running and loving my Dallas Road route.
Perhaps another race in Victoria is in my future.
— Margie Clark
Here's to another 25
Jan. 1, 1990, I quit smoking and decided to enter the first running of the Garden City Times Colonist 10K. I trained just about every day and hoped to be able to run the 10K in under one hour.
On race day, I was so excited that I was finally going to run in an actual race, I managed to do the run in 52 minutes. If I remember right, there were about 500 of us who ran that day. Now it's in the thousands.
After my first race, I was hooked and went on to run scads of 10Ks, half-marathons and 17 marathons. This will be the 25th time I will have run the TC10 and look forward to it just as much as the first running back in 1990.
I still have the T-shirt from that run and will wear it for the 25th running. I look forward to running the next 25 TC10Ks
— Rob Harris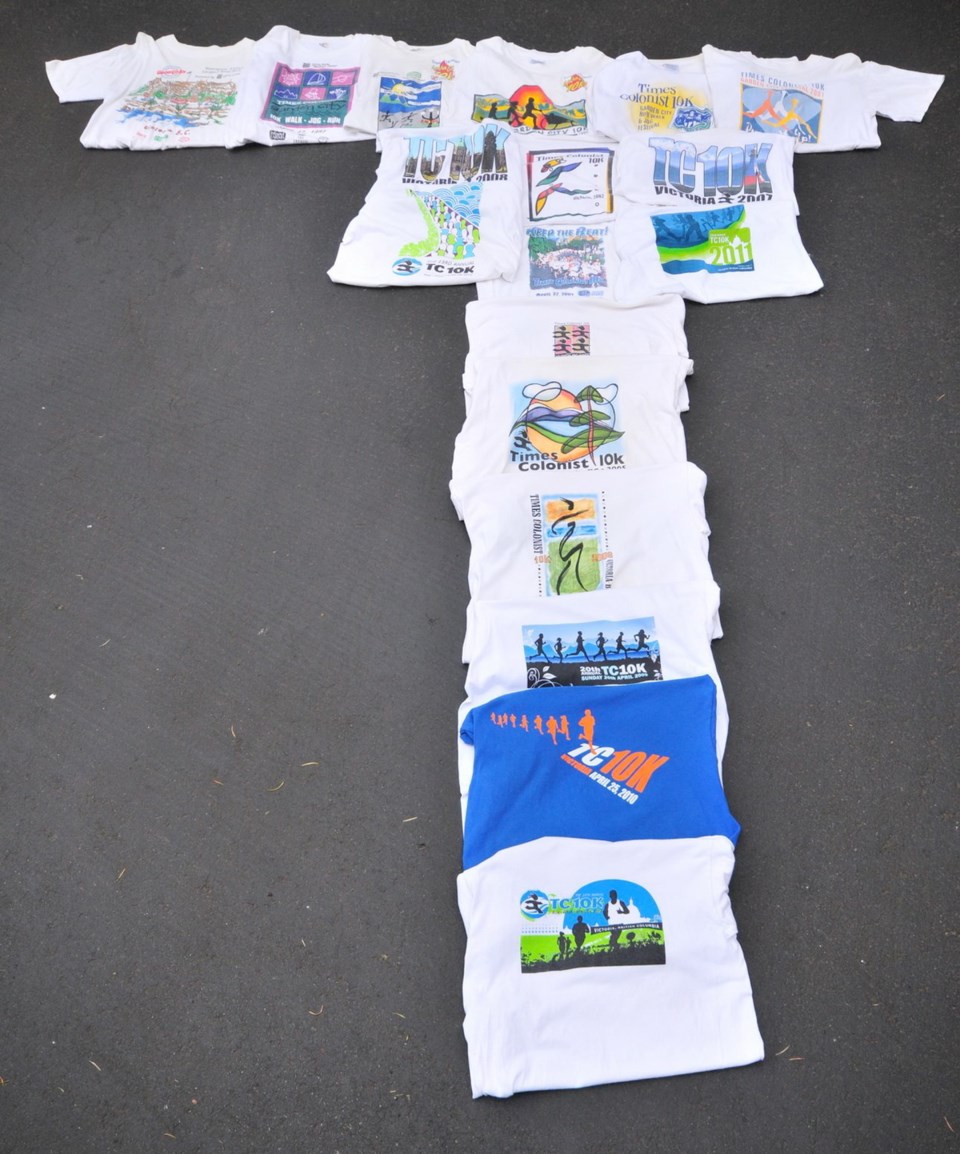 Got the T-shirt
My wife Michele has participated in the 10K run every year since 1996, including 2013. This is the complete collection of her shirts. Michele will be running again this year.
 I arranged the collection of shirts to create this photograph, especially for the 25th anniversary of the TC run.
—  Edwin Wiebe
Always a challenge
One of my favourite memories of the TC 10K was running while I was slightly under the weather. I have always been a fighter when life hits me with challenges.
Can't wait for the challenge this year!
— AJ Boncajes
All in the family
In 2002 my daughter and I did our first 10K walk. It was her birthday and I had a lovely memory of the day she was born to us and here we were celebrating our lives with nearly 10,000 other excited people.
Her husband and two daughters were waiting at the finish line. Her eldest was nine years old and the youngest was five.
Of course there were many runners and walkers ahead of us. We alternated walking and jogging between light posts.
When we reached the finish line, my youngest granddaughter ran up to me and said: "Nana, I am so proud of you; if you had been the last one I would have been very embarrased." I don't think she thought her grandmother could do it what her Mommy could. And perhaps she was dreading seeing her Nana crawl over the finish line, the last one. I am proud to say that on each of our three walks I was in the top 10 of the over seventy group.
— Hilda Shilliday