Around mid-month I was immersed in the reshaping of some vegetable plots as the sun shone brilliantly and emitted enough warmth to draw clouds of steam from the soil. I felt delight, and suspicion.
I was remembering the same time of year in 2019, when a wonderfully warm January lulled local growers and keen home gardeners into thoughts of extra-early planting as we worked on preparing plots for seeding.
Then, with February, came snow, freezing temperatures and the impossibility of accomplishing anything useful in gardens. It wasn't until mid-March that the soil thawed and the snow melted where I live, though not all parts of the Island or even Greater Victoria were similarly affected.
Perhaps February this year will be mild enough for an early start to the growing season. All being well, I'll soon be preparing plots for early seedings of broad beans, peas, carrots and hardy green leafy vegetables like spinach, corn salad, mizuna and chrysanthemum greens (shungiku, chop suey greens).
Indoors, some of the seed catalogues remain to be scoured through and inspired by. Here is one of my favourites.
Johnny's Selected Seeds. Rob Johnston Jr. started this now employee-owned enterprise in 1973. Over the years, the company's breeding program has become famous for developing award-winning vegetable varieties. Examples are Carmen, a sweet "bull's horn" (elongated) Italian pepper, and Butterscotch, a small, tasty butternut squash.
Seeds from this source have produced two of the most remarkably pleasing and successful plantings from outdoor sowings made last year. I'm still enjoying them.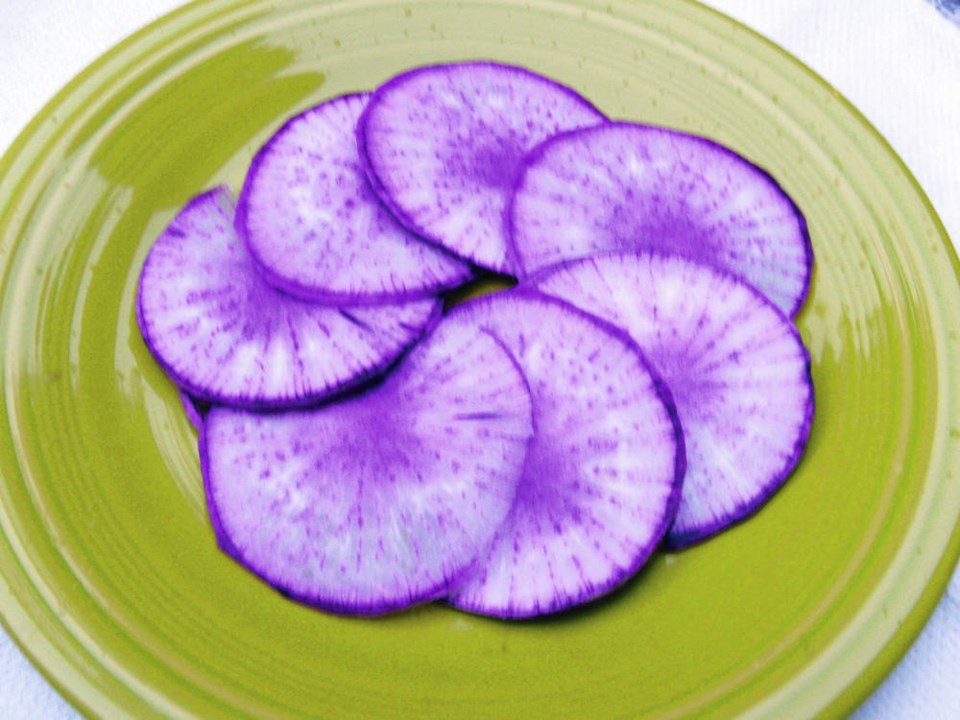 Daikon. Growing daikon radishes for fall and winter use can be a hit-and-miss affair. It takes a bit of experimenting, and luck, to find varieties that produce well in your garden's conditions. Seeding times can be tricky, too.
I hadn't grown these radishes for a while when I noticed a variety called Alpine, a white Korean radish, in Johnny's 2019 catalogue. Alpine produced so well that I had plenty to share with friends. They all enjoyed the crisp, tasty white flesh of the elongated radishes.
Encouraged, in the third week of June last year I seeded Alpine again, along with a new radish called KN-Bravo, a 10-centimetre-long purple root with white and purple flesh. For around three months now, I've been relishing the sweet, juicy flesh of KN-Bravo, which I consider one of the luckiest choices I've ever made in vegetable varieties. The beauty of the sparkling slices is a bonus.
I shred and dice daikons into green salads, and make salads of mixed grated daikon, carrot and beet or daikon, carrot and apple, in an oil and vinegar dressing.
Calendula. Orange Button is the most vividly coloured calendula I've ever grown. The blooms are brilliant — a ruff of deep orange petals around a broad, fluffy, orange and dark purple centre.
Early in the spring I seeded Orange Button along a short vegetable plot edge, where the plants grew and flowered nicely. As summer ended, the weather cooled and bloom gradually faded from the garden, I began to notice some of the Orange Button plants bearing unusual numbers of flowers that seemed more brilliantly hued than before.
I picked some of the flowers for the house in November, and again through December and January as the plants rebloomed in waves. They have provided cheery little bouquets for my kitchen. Another real "find."
Growers on some of the farms around where I live are big fans of Johnny's lettuces and lettuce blends, and of their fine selection of cut flowers. Another specialty is pumpkins. Among the catalogue's extensive pumpkin listings are several developed in the company's breeding program. One of them, Cinnamon Girl, is the most fragrant and flavourful pumpkin I've grown.
Bird's Nest Basket. The Horticulture Centre of the Pacific, 505 Quayle Rd. in Saanich, is offering a workshop with Joan Carrigan on creating a Random Bird's Nest Basket on Saturday, Feb. 6, 9:30 a.m. to 4:30 p.m. These strong, beautiful, "random weave" baskets will be constructed of pre-selected vines and branches and possibly other materials found on a group tour of the garden.
Cost is $120 for HCP members, others $140. For further details and online registration, go to hcp.ca/events to find a calendar. The site's home page also lists courses. For safety regulations during the pandemic, type "Horticulture Centre of the Pacific + COVID rules" into a search engine. Register online or by phone: 250-479-6162.