Jack Knox is dropping in on Vancouver Island's seven federal ridings, looking at them through the lens of issues readers say are important in this election.
It's the region's biggest sandbox. Maybe 40 pieces of earth-moving equipment, Tonka Toys for big boys, are scattered across the great expanse of levelled ground where the Colwood gravel pit used to be.
How big is it? You barely notice the five-storey, 57-unit rental building going up across Latoria Boulevard on the edge of a sea of homes that didn't exist five years ago.
Colwood, a community of 18,617 people and 7,062 homes, has added 1,421 new dwellings since January 2018. Another 600 are on the books. A combined 8,500 homes are expected at the adjacent Royal Bay and Royal Beach developments by the time they're built out in 2040. And that's just this part of Esquimalt-Saanich-Sooke, which is largely made up of bedroom communities.
And that makes the riding an appropriate place to talk about housing.
Housing — or, to be precise, housing affordability — shot to prominence as an election issue this year. It's a big deal across the country, but even more-so here in one of the most ­expensive real estate markets in Canada. August's benchmark price for a single-family house in Greater Victoria was a hair over $1 million, up from $795,500 a year earlier and $610,400 five years ago. Has your income risen at that rate?
Homes sell as fast as they put them up, because people keep moving here. Statistics Canada estimates Greater Victoria's population hit 409,000 last year. Ten years ago it was 345,000. Build it and they will come.
As for rents, just ask panicking post-secondary students how tight that market is.
This summer, the TC's Carla Wilson wrote about someone who called about a listing nine minutes after it was posted, only to discover she was the 50th person to do so.
The tightness of the market was illustrated this week by woman named Pat, encountered on the Lochside Trail near Saanich Municipal Hall.
"For a two-bedroom ­apartment to be $1,800 a month, who can afford that?" she asks. "It's not just the unemployed. Working couples are having a hard time paying rent."
She spent 30 years here before moving out of province for 17. Now that she's back, it looks as though she'll have to leave again. She can't afford to live here. Similarly a friend who spent her entire life in Sooke just packed up for Alberta because of the cost of housing. "Six months she looked for a place to live."
Housing costs help shape our demographics. In the capital region, one-resident dwellings make up a third of the total, higher than the national average, while traditional parents-and-kids households make up just 22 per cent, which is lower. Maybe that's because we have a lot of seniors and empty-nesters, or maybe it's because young people can't afford to have children.
All parties promise measures intended to increase the supply of new or renovated homes. Among their proposals:
• Conservatives plan to tie transit funding to increased density, release 15 per cent of Canada's 37,000 federally owned buildings for housing, put a two-year ban on house purchases by foreigners who aren't moving here, ease mortgage-insurance rules to make it easier to buy in expensive markets, and defer capital gains taxes when profits from the sales of rental properties are ploughed into building new ones.
• Liberals are offering ­incentives for municipalities to speed the pace of residential construction, a 25-per cent cut to CMHC mortgage insurance rates (typical homebuyer savings: $6,100), the conversion of federal and commercial office space for housing, a two-year ban on foreigners buying non-recreational residential property, and savings accounts that would let Canadians under 40 withdraw $40,000 tax-free when buying their first homes.
• New Democrats promise ­incentives for municipalties to speed approvals, a 20-per-cent foreign buyers tax, conversion of underused federal property for housing, rent subsidies of up to $5,000 for those in need, and the waiving of the federal portion of sales tax when building new affordable rentals.
• Greens want to declare a ­housing and homelessness emergency, with a moratorium on evictions during the pandemic and a fund to help those facing homelessness because they can't come up with unpaid rent. Thirty per cent of units in ­developments getting federal funds must be "deeply affordable" or allocated to those with disabilities or special needs.
Housing isn't the only election issue, of course. Ask voters on the streets what they care about, and climate and the environment get frequent mention. The politicians might talk about a climate emergency, but none of them have a plan that matches the urgency of their words, said retirees Eleanor Calder and Allen McLash, strolling near Saxe Point Park in Esquimalt.
Others stopped at random brought up mental health and addictions, long-term care, the stress on the health-care system, COVID…. Saanich cyclist Danilo Filippin referred to the latter, but also worried that the debt incurred in fighting it, when combined with the cost of other election promises, will be ­crushing. Also, it bugged him that we're having an election during a pandemic.
The election timing also bothered Kyrle Symons, although for another reason: A veteran who did tours in Iraq, he has friends who served in Afghanistan and are worried about the fate of Afghans who helped Canadian forces there. Could the distraction of the campaign be an impediment to the federal government's efforts to extract them?
Symons is a reminder that there's a big military presence in this riding. About 6,000 people, civilian and in uniform, work at CFB Esquimalt.
New Democrat MP Randall Garrison has held Esquimalt-Saanich-Sooke for 10 years. It's not obvious where his biggest challenge will come from. The Greens, represented by forest researcher Harley Gordon, placed second last time but with a better-known candidate in David Merner and without the national leadership drama the party has been going through. The Conservative is political newcomer Laura Frost, an environmental reasearcher who works in land management, while the Liberal is Colwood Coun. Doug Kobayashi, a former lieutenant colonel and CEO. Rob Anderson is running for the ­People's Party, while Tyson Strandlund is back as a ­Communist.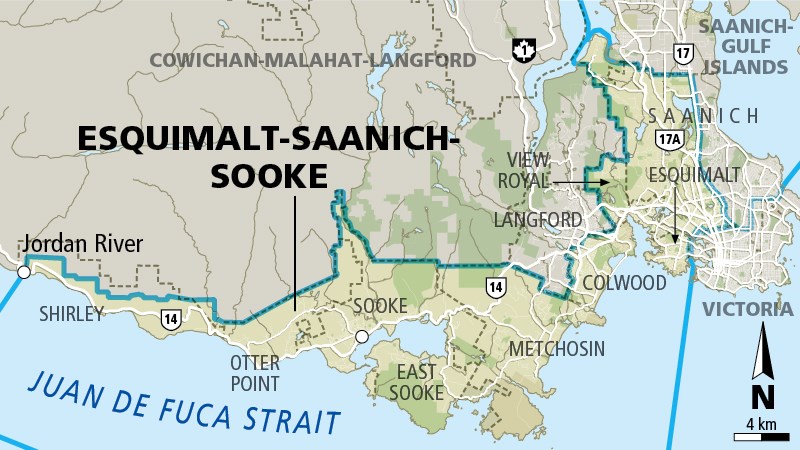 THE RIDING
Esquimalt-Saanich-Sooke was a new riding in 2015, so this is only the third time that voters will cast a ballot in it. The riding includes Esquimalt, Sooke, View Royal, Colwood and parts of Saanich, along with Metchosin and Juan de Fuca.
• Size: 404 square kilometres
• Population: 120,834
• Registered voters: 101,934
• In the past: It shares territory with the old Esquimalt-Juan de Fuca riding, which Keith Martin held for 18 years, first with the Reform Party, then with the Canadian Alliance and the Liberal Party. In 2011, New Democrat Randall Garrison was elected.
Garrison won in 2019 with 34 per cent of the vote, followed by the Greens with 26, the Conservatives with 19 and the Liberals with 18.
THE CANDIDATES
• Randall Garrison, NDP
Incumbent since 2011.
Website: randallgarrison.ndp.ca
Twitter: @r_garrison
Facebook: @RandallGarrisonPage
• Doug Kobayashi, Liberals
Colwood councillor and business consultant
Website: dougkobayashi@liberal.ca
• Harley Gordon, Green Party
Forest researcher
Website: harleygordon.ca
Twitter: @plantbiochemist
Facebook: Harley Gordon
Instagram: harleygordonisgreen
• Laura Frost, Conservatives
Environmental researcher
Website: essconservatives.com
• Rob Anderson, People's Party
Website: peoplespartyofcanada.com
• Tyson Strandlund, Communist has run multiple times
Website: votecommunist.com