Eden Robinson has the best laugh in the book business. Her unparelleled guffaw — rich and robust, with a sonorous quality to it — was let loose early and often during our recent conversation, which touched on everything from life in COVID-19 quarantine and getting bad tattoos to her new book, Return of the Trickster.
The 53 year-old Kitimat author is a bit of trickster herself, I came to find out; despite her good nature, light and fluffy her writing voice isn't. Robinson admits that her earlier books were dark for dark's sake, but says the pandemic, more than anything else, is responsible for the grim passages in her finale to the Trickster trilogy.
The University of Victoria graduate spent two weeks in quarantine last February, after coming into contact with someone had been exposed to a dental conference in Vancouver that infected 87 people. Her brush with the virus came after she submitted her first draft of Return of the Trickster — a conflict-free one, "where the characters all got what they wanted," she said.
"I had been with the characters for so long, I didn't want to hurt them in any way, shape, or form."
While her editor looked over the draft, Robinson flew between Campbell River and Prince Rupert for a series of writing events, eventually landing back at her home in Kitimat. After red flags through contact tracing were raised, the entire class, including Robinson, were told to quarantine for two weeks. It was at this point, with time on her hands, she picked apart the first draft and re-wrote it.
"It was two weeks of me fiendishly writing because I had to keep my mind off my imminent death," she said with a laugh. "The second draft took a radical turn for the violent. Everyone died. It was a slaughter from beginning to end." The version released to stores earlier this month is more of a happy medium, she said.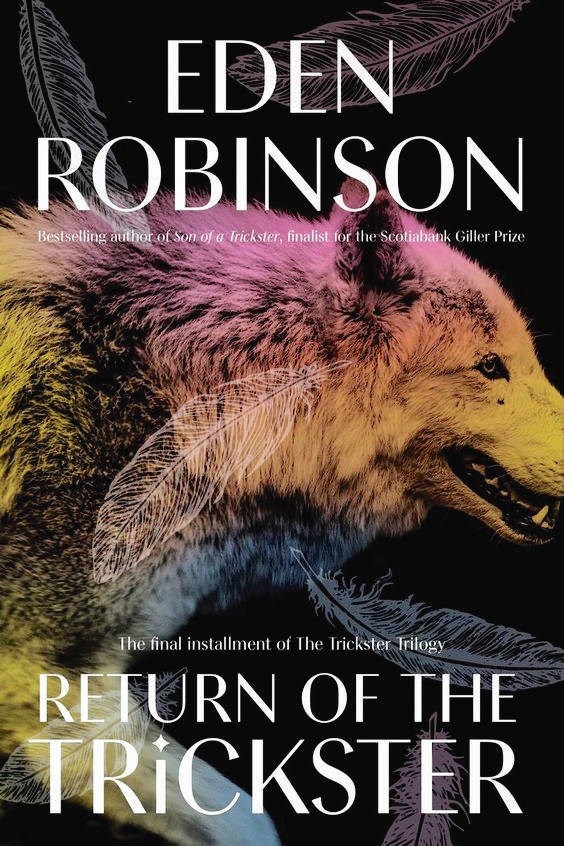 "By the third draft, I had gone back to Kitimat and was a lot calmer by then. I pulled back from a lot of the really gruesome deaths that I put in."
Robinson's abilities have earned high praise over the years, including a pair of Scotiabank Giller Prize nominations for Monkey Beach (2000) and Son of a Trickster (2017), the first entry in her Trickster trilogy. Robinson's work has been transferred to film and television on two occasions: A feature film version of Monkey Beach premiered at the 2020 Vancouver International Film Festival, while the Trickster trilogy was made into a TV for series for CBC, with director Michelle Latimer at the helm.
A planned second season on CBC-TV was cancelled after an investigation into Latimer's background discovered that she was not, as she had claimed, of Indigenous descent. A publicist for Robinson said the author would not be answering any questions regarding the show's cancellation during her interview with the Times Colonist. Robinson addressed the matter on Twitter in December, saying she was embarrassed. "I feel like such a dupe," she wrote.
Robinson has become one of Canada's top literary talents over the past two decades, which would have seemed like a longshot when she enrolled at UVic in 1989. By her own admission, she was a "terrible" student during her first two years in the writing program. She was still trying to find out who she as a person, let alone a writer. She wore wigs and dressed in army-surplus wear.
"At that point, I was still pretty gothy," she said with a laugh.
When her friends were interested in getting a bunch of tattoos, she joined the group. "The only place back then that you could get tattoos was the naval base in Esquimalt. I was going to get a spider-web with a giant Victorian heart that would have covered my entire chest and neck."
The tattoo artist did a few minutes of work before Robinson pulled the plug. What remains is a tiny spot of ink — the early stages of what could have been a regrettable decision. "Everyone thinks it's a mole," Robinson said, laughing. "My friends were like: 'Way to commit.' "
She credits a summer fiction course with UVic instructor Bill Valgardson, prior to her third year, for helping her break through. She also credits Robin Skelton, one of several literary giants on staff when Robinson was at UVic, for his generosity. He was an invaluable mentor — one of several in the department, Robinson said. "They were pretty dedicated to the craft. Every single prof I worked with passed me onto their passions. They wanted to hammer home the work that you needed to do to become a good writer."
They were also good at giving practical advice. "It's just part of my practice now. When I'm moving into new territory, I use a lot of the skills I learned at UVic."
Now that the final entry in the Trickster trilogy is out in stores, could there be another franchise in her future? "This is a complete one-off. I have mad respect for people who write series. It's really hard. There's a lot of information to remember."
It was Anne Collins, vice-president of Random House of Canada, who suggested she turn Trickster into a series. Years into a very successful career, Robinson was grateful for the advice. She takes all the help she can get these days.
"I never used to need anything. In my 20s and 30s, I could write for 18 hours a day and had whole novels in my brain. I didn't need any memory cues or notes — I could edit in my brain anywhere. All those times I looked like I was flaking out at work, I was actually trying to work through something. But age and menopause have done a number on my memory. I'm now the Post-It queen, with all the different highlighters."