Developers of the $100-million Eagle Creek Village project have won zoning approval for the mixed-use project that will feature a supermarket, retail, medical services, housing and a park next to Victoria General Hospital."It's a complete win-win," View Royal Coun. John Rogers said Wednesday. "This development is the anchor for the hospital area."
Council voted Tuesday in favour of the rezoning and permits required for project, which includes a $1 million contribution to the capital costs of View Royal's new public safety building.
Developer Omicron Development Inc. and investment partner Blackwood Partners are donating 3.9 acres of land, wtih second-growth Douglas fir trees, that will become a park. The project includes developing trails in the park and constructing a playground, Rogers said.
"This is one of the most significant developments our town has had," Rogers said.
The site consists of five parcels of land at Helmcken Road and Watkiss Way. Sales of the individual lots are being finalized this week, said Peter Laughlin, Eagle Creek project manager. The $100-million price tag covers land costs and construction of the two phases.
"We will be in the ground mid-September," Laughlin said.
The first spaces will be ready for tenant improvements by December 2014.
Laughlin began working on this project in 2006, but, as with other developments, it stalled during the 2008 recession. "It has simply taken two or three years for the economy to find its feet again."
Phase one will see eight buildings go up, including 112,000 square feet of commercial retail space, 56,000 square feet of professional office space and 60 market rental units. Confirmed tenants in the 10.4-acre development include Quality Foods, Shoppers Drug Mart, Tim Hortons and Cascadia Liquor.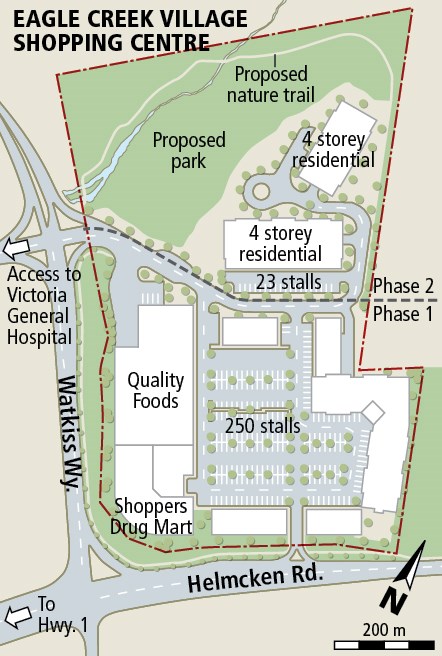 Errington-based Quality Foods, which has 11 stores up Island, will be the anchor tenant. The grocery is leasing a total of 50,000 square feet, with 40,000 square feet on the ground floor and 10,000 above, Laughlin said.
The supermarket will be one of two in the chain coming to Greater Victoria. The first Quality Foods store south of the Malahat is slated to open in May of next year at the former Ashley Furniture Homestore on Langford Parkway.
Close to 80 per cent of Eagle Creek's commercial space has been leased, Laughlin said.
About 120 higher-end condominium units in two buildings will be developed in the second phase. It is too soon to set pricing, he said, adding no date has been set for the start of the second phase, other than as soon as possible.
Now that the rezoning has been approved, a leasing program is starting for the office space through commercial real estate office Cushman and Wakefield.
They are seeking tenants to complement services at the hospital, such as offices specializing in maternity, pediatric, and neuroscience.
"It has been designed as a centre to provide services," Laughlin said.
"We see it as one of the gateways to the West Shore."
The centre will be a place for hospital staff and others, such as people visiting patients, to have a coffee or restaurant meal, he said.
Rogers said the new development will also be convenient for families staying at nearby Jeneece Place, a facility that serves as a homey place to stay for families coming to Victoria for their child's medical care.