East Sooke's new fire hall is moving closer to reality now that the Capital Regional District has issued a call for construction bids.
Plans for the 7,200-square-foot building follow a successful April 2013 referendum to permit borrowing of up to $2.12 million to construct the new larger hall.
The existing cramped hall on Coppermine Road will be used until the new one opens, expected in 2015, Ben Martin, CRD fire hall project manager, said Monday.
Bids close April 14. It's expected to take about 10 months to construct the building on East Sooke Road between Raglan Place and Covina Drive, he said.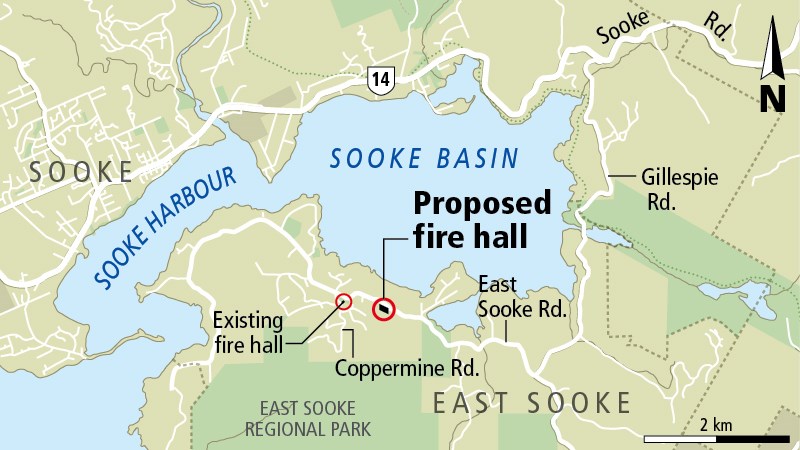 The new hall will be a pre-engineered steel building, with full-height bays for four fire trucks and room for additional vehicles as well, providing space for future growth if needed, Martin said.
This will be a post-disaster building and will be the community's emergency operations centre. Other features include a hose tower, training room, offices and building service rooms, and a free-standing diesel storage tank of about 4,220 litres.
The CRD started working with the East Sooke Fire Protection and Emergency Response Service Commission four years prior to the referendum.
Depending on final figures, the project is expected to cost taxpayers about $263 per average household. The loan is to be paid back over 15 years.
When the original hall was built in 1985, East Sooke's population was 550. By 2012, it had increased to 1,750.
This project follows a 2008 assessment of the old building, determined to be "significantly below standard." It was too old, too small and it wouldn't be worthwhile rebuilding the existing hall, said architects and engineers who examined the hall.
The East Sooke Volunteer Fire Department's website states, "We have now outgrown our fire hall and space is extremely limited. The building does not meet seismic standards required for today's emergency response buildings."
The hall's three apparatus bays are not long enough, meaning that trucks have to be shortened, at a cost, to fit, the department said.
Mike Hicks, Juan de Fuca electoral area director, said that under current fire safety standards, "the old building couldn't cut it."
With interest rates and construction costs low, this is the best time to build a new hall, he said.
It's too soon to say what will happen with the old hall, but Hicks would like to see it used as a community centre for East Sooke.
The East Sooke hall is the latest of several new fire halls in the region. A new hall on North Galiano Island will be finished in about two months, and another in Central Saanich. A $27.3-million CFB Esquimalt fire hall and high-tech, state-of-the-art emergency centre opened on Esquimalt Road in 2013.