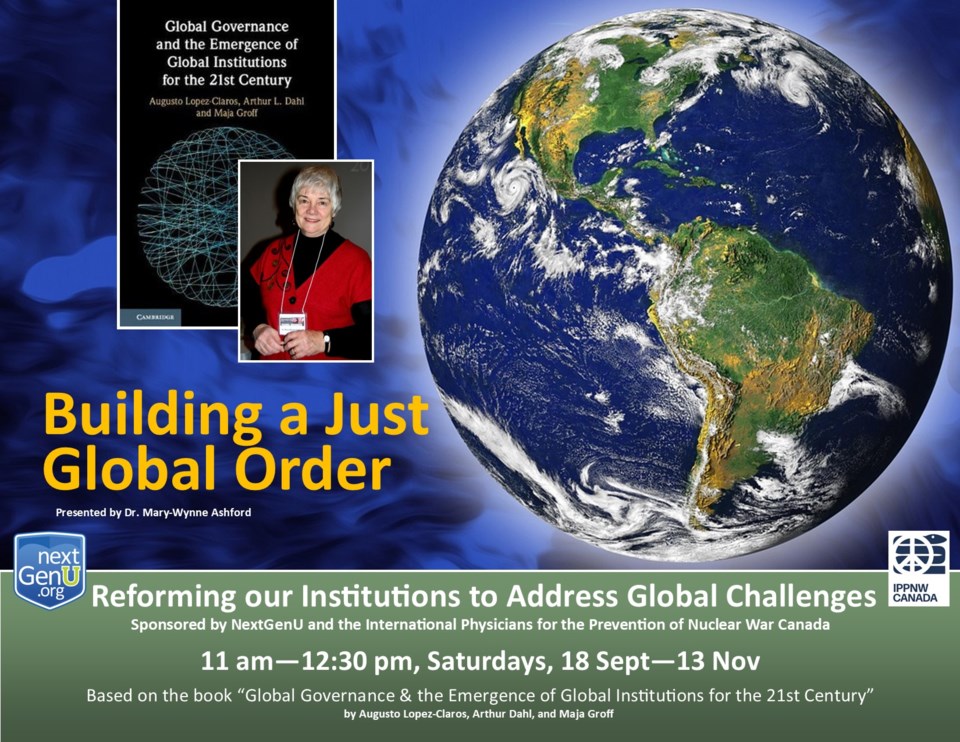 On Monday, August 9, with fires raging in Europe, Siberia and here on our doorstep, the UN called a "Code Red for humanity". "The alarm bells are deafening," said Secretary-General António Guterres. As accustomed as we are to crises, I recall the shock of the starkness of his statement, interpreting the several thousand-page IPCC report as "a death knell for coal and fossil fuels, before they destroy our planet." 
I happened to be meeting the next morning with Dr Mary-Wynne Ashford. In 2020 we had begun a small study group on the governance changes needed for humanity to deal with current global threats. The result was a well-received online course presented by Mary-Wynne, Building a Just Global Order, with a new version scheduled to start September 18th. 
It's been a breath of fresh air learning about the cooperative forces that are quietly countering the crushing weight of catastrophic news. Each impending crisis, accompanied by the glacially slow move towards political integration, is a bad news/good news story on steroids. 
The most worrisome part is that although international governance is traditionally the domain of the UN's 193 nations, many are stuck in "my country first" mode, having yet to recognize their national interests as dependent upon our collective well-being. The good news is that in recent decades, thousands of civil society organizations have cropped up across the globe, bringing a huge, often young depository of talent and passion to the world stage. 
They have an increasing and much-needed presence at almost all international conferences. Taken together, civil society organizations have an estimated volunteer work force of 350 million, not including another 54 million full-time equivalent workers. Operating expenses of civil society organizations are greater than the GDP of all but the six wealthiest nations. 
Since the first conference on the environment in Stockholm in 1972, there have been approximately 1500 environmental frameworks, treaties, agreements and bodies, albeit with some notable gaps, such as the lack of a convention on plastics or forests. In 2017, about 100 jurists from around the world (including David Boyd of UBC) developed a Global Pact for the Environment to consolidate and harmonize legislation and bring about the first legally-binding international treaty on the environment as a whole. In 2018, UN nations voted heavily in favour of the resolution, initiating the process of adoption by individual nations and eventual ratification. 
We may scream that there isn't time for all this. Perhaps the Code Red report will expedite the process. The Global Pact for the Environment, proposing mandatory rights and duties, may prove comparable to Eleanor Roosevelt's campaign for the Universal Declaration of Human Rights. During a time ruled by men who sought mainly to preserve their prestige, her vision, too, was that the newly birthed document would ensure justice for all.
"Let your vision be world-embracing", is an injunction in the Bahá'í writings that seems especially pertinent at this moment. 
"Blessed and happy is he that ariseth to promote the best interests of the peoples and kindreds of the earth." – Bahá'u'lláh
Responsibility, collaboration, selflessness, justice, these are all needed to bring humanity back from the brink. They inspire multitudes of people who work tirelessly behind the scenes on our behalf. Such humanitarian values have undergirded every spiritual system, as Eleanor Roosevelt knew well. They need to again work their magic.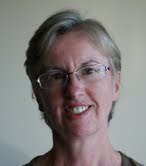 Sheila Flood is the E.D. of the Victoria Multifaith Society and member of the Bahá'í community.  Building a Just Global Order is a weekly online course with free registration at NextGenU.org, running nine Saturdays from 18 September, from 11am to 12:30pm.
You can read more articles on our interfaith blog, Spirituallly Speaking, HERE
* This article was published in the print edition of the Times Colonist on Saturday. September 4th 2021